Nilüfer Yanya is a twenty-two-year-old West Londoner who has been making a huge splash with her recent EP Do You Like Pain (ATO Records). Besides opening for Fleet Foxes at The Sony Centre earlier this week, this R&B prodigy is part of Apple Music's "Out of Home" campaign, where she'll be featured on their "Untitled Playlist" alongside the likes of Father John Misty, Courtney Barnett and more.
With a delicate blend of soulful, husky vocals and jazzy guitar chords, Nilüfer has won the praise of Pitchfork (three "best new tracks" and counting), The FADER, Paper, Nylon, The New Yorker, to name a few. A BBC "Sound of 2018" artist and NPR Music "Slingshot" artist, she has quickly become one of the most in-demand young names in contemporary music.
We caught up with her this week.
SDTC: What's a current goal of yours right now, big or small?
NY: Completing my album! That's at the forefront of my mind.
What was a moment you recently experienced that shifted your perspective?
Moving out from my parents' flat, which made it clear my childhood is officially over. It definitely surprised me; I didn't expect to miss it. It also makes time seem to go by even faster.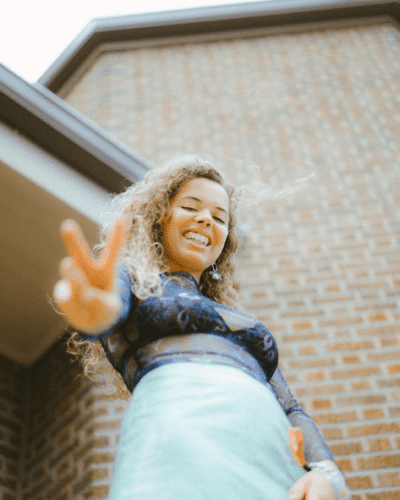 What are you currently enjoying in life?
The present moment. Decorating my room. Reading. Simple things like that.
What book/TV show/film did you recently consume and want to rave about?
Incredibles 2, which I had literally been waiting most of my life for. Did not disappoint.
Can you share with us two snippets of your childhood that you think shaped who you are today?
My sister's pop rock CD collection and swimming lessons (I still swim a lot but it took me three years to learn how).
How do you chill out?
Hanging out with my sisters and brothers. Playing guitar. Reading. Writing. At night I like to turn off all the lights and lamps and just use candlelight.
What musicians got you interested in making music?
My mum–she plays piano. My uncle–he a musician and producer. When I started listening to bands, pretty much anyone holding a guitar inspired me.
What are three lesser-known facts about you?
I mumble a lot. Can't dive. Terrible at reading the time.