Amanda Brugel (ROOM, Orphan Black and Seed) will be appearing as ​"Pastor Nina" in the upcoming CBC series Kim's Convenience. The busy mom has also been cast as one of only two Canadian cast members in the highly anticipated ​sci-fi drama The Handmaid's Tale, based on the Margaret Atwood novel of the same name​.​ ​​We chatted up Brugel this week.
SDTC: What should we be paying more attention to?
AB: The content we put out on social media. We need to be more responsible for the energy we bring into those spaces.
What was the last Netflix series you binged on?
Stranger Things!!! The music, the 80s film references and Eleven? I can't tell you how many times I stood on my coffee table and shouted.
One new thing you learned this year?
Do you. Be true to yourself. Stay in your own lane. I sound like an Instagram post, but I can't stress how important it is to lean into the things that make YOU unique and special and one of a kind. I spent my early years trying to be versions of other people. But there is only one version of me on this planet and that is remarkable. So celebrate that. Nurture how extraordinary that is.
What memory brings a smile to your face?
Both mornings I discovered that I was pregnant. Time stopped. It's such a warm, full, vivid memory.
How do you recharge your batteries?
Lunch with friends. We are all working moms, so we have a LOT to discuss. After an hour and a half of laughing and ugly crying with my best ones, I am ready to face the world again. I'm always stronger leaving them than I was when I arrived.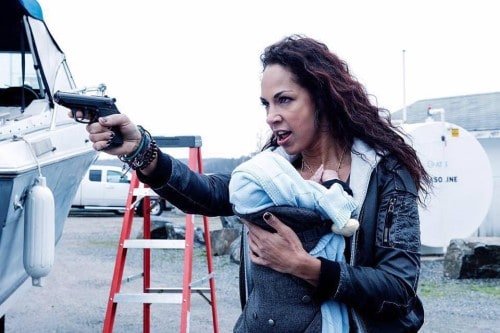 Describe the funniest thing you've experienced in recent memory.
I encouraged a friend to join in on a random dance circle during TIFF. He immediately started break-dancing and then finished with a five second handstand in a full suit. It was as if we were on a street corner in South Bronx. It was ludicrous.
Best advice you've been given?
"Everyone is struggling. Some people are just better at hiding it than others." It was as if I had been struck by lightening when a colleague suggested this to me. It has completely changed the way I interact with people, especially those I have a difficult time understanding.
What is the best part of being your current age?
I am starting to say no more. I'm giving ways fewer effs and I love it. I love having zero guilt about claiming my own time.
What word or phrase should we use more often?
"You become what you think about most. But you also attract what you think about most" – John Assaraf
What's on your night table?
The Handmaid's Tale by Margaret Atwood. A Handmaid's Tale script – I think it's episode #3. And hand cream. I wish I were kidding about the third "hand" item.
What one item would you be lost without (besides your phone)?
ONE item? Oh my. Okay. Hair conditioner. No…running shoes. Nope lip balm and hand cream. WAIT! Davines Oi All In One Milk.
Weirdest thing in your purse right now?
A broken Christmas decoration. Listen – the holidays creep up on you outta nowhere. Especially as a mother, you need to be prepared. I also have a spoon and a bullet in there. Again, you need to be prepared.
What trends are you loving right now?
I'm a big fan of a shoulder cut-out. I also love all of the ruffles I'm seeing come down the spring collection runways. And chokers. I was a choker girl in the 90s and I truly believe in the old adage: "Once you go choker, you never go back."
Who was your celebrity crush when you were a kid?
David Bowie in Labyrinth.
What should people check out in Toronto this month?
Legends of Horror at Casa Loma. Apparently it's an all-ages event featuring actors and expertly decorated theme rooms and it follows a 1.5 kilometer trail of spooky goodness. I'm taking my whole family!
Catch Brugel on Kim's Convenience–premieres Oct. 11 on CBC.