Emily Jones is the beautiful face behind Emily Valentine Jewelry. Hand crafted with natural stones and crystals, modern and vintage components, and mixed-metals, Emily Valentine is a brand aimed to inspire strength and adventure. Having just launched her Shapeshifter collection, Jones is eager to get back to work. We spoke to this lovely artisan about staying creative and the importance of one's personal workspace.
What meal brings you immense pleasure?
We're so lucky in Toronto with all of the amazing food options we have! One of my favourite things is sharing an Ethiopian platter with a friend. I love eating with my hands! I've also been super into trying everything at Soi Thai on College Street lately. It's my new favourite spot.
Which virtue do you try to cultivate within yourself?
Acceptance.
The receipts in your wallet would indicate what?
That I'm all over the place sourcing materials on a regular basis, and I need to throw out my bus transfers.
What makes you happy?
Road trips with my husband. I'm most happy when we're taking in beautiful scenery, listening to music and chatting. We often take little trips around Ontario, but a couple of years ago we drove from San Fransisco to the Grand Canyon. It was awesome.
What makes you cringe?
Men calling women dear or hun. I heard a guy say, "Thatta girl" to a woman working at convenience store when she gave him his cigarettes. The worst.
What project are you currently excited about?
Having just launched the Shapeshifter collection, I'm excited to get working on a new collection. I have lots of ideas for collaborative projects. I definitely look forward to doing more collaborative work with other artists and designers.
What, in your opinion, is overrated?
Having a 9-5 job. If you love it, all the power to you, but I find setting my own schedule so liberating.
What is the one thing you wish you could change about yourself?
I can be pretty emotional. Life would probably be easier if I wasn't!
What frustrates you the most?
Discrimination and narrow-mindedness.
What were you obsessed with in high school?
I went through so many phases, but overall I was pretty obsessed with music and street style. From grunge to raver, I was into it all. I love that 90s styles are so popular right now. It's fun seeing all those styles again!
What have you been listening to on repeat lately?
Grimes. I love her and think she's so original. I'm really excited to buy her new album when it comes out.
When and where do you feel your most creative?
When I travel I feel really inspired and get excited to come home and start working! When I'm home, I usually feel most creative at night time. I'll be in bed ready to go to sleep, an idea will come to me and I'll have to get up and try it out or else I won't be able to sleep.
What was your inspiration behind the Shapeshifter collection? Do you have a favourite piece?
I'm always really inspired by the unique materials that I find in my travels. One of the first things I purchased for this collection was this beautiful matte black jade that I found in Arizona. I was also inspired a lot by the geometry of mid-century design, and by some of the glam styles of the 70s, but there's always a modern edge to EV.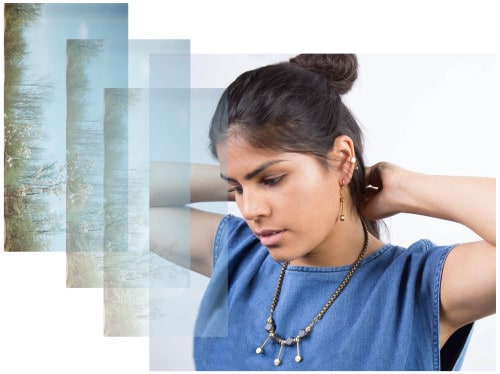 The Kappa has been my everyday go-to piece lately, the Pamona necklace when I want a fun statement piece, and the Kitsune choker for going out at night.
When it comes to jewelry making and assembling, what's your secret weapon for staying focused? Self-discipline, dynamic playlists, snacks?
Music for sure. I like to blast it and sing along while I work. I also listen to podcasts like Invisabila, I Seem Fun, The Diary of Jen Kirkman, or WTF with Mark Maron. Atmosphere is important to me too. I like to keep my space clean, light candles and have plants and stuff that make me enjoy my workspace.
If you could have anybody in the whole wide world wear your jewelry, who would it be?
Tavi Gevinson. She's just amazing.
Check out the whole Emily Valentine Jewelry collection here.