Julie McNiven stars in The Babymoon, an action-adventure comedy that explores the cultural phenomenon of taking a vacation while pregnant and hormones are high, finances are tightening, and many regular vacation activities are not an option. McNiven got her start in local community theatre productions. She is best known for her recurring roles in Mad Men, Supernatural, and Stargate Universe.
SDTC: What spaces in Toronto do you love?
JM: I have only been to TO a couple times. I have and some relatives who live in the city so we visited in 1987. I remember they lived on a beautiful tree-lined street filled with rows of brownstone-type houses. We saw a production of Peter Pan and went to a really fun water park outside the city. I don't remember what it was called but I have a strong memory that an episode of Sharon, Lois and Bram's Elephant Show was shot there. Could I be making this up? Possibly, but not intentionally. It was a long time ago!
What aisle do you spend the most time in at the grocery store?
Honestly, my husband does the grocery shopping. But when I used to, it would probably be the aisle with all the face products and oils…maybe this is why he does all the shopping.
What would you do with 1 million bucks?
I would put some into savings, a college fund for my son, help some friends out by setting up savings for them and finish some projects around the house.
The receipts in your wallet would indicate what?
That I don't spend any money. I do! But most of it is online.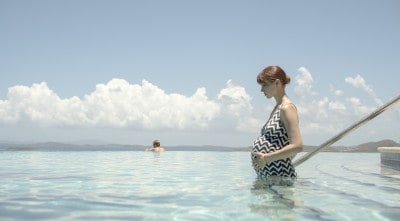 What would you do with your time if you didn't act?
I'm not sure. Lately, because of my own experience with becoming a mother, I think I could be a lactation consultant. I think that would be really fulfilling.
What makes you happy?
Lots of things! Sunshine, rain, my son's face when he sees me at his door in the morning!
What makes you cringe?
When people ignore fact-based evidence.
What, in your opinion, is overrated?
Schools using standardized testing to determine how smart a kid is.
What is the best thing you did all week?
Binge watch Orange Is the New Black!
Describe your perfect Saturday.
Yoga, an adventure to the science center with my family and little outdoor playtime at home. Oh, and in bed at 9 p.m.! I love getting to bed early!
Describe the funniest thing you've ever witnessed.
Well, I can't say this is the funniest thing ever, but this morning my son was eating at his snack table and decided to get up and place a piece of his food on top of his rocking horse. He then bent over and ate it off of the back of the horse without using his hands. He thought it was hilarious and wonderful. It was.
What word or phrase should we all use more?
Love.