Nadia Litz, who's usually in front of the camera, is now on the other side: she has written and directed her second feature film, The People Garden, opening at TIFF Bell Lightbox on May 10th.
In The People Garden, a taciturn young woman, Sweetpea (Dree Hemingway), arrives in Japan to break up with her rockstar boyfriend Jamie (Francois Arnaud) who is there to shoot a music video with a 90s sex symbol Signe (Pamela Anderson). Plans are thwarted by the small American film crew when they tell Sweetpea the unexpected: Jamie is missing.
We chatted with Litz last week.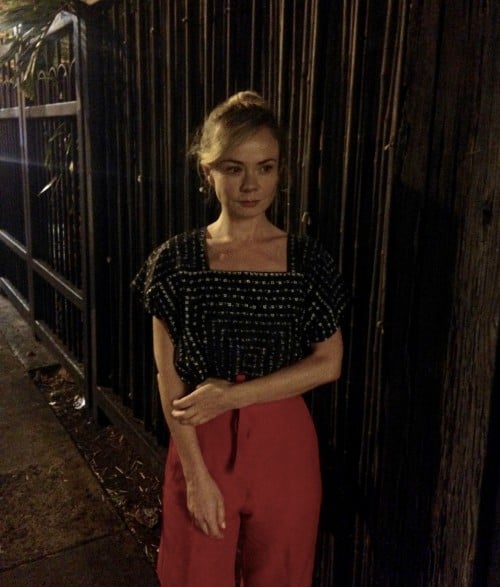 SDTC: What spaces in Toronto do you find inspiring?
NL: Dog Bowl in Trinity Bellwoods. Or somewhere along the lake.
What aisle do you spend the most time in at the grocery store?
Produce section trying to decide if organic is worth it.
What would you do with 1 million bucks?
Sleep more easily.
The receipts in your wallet would indicate what?
That I just got back from travelling with my film in Argentina and I ate pizza everyday and I loved it.
What was your high school yearbook pet peeve?
I really don't think my high school had a yearbook. I don't know why. Can we look into that? I feel like I missed out.
What would you do with your time if you didn't work in film?
Part-time singing cocktail waitress in Hawaii/part-time advocate for women's rights.
What makes you happy?
When other people are happy.
What makes you cringe?
Competitiveness.
What, in your opinion, is overrated?
Ascribing to standards of the beauty myth. Just give it a rest. We're all beautiful. Let's accept ourselves and get busy. Life's short.
Person you'd most like to meet?
I'd love to meet Lena Dunham or the team that makes Mozart in The Jungle and ask them to give a young female director who just made a pretty great feature called The People Garden a shot directing an episode. Not enough female TV directors.
What is the best thing you did all week?
Watch the Raptors win over half-priced tacos with loved ones.
Describe your perfect Saturday.
Directing on set because it's a six-day shoot week. Home in time for SNL. Kimchi in bed. (That wasn't a euphemism for something sexual, I really meant eating fermented cabbage.)
Describe the funniest thing you've ever witnessed:
Dave Chappelle standup.
What word or phrase should we all use more?
Thank you very much I love you.