The James Dyson Award is given to a budding inventor whose product displays clever engineering and design, and also solves a problem. With a significant cash prize and global media attention, the annual competition receives entries from all over the world. This year the award was given to 23-year-old Spanish student, Judit Giró Benet, who invented The Blue Box: a biomedical device for pain-free, non-invasive, low-cost ($60) in-home breast cancer testing using a simple urine sample.
"Using six chemical sensors The Blue Box reacts to targeted breast cancer biomarkers and the results are sent back to the user's phone and displayed in the Blue Box app within 30 seconds," reads the press release. It's a powerful invention for so many reasons, but especially now in an era when people are putting off their scheduled mammograms (or being forced to delay them) due to COVID.
Curious to get inside Benet's brain, we connected with her to find out how she came up with the idea and how exactly The Blue Box works.
When you think back to your childhood, was there anything (or anyone) that really helped you nurture your interest and talents in science and engineering?
My dad is an engineer and this has had a huge impact on me throughout my childhood and now into adulthood.
Why did you set out to invent an at-home breast cancer test?
Once I discovered that there was a natural way to screen for breast cancer, I was eager to make my microprocessor work to address this issue. I also know that women have been underrepresented in biomedical research, so I wanted to make something that could help change this trend.
How did you know that this way of testing would work? What's the link between urine and Cancer?
Every change in the human body is linked – in some way – to a metabolomic change. The human body can also be understood as a series of biochemical reactions that constantly trigger each other. Having a stomach ache, a migraine, or having cancer… it is all a consequence (and a cause) of biochemical alteration. Once I did testing I knew quickly it would work.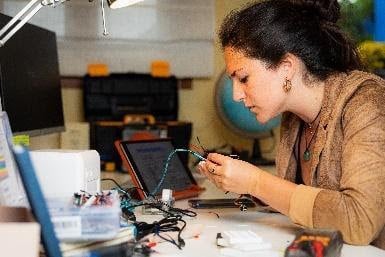 How long has it taken you to do this, and what has kept you stay motivated?
I jumped into The Blue Box adventure while I was doing my Bachelor thesis at the University of Barcelona (November 2017). I really felt motivated about it because I was convinced that women deserve a better solution for early-stage breast cancer screening. After my studies, I decided I wanted to keep pursuing this goal, so I applied to a Master's program at the University of California Irvine. My master thesis consisted of adding AI into the algorithm.
What does receiving this award mean to you?
James Dyson is a person that I truly admire. He creates well designed, top tier technology – and he doesn't stop until he perfects it. Receiving the award from him directly is a milestone in the history of The Blue Box. The day that James Dyson called me in-person was incredibly inspiring.
Find out more about The Blue Box here. Follow Judit on IG at: @liloo_9