FACT: Every party, big or small, is made infinitely better with a themed photo booth. That's why we've partnered with FUJIFILM Instax for what is truly one of our coolest contests to date. The prize includes a bundle of Instax film, a photo booth and SDTC's very own Becca Lemire shooting your party! But, we'll get to that later. First, here are some DIY photo booth ideas for your impending holiday party, because memories are worth holding on to (especially when they include outrageous props and costumes).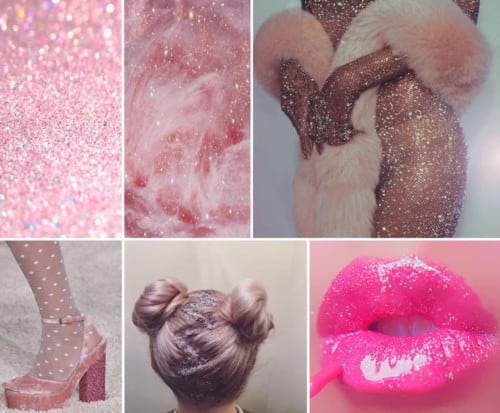 All That Glitters
Channel your inner diva with a photo booth inspired by the QUEEN of Christmas herself, Mariah Carey. Think glittery, girly and PINK!
Pro tip: hit up a fabric store for your backdrop (Affordable Textiles Inc. at 531 Queen Street West and the surrounding area is a GOLDMINE for fabric and pretty odds and ends). Snag some winter white, mauve or beige faux fur throws from your local thrift store, throw in some vintage champagne flutes, chunky costume jewelry, sparkly nails and cocktail dresses, and you've got yourself a party! Who knows? Maybe Mimi will even stop by. (She probably won't.)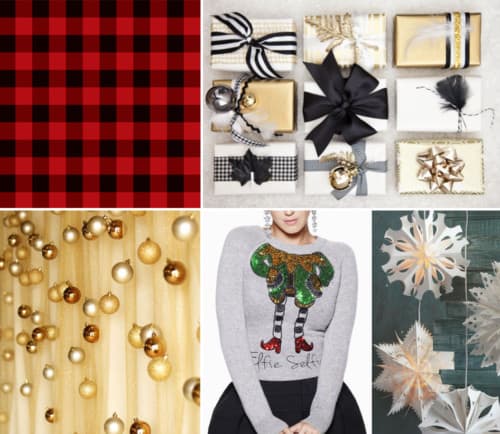 Santa Baby
For those who simply can't wait to bust out their Christmas decor the day after Halloween, a classic Christmas theme may be just right! We love this DIY gift bow backdrop idea from Studio DIY, if you can spare a day or two crafting. But we won't put you on the naughty list if you can't find the time; nothing wrong with keeping things a little more low-key.
Pro tip: Pick up some empty cardboard boxes from your grocery store and wrap them up with your prettiest paper and bows. Stack them on one side, and throw a neutral blanket or some furniture on the other. Fashion a piece of mistletoe in the middle, obviously.
Encourage pals to wear holiday sweaters, velvet or even rent a Santa suit (Berman and Co. or Malabar will have). Don't forget to get or make some fake snow so guests can throw it up in the air for some rad action shots.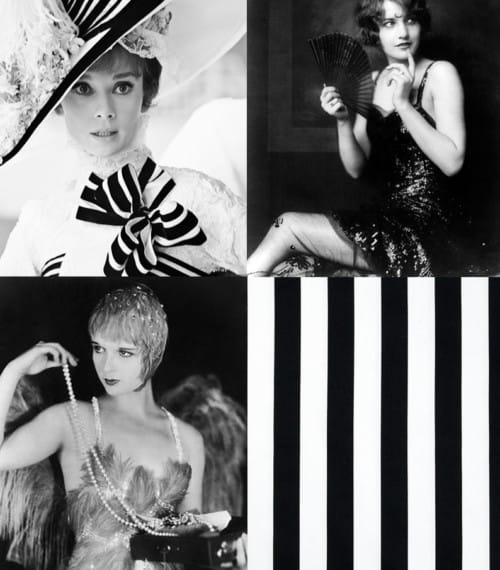 Monochromatic Madness
Bring on the drama! Play with black and white, contrast and patterns when shooting with FUJIFILM's Instax Mini Monochrome film. We just love it when form follows function!
Pro tip: Find a bold fabric with chunky black and white stripes for the backdrop, then hit up a party store for some feather boas, top and bowler hats, and moustache props (The Amazing Party Store at 923 Oxford Street has errrrthing). If you want to go all out, you can also invest in anything from the flapper era – like long strings of pearls, floral hairpieces, cigarette holders, lace fans, opera length gloves and monocles. So much fun!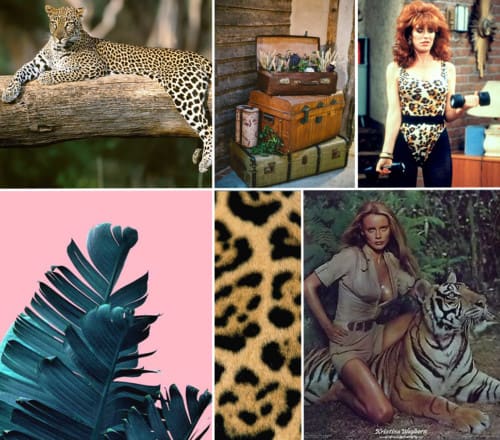 Welcome to the Jungle
Love animals? Love leopard print? Now's your chance to layer leopard-on-leopard in a totally socially acceptable way! Do it up, kitty cat!
Pro tip: Hang some snazzy printed fabric as your backdrop. Or, if you're in the mood to get crafty, cut spots out of fun fur and hot glue to a contrasting fabric for added texture and impact. Stack suitcases on their sides and gather up your houseplants. Pick up some binoculars, safari hats, cool sunglasses, plush animals and go WILD. Last step – ask guests to wear their roar-alicious prints and you're all set!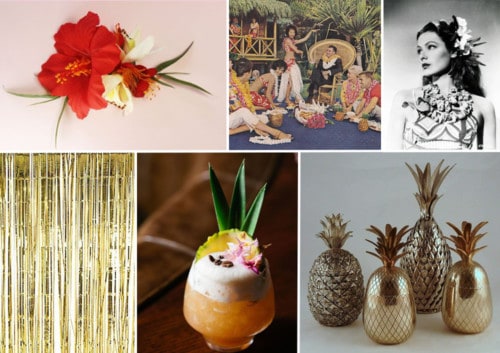 Vintage Tiki Party
Wouldn't it be nice to escape the brrrrrr for just one night? Turn up your heater, make a pitcher of something fruity and wonderful, and spend the night pretending you're on a remote island.
Pro tip: Borrow, trade, rent or purchase a really good chair as a starting point, something like a Chinoiserie Peacock Chair will look amazing. Make a quick tassely curtain from fabric or shower curtain, spray paint some prop pineapples gold and throw a cute lantern on a side table. Decor, done! Ask guests to wear their floral best and have some cheapie sunglasses on standby. You can even take things a step further and hot glue crystals and plastic flowers around the rims that your pals can keep. Everybody loves novelty sunglasses! Last touch – have some larger synthetic dollar store flowers on standby (cut the stems off) with bobby pins so guests can clip into hair.
CONTEST
This is epic, you guys! One of our readers will score 10 packs of FUJIFILM Instax Mini Film along with an Instax photo booth from Something Blue Photobooths at their next party!
To enter on Twitter, tweet:
"Hey @Shedoesthecity, I'd LOVE to have an @Instax photo booth at my next party! Please pick me! #MyInstax"
To enter on Instagram, LIKE + COMMENT below our photo booth pic.
Prize must be redeemed between January 1, 2017 and June 1, 2017 and is contingent on photographer's availability. Winner must be okay with select photos from party being published by Shedoesthecity.com and shared on FUJIFILM's social channels. Contest is open to GTA residents only. Winner will be announced on December 20 by 4pm EST. Good luck!