I've been living in the Canadian Rockies for the past month and I can't help but get a little sentimental about Canada Day this year. I've seen avalanches, turquoise lakes, wildlife (um hi, bears), waterfalls and majestic mountains. I took the photo above after a magical canoe ride across Moraine Lake. No bad, eh? I'm feeling really lucky to live in such an incredible country.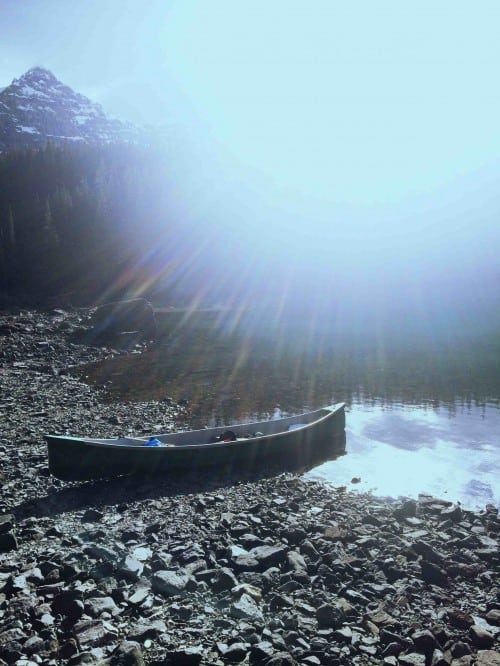 Speaking of canoeing, in the early spring, I was invited to step behind the bar at Canoe, one of Canada's most acclaimed restaurants, to learn how to make a drink off the spring menu. I picked the OL' CDN, a cocktail that puts a delicious twist on an old fashioned by infusing it with bacon and maple syrup.
I was lucky enough to learn the recipe. To make the syrup, take two and a half pounds of bacon and sear it slowly until it's nice and crispy. It's best to get the bacon in a big chunk and cube it yourself. Once the bacon is cooked, remove the excess oil and throw the bacon in a pot with one cup of water and one cup of maple syrup. Let it simmer on the stove for half an hour, or until it reduces into a nice rich consistency. To really get the bacon flavour to come through, keep the mixture in the fridge overnight. The next day remove the bacon from the syrup, skim the fat off the top and strain through a fine mesh strainer.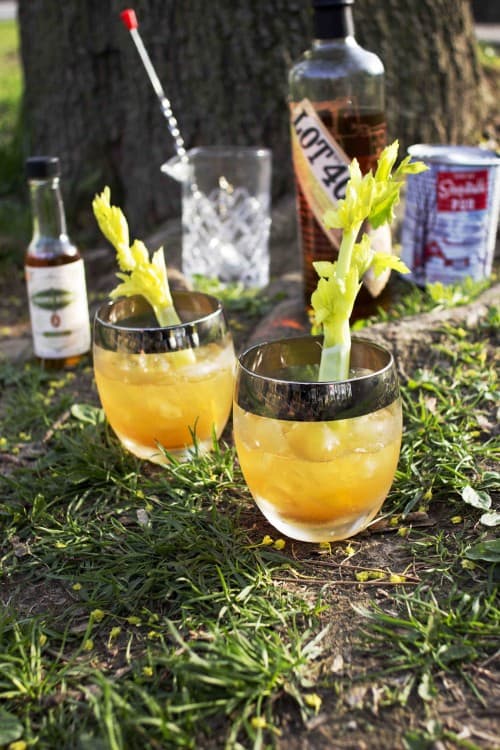 The OL' CDN Recipe 
2 ounces of Lot No. 40 Canadian rye whisky
1/2 ounce of maple bacon syrup
A few dashes of celery bitters
The glasses and Scrappy's celery bitters are from BYOB Cocktail Emporium. And be sure to check out Canoe's brand new summer menu. The Rockies may be beautiful but this cocktail list gives me a pretty good reason to come back home to Toronto.
Cocktail photos by Michael Morris.