I'll admit, sometimes I try out new cocktail recipes and they completely flop. My earnest attempts turn into mouth puckering mistakes that I drink anyway and then subject my friends to (sorry guys). It sounds pretentious but cocktails really do involve a fine balance and getting the recipe right can take some trial and error. So I was extremely happy when I made this cocktail for the first time and found that it just worked out. It doesn't hurt that we're using my favourite ingredient of all time: the grapefruit. And Dillon's gin is turning out to be the spirit slut of this column (I've used it about five times, but that's because I love the stuff so much). I also made thyme simple syrup and used Lillet Blanc for the first time in a cocktail and now I'm hooked. Lillet is an apertif made of fortified white wine and citrus liqueur and it's perfect in this beauty of a cocktail but is also great on it's own, slightly chilled.
Make the thyme simple syrup by combining 1 cup of water and 1 cup of sugar with a handful of fresh thyme sprigs in a pot on the stove. As soon as the syrup comes to a boil, turn it off and let cool until you can transfer it into a jar.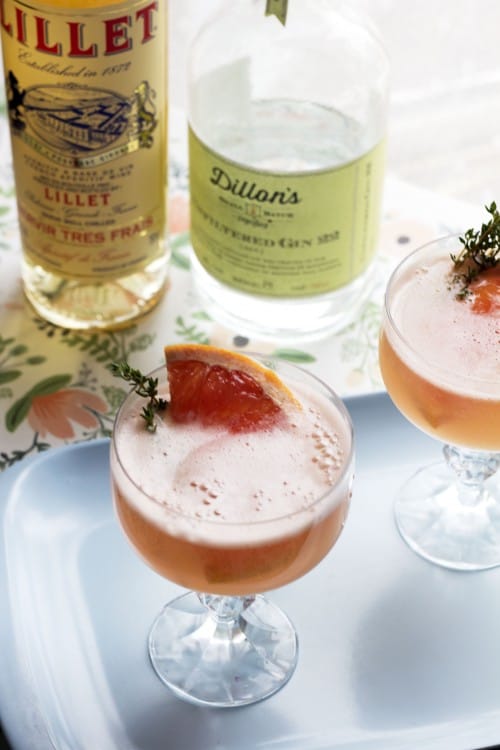 Recipe
2 oz freshly squeezed grapefruit juice
1 ½ oz of Lillet Blanc
1 oz of dry gin
½ ounce of thyme simple syrup
In a shaker filled with ice, combine all ingredients, shake, then strain into a coupe glass. Garnish with thyme and a grapefruit wedge.
Happy summer sipping!
Photography by Michael Morris.