In April 2019 I moved to Italy for, what was supposed to be, a 12-month work-from-abroad sabbatical. It was something that I had invested much time planning for, both fantasizing and mapping out each detail meticulously. Travelling alone is not new to me—I've always treasured solo adventures—but this was by far my biggest move. Uprooting my life, moving to a country where I knew no one and had only the most basic grasp of the language would push me in new directions. I expected growth, to achieve goals and collect new experiences. I couldn't have predicted all the ways this would end up taking shape.
The pandemic arrived here in February, lockdown in early March. I spent several frenzied days trying to arrange a ticket back home to Toronto, but I am still here, in Rome.
The past three months of quarantine have been filled with anxiety, fear, personal growth, a newfound appreciation for simple pleasures, great weather and so, so many pictures. My snap-happy habits from touring around the country and living out this Italian year did not stop when I became confined to my house. And then 200 metres from my door, then my neighbourhood, and then all of Rome. All those photos were all compulsively added to Instagram, where friends and followers online have become a singular source of connection. Despite the companionship of my dog Chutney, I have been alone, in a sense of the word that I've never experienced before. Sharing photos on Instagram has been both a pleasure and a vital lifeline to my community back home.
Like many of you— I have similarly lived through the phases of #quarantinelife, watching Normal People and conducting cooking experiments, but isolation has played out slightly differently for me here in Italy. It started sooner and ended faster. And now, with rules more relaxed and the city beginning to reawaken, I am taking in sights usually swarmed by thousands of tourists, alone. While I wander the empty streets, I'm waiting to see what comes next for me personally. One day we'll trade stories about this time and mine are pretty good. I spent 2020 in the Eternal City.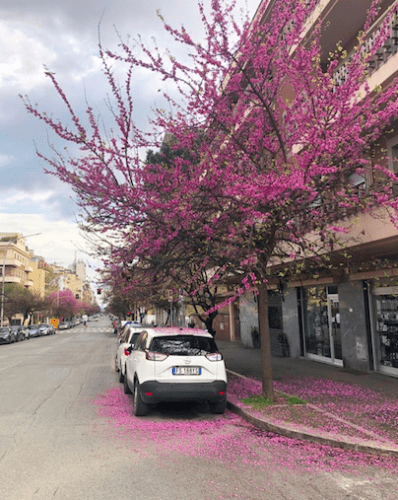 During the early, anxious days in March experiencing my first Italian spring and blossom season provided so much solace. Because I have a dog, I was allowed out of the house but only within 200 metres. The definition of small pleasures.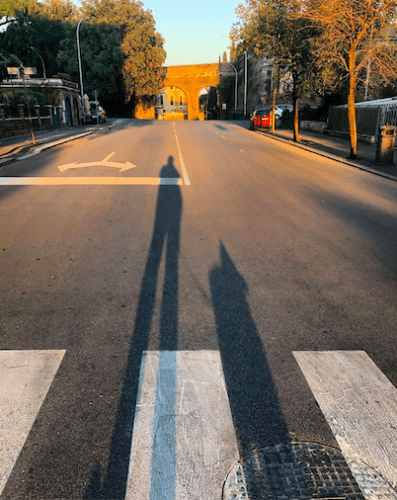 The busiest thoroughfare of my neighbourhood (Monteverde Vecchio). Empty.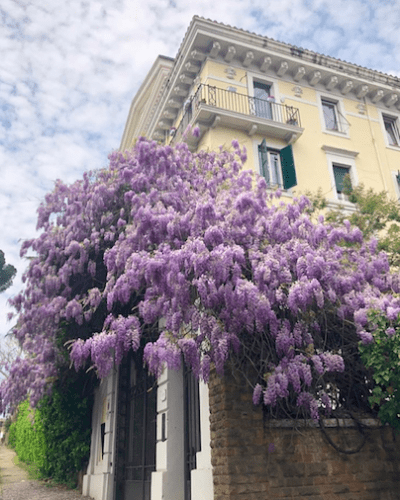 The best part of blossom season was easily the Wisteria. Circling my block I found them on run-down houses and grand Villas, as well as growing out of the ancient city walls.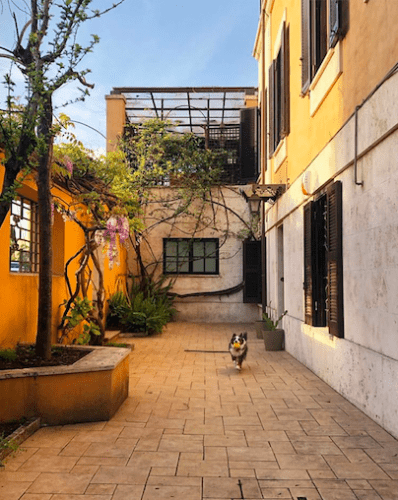 My dog Chutney has run millions of laps up and down this courtyard. I've been so lucky to have some permissible outdoor space. I have logged serious hours sunbathing, reading, chatting to friends from my apartment building's stoop.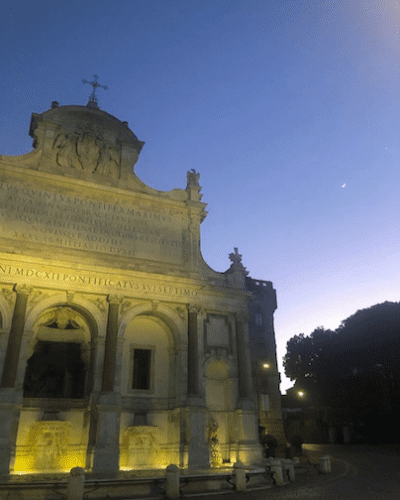 I didn't know when I moved into my Roman apartment that one of my most anticipated sites in the city was around the corner: Fontana Acqua Paola. Monteverde Vecchio is on a hill and across from the fountain is a view of Rome stretched out for you. Shortcut to the magical fountain: watch Oscar winner 'The Great Beauty', a modern 'La Dolce Vita' and hedonistic, existential crisis set in Rome. (The opening scene takes place here.)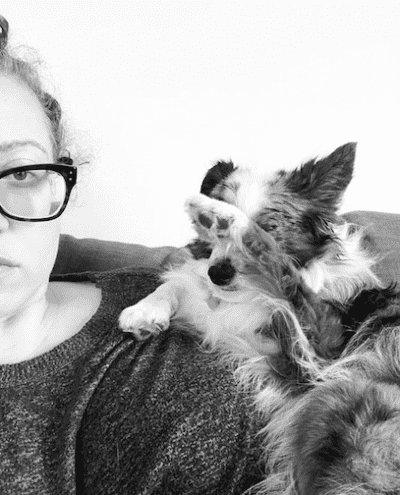 I think this pic is from Day 50-something. We are both so over it.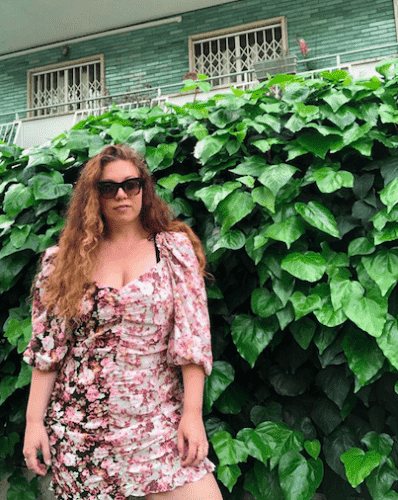 I celebrated my birthday in quarantine and got dressed for the occasion/my morning dog-walk. I went to the fountain to make a wish & throw a coin. The i carabinieri (police) noticed me out and demanded to see my ID & autodichiarazione (the self-declaration form we must carry every time we leave the house). So my birthday selfie needed a new location.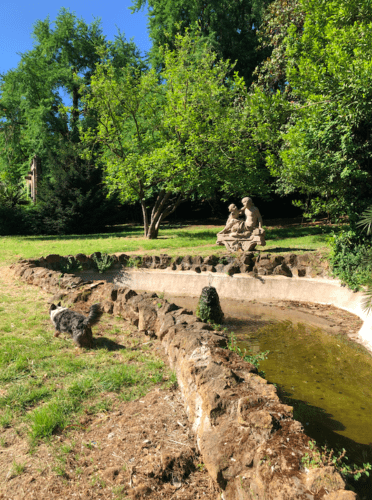 On May 4th, Italy entered Phase 2 and experienced (a slight) relaxing of lockdown restrictions. Some examples: you could visit family (only up to 4 people and wearing masks – moot for me) and most excitedly – the parks reopened. That morning when Chutney and I arrived at 7am to bask in the green space, the fountains in Villa Sciarra hadn't even filled up yet.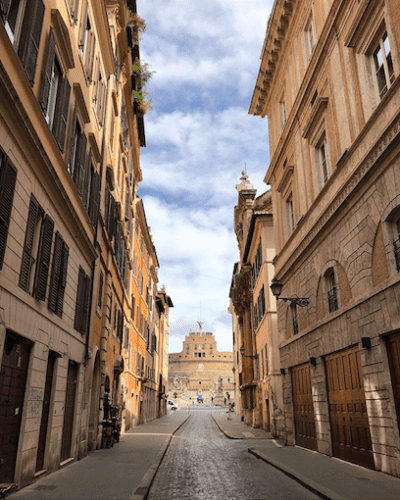 Phase 2 also meant we could start to exercise outdoors – it became legal to walk around Rome. So I started to do so, very early in the morning when the fewest people would be around and it felt the safest. This is a view to Castel Sant'Angelo & Ponte Sant'Angelo: you can see the angels in the empty distance.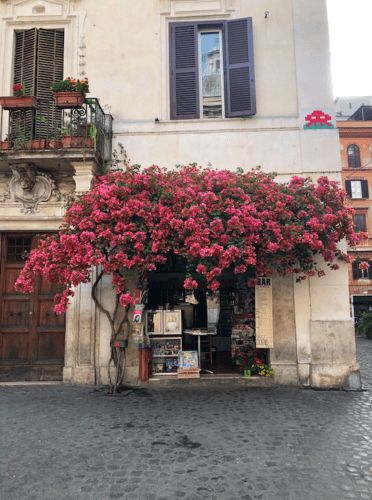 Another Phase 2 perk, café and restaurants were given the green light to open for takeout ONLY. (Basically Phase 2 took us to where Canada has always been.) I had an early morning espresso from the famous café under the bougainvillea in the Monti neighbourhood.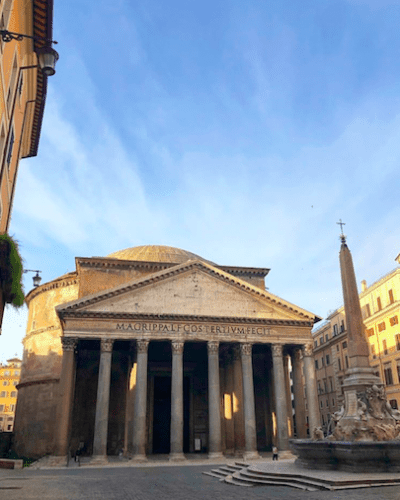 In my months living here, I hadn't yet been to the Pantheon but on my first walk I was transported to ancient Rome. To experience it like this, peaceful and empty, was surreal. The scale and history hit me hard. Apart from maybe being in a concert's crowd or on an airplane, nothing could've been more antithetical to the months indoors.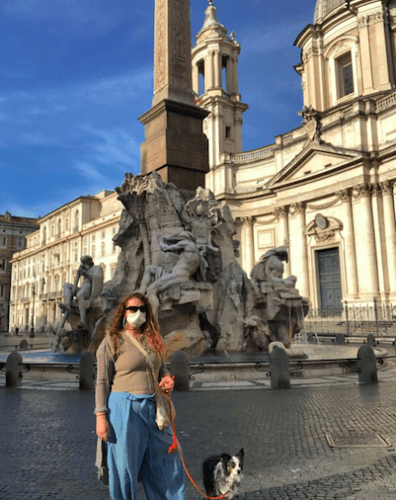 I couldn't have anticipated what this experience would feel like. I'd previously navigated the crowds in Piazza Navona, but being the only person in one of the busiest sites in one of the most visited cities in one of the most touristy countries in the world was hard to comprehend.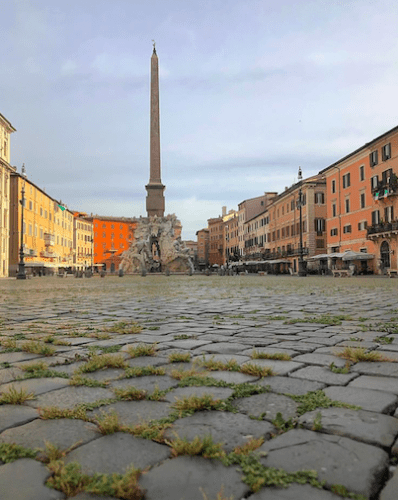 The rumours were true – after two months without footsteps, grass was growing in the heavily trafficked Piazza Navona.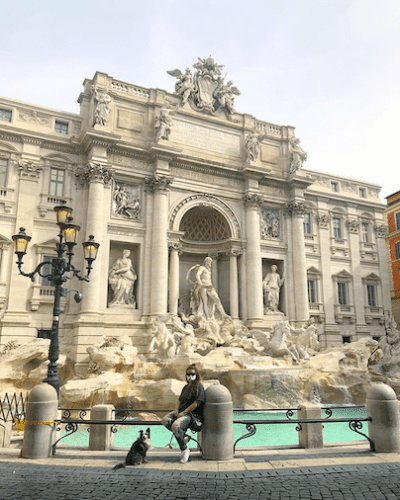 At the famous Trevi Fountain where photos like this just don't exist. There is typically a throng of people 20-deep surrounding the iconic spot. At all times of the day and night, with police guarding against anyone who wants to take a dip and have their own Dolce Vita moment. The police are still here, out of frame. But otherwise it was just me.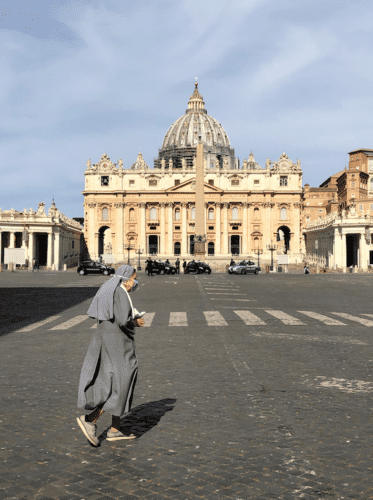 Another day we walked to the Vatican, where St Peter's square was closed off and guarded by more police than I'd seen so far. We detoured around the colonnades and as I went to take my picture, a nun stepped into the frame.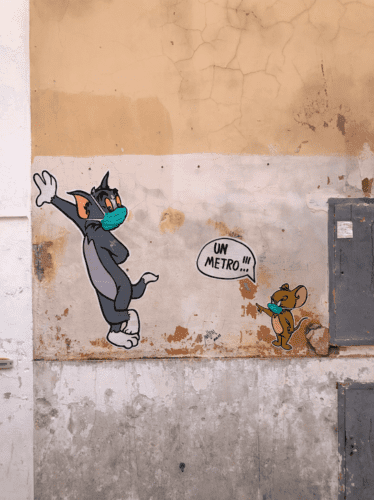 I love street art and in the Vatican City, Jerry had a clear message. Back the fuck up.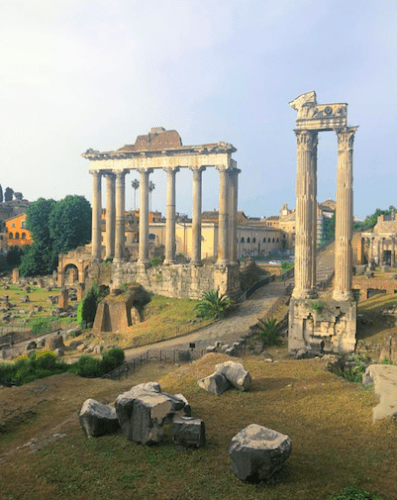 Another walk took me past the Palatine Hill & Roman Forum. I looked it up: 4.5 million tourists pass through here annually. This morning it was only the dog and I.
Zoe is still in Rome, and not sure when she'll be able to easily return. Until then, we'll continue to enjoy her quiet city explores through her Instagram: @zoestellashapiro.