Hot off the festival circuit, Adult Adoption, the directorial debut from Karen Knox (Slo Pitch, Homeschooled), is a compassionate and quirky audience hit that examines trauma in a way we haven't seen before. It's fun, refreshing, and will leave you with lots to discuss.
25-year-old Rosy has aged out of the foster care system. But now that she's settled into adult life, she finds herself longing for the parental connection she never had. Desperate, she turns to the Internet and finds herself on a complicated, comical and life-changing journey of finding a parent.
"She's a meticulous, detail-oriented, capable adult, but she never had the love of a parent and it's starting to really catch up to her," says Ellie Moon, who wrote Adult Adoption, and stars as Rosy. "I think the script calls her in its screen direction a 'sweet, odd, intense ball of warm longing'."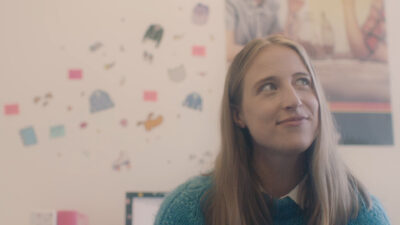 Moon was interested in writing about platonic intimacy and longing, but also wanted to reverse familiar plots about childhood trauma. In Adult Adoption, she explores the impact of something that didn't happen, rather than something that did.
"When I was writing the script I was interested in the question of whether someone who never experienced unconditional love in childhood could find it in adulthood. And where I've landed now is that it does exist in the world, but it doesn't look the way we expect it to. It perhaps can't be found in one person, or one relationship, and yet it somehow, mysteriously, still exists."
Moon and Knox were working on the film when lockdown hit, and the story's themes of loneliness became even more relevant. While exploring these deep insecurities, the film also finds the humour in it all. Now that it's out in the world, Moon points out the beauty of enjoying it in a packed theatre. "There is something very powerful and transformative about looking at loneliness in a way that allows for laughter, in a cinema full of people. It is so difficult to admit we're lonely and yet when we do, a new world of connection opens up to us."
Adult Adoption has already captivated audiences at the Glasgow, Calgary, Atlantic and Whistler film festivals. It will have its Toronto premiere this Saturday, January 14 at Revue Cinema, followed by a Q&A with Moon and Knox.
"We have received such memorable and wonderful feedback…this movie has made a lot of people from very different backgrounds, and in very different stages in life, feel seen."