Agam Darshi has given the world an unforgettable character with Mona in her directorial debut feature film Donkeyhead.
Also written and performed by Darshi, Mona is a cynical woman in her late thirties who lives with her ailing father in her childhood home. She's a writer who isn't writing; her lover is a middle-aged married man (Kim Coates) who can't commit. Her bedroom is a mess, with a roll of toilet paper on her bedside table, where a Kleenex box would normally sit. Her sheets are constantly in a tangle revealing the bare mattress. Her hair, which is kind of purple, is disheveled, and as she cleans up after her father, she mutters angry curses under her breath. We love Mona, and many parts of her are very relatable.
"I call this a coming-of-age story a few decades late," says Darshi. "I love coming-of-age stories and I do feel sometimes those types of lessons are sort of wasted on the young. I think it's a lot harder when you're nearing 40, when you're a woman, when you don't have all the things lined up that you're supposed to have, and you realize, oh, I have to make a change in my life. And that's where she's at."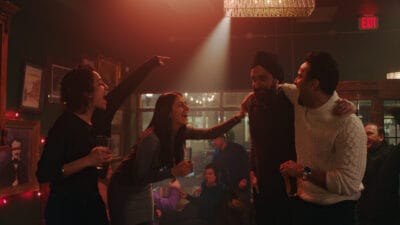 On the contrary, Mona's three siblings (Sandy Sidhu, Stephen Lobo, and Husein Madhavji), have long flown the coop. They have left Regina, Saskatchewan for bigger cities, like Toronto, New York, and London. They have successful jobs, long-term partners, and are worlds away from their sister, Mona, who has always been viewed as the difficult one.
"I was hoping to explore siblings because I love those kinds of films and family dynamics," says Darshi, explaining that she started with four siblings, asking questions like: are their parents alive? Do they live in the same city? What happens when you no longer have the glue that keeps these people together, what does that look like?
The squabbling, rivalry, and familiarity between Sandy, Parm, Rup, and Mona will ring true for most siblings, and is both hilarious and cringeworthy (as in you will likely recall past conflicts in your own life when behaviour wasn't at its finest). Darshi's goal to make a film about fraught relationships between brothers and sisters is achieved magnificently. But as she admits, somewhere along the way, Donkeyhead became Mona's story.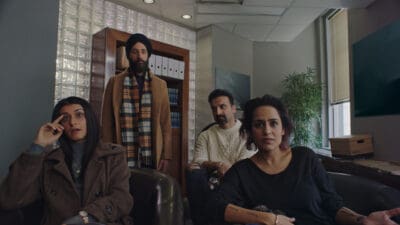 While Darshi grew up in Calgary, the film was shot in Regina. "I have a soft place in my heart for Regina. It doesn't have a lot. It's a lot of factories and there's tons of immigration that happens there. So it's a really interesting place. It's not a beautiful place."
Inspired by her own youth, Darshi wanted to show how Mona struggles to fit in; how she rebels against certain parts of her culture as a Sikh-Punjabi woman, but also the racism she experiences as a brown woman. "I've had racial slurs thrown at me when you're walking in a mall or thrown at my dad or things like that. Those are very much part of the experience of being a minority in this country. And yet at the same time, I was also not included within the South Asian communities because my Punjabi is really bad, because I carry myself a certain way. So it was always difficult for me to sort of find a place where I felt like I belonged. I think maybe Donkeyhead speaks to that."
Darshi gives a perfect performance as Mona, and the entire supporting cast is also remarkable. With dark humour and piercing emotions, the original story has universal appeal—Donkeyhead is a masterful debut and a shining example that storytelling in Canada is reaching new heights.
Donkeyhead is now playing at theatres in Toronto and Regina. The film will open in theatres across Canada on March 18.