Watching her gracefully move around a room, my first impression of Vyara Ndejuru is that she is strikingly beautiful. At the Aldo Flagship press preview, she didn't demand attention. Rather, she seemed more like an observer, smiling and watching quietly as gaggles of fashion media playfully tried on heels and sunglasses.
Being the Director of Marketing for Aldo is a major job with huge responsibilities; Ndejuru has powerful influence in the fashion world. Unlike many leaders who assert themselves quickly and command attention, her presence is gentle, thoughtful and elegant. But don't let her demeanour confuse you; this woman is daring, bold and a risk taker who doesn't shy away from big challenges.
SDTC: When did you decide to pursue a career in fashion?
Vyara Ndejuru: I knew I wanted to work in fashion probably from birth, before consciousness. Honestly, I never really thought I'd do anything else. I started off as a child model. My parents should probably never have let me start that, because it started a dialogue that I've never been able to stop. Being first generation African immigrants, they were like, "WHY DO YOU WANT TO WORK IN FASHION, WHY?  Why can't you be a doctor?" They encouraged me to continue with a very traditional academic background, so I studied economics and marketing and I continued modelling on the side. It was a  lot of fun, but my paretns always kind of discouraged me from doing that. I think it's probably a good thing, it really creates a sense of resolve about what you want to do.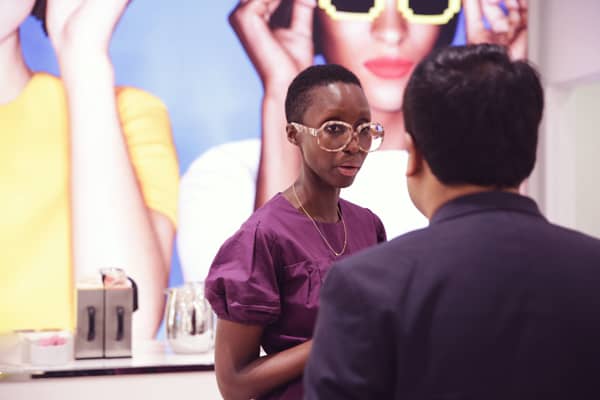 SDTC: How did you transition from modelling and academics into your current career?
VN: Out of school, I was still kind of looking for that fashion career. I had just started working and my sister, who was an events planner at that time, told me about this young designer called YSO who had just started out. An up-and-comer, he knew how to design but didn't have a business partner. So I joined forces with him in 1990-something. I don't want to date myself, so we'll just keep it at that. What happened after that was fantastic. We got so much support. Barbara Atkin was instrumental in opening the doors of Holt Renfrew to a whole new generation of very small niche Quebec designers. Us first, and through us, Renata Morales and Denis Gagnon. After that, my goal was always to be bought out by another firm. We were approached by Parasuco and they offered us the opportunity to create a line under them that would be a higher-end ladies line. That collection never really saw the light of day. That working relationship dissolved and I was hired by them to work in their marketing department. I was there for five or six years, working directly with Parasuco in Montreal. He was instrumental in shaping my career today and remains a very dear friend of mine. After that, I was looking for a new challenge, this was 2008. There were not a lot of places I wanted to work at, but Aldo was one of them and when they gave me an offer I couldn't refuse. It's been a really wild ride.
SDTC: What is unique about working for Aldo?
VN: I would definitely say that one of the things that is very different about Aldo is that we have such a huge store count. So you gotta think that, in terms of communication, the first point of contact is your store people. We have a huge retailer base. So how do you make sure that your store people are just as excited about the brand as you are? Ultimately, they are the ones who deliver to the customer. They are the ones who influence the customer and inspire the customer. One of the things that I've found is a huge part of my job is try to inspire others as I've been inspired. That is one of my main responsibilities.
I have a very young and dynamic team and building those relationships is so important. Communciation, clarity, communications strategy and execution in every single instalment, whether it's onsite activation for something as simple as sponsorship to delivering the campaign visuals, talking to our online team to ensure we have the same expression of our brand all over the world. It's a really exciting time to be in marketing, because the opportunity to get a lot of insight into who your customer is really marks a return to old- world retailing, a connection. Retail is once again becoming a craft. I think we maybe lost a bit of that over the past 20-30 years, there's a real return back to the craft of making your customer feel appreciated, excited. 
SDTC: What excites you most about working at Aldo?
VN: What excites me is that sense of opportunity. Every single milestone is achieved and there's so much more! I'm extremely proud of the Canadian success story that it is and I can't wait to see where it goes next. I have to say that it's a very bold brand and company.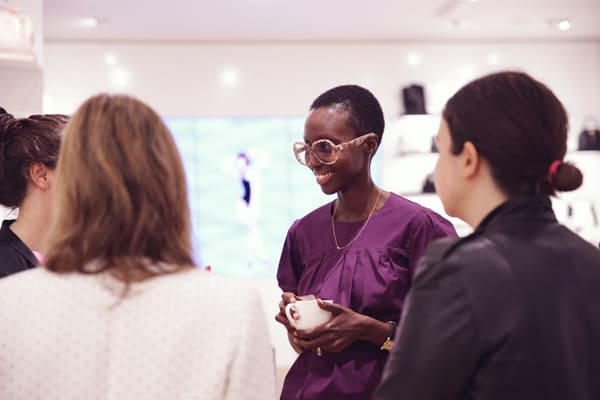 SDTC: As a brand, Aldo has grown tremendously in the past five years, what's next?
VN: Clarity of the creative vision is something that gives us a lot of inspiration internally, that signature has become clearer and clearer in terms of what we're trying to say and to whom. We still have a lot of work to do in terms of editing the collection depending on who we're talking to, but I think it's a work in progress and we're humble enough to recognize that we're learning as we go.
SDTC: What do you love most about the latest Aldo offerings?
VN: I'm African and there's definitely a sense of wild patterns to mix and match. I love prints. I really love prints.