When Ania Wysocka first experienced the frightening sensations of a panic attack during her final year of university, she was far from home and had no family doctor. "My first instinct was to reach for my phone to find a resource that could help me process what was happening," she says. "Unfortunately, there were very few apps available at the time, and the ones that did exist either had unwelcoming designs or limited content."
Wysocka learned that the way we understand panic attacks when they first strike can have a huge impact on how they affect us. After doing more research to uncover techniques and strategies needed to manage panic attacks and anxiety, she wanted to use this knowledge to help others.
"I created Rootd," she says, "because there was a lack of accessible, well-designed resources for individuals experiencing anxiety and panic attacks."
Rootd is basically panic attack and anxiety relief right in your pocket.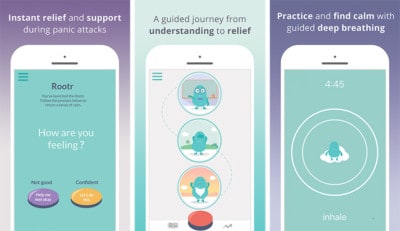 Available for free on iOS and Google Play, Rootd comes with features designed to help people during all stages of managing panic attacks and anxiety. It includes a panic button for when you are actually experiencing a panic attack, lessons on understanding panic attacks and anxiety, short-term changes a person can make in their life to manage anxiety and feel more in control (think diet and exercise), and long-term changes that lead to big shifts in how one thinks about anxiety and panic attacks in their life (think sleeping, meditating, and even self-talk). "Rootd also has a deep-breathing tool, a body scan tool for a form of active meditation, guided visualizations, and soothing nature sounds," explains Wysocka.
Rootd's fun design empowers users to use it in public without feeling embarrassed. "I receive regular reviews from people saying how it comforts them knowing Rootd is in their pocket and they can use it anytime, anywhere," she says. To date, the app has been downloaded by over 70,000 people in over 100 countries. It's helped people to feel brave enough to go back to school, go back to work, depend less on their partners, and feel less isolated. "This rapid organic growth proves there is a strong need for resources like Rootd, which can be used alongside seeing a counsellor and/or taking prescribed medication," says Wysocka.
Wysocka wants people who struggle with panic attacks and anxiety to know they are not alone. "You don't have to wait until things are really bad to start using tools to help manage your anxiety," she says. "Talking to someone like a counsellor is extremely healing, and Rootd can be used alongside that help."