Anna Kuelken took home the prestigious first place prize in the 19th annual BMO 1st Art! competition for her moving and visually stunning short film, Father Like Son.
In less than 20 minutes, the young filmmaker illuminates major issues, from the disconnection people have between their food and its source to the struggle that small farms face in Canada. She raises important questions, without ever vocalizing them, demonstrating her capabilities and talent as a storyteller and filmmaker.
"The farm is where my life began and something I know very well… something I nerd out about," says Anna, who was living in Halifax, and studying at Nova Scotia College of Art and Design, when the pandemic hit. "I decided to pack up my bags and do school at my parents' farm, the wide open spaces felt more sustainable and better for my brain." Returning home, to rural Alberta, presented the perfect opportunity for her to make the film she always wanted to do, about her father and the farm she'd grown up on.
In Father Like Son Anna follows her father and brother, as they go about their work, both on the farm and in the oil fields. "Farming is hard. If you want to be a small farmer, you have to work other jobs," she shares. "My dad has always had jobs, we've almost lost the farm multiple times and they've figured it out along the way."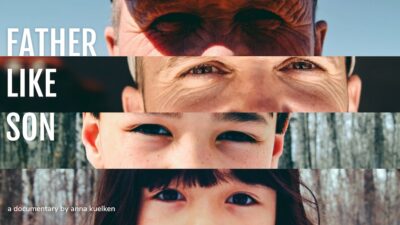 The film captures how Anna's niece and nephew shadow their dad around the farm, which helps them understand the cycle of life. "My 7-year-old niece witnessed the death of an animal we had to butcher, but in time she started to help. Although difficult, we are happy she cried because this shows empathy and an understanding of where her food comes from," says Anna, who was reminded of her own childhood while filming Father Like Son. "She knows where her food comes from and she'll be a better consumer because of that."
Beautifully shot, the film has a meditative-like quality, and captures both the art and true grit of farming—a way of life that is dying out. "Most of us come from farm families, at least somewhere along the lines. The small farmer is definitely lost in the midst of the global economy," says Anna, who now lives in Edmonton, but tries to make it back to the farm, which is 2.5 hours north, whenever she can. "It grounds you, there's a different pace of life. It's quiet and dark and it's very peaceful. My family is there… I'm lucky to have that escape."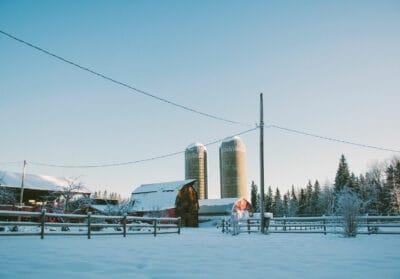 Anna's exquisite short is now on display at the BMO 1st Art! 2021 Virtual Exhibition. As the first prize winner, Anna was awarded $15,000, and she's shared that most of it will go towards student debt, but also some new filming equipment.
The exhibit also showcases the work of 12 regional winners, who were each awarded $7500. Students selected were nominated by teachers who have nurtured their talents and understand their potential. BMO 1st Art! supports young artists, both financially and by also acknowledging their skills and contributions, and it's a wonderful way for art lovers to explore the work and concerns of Canada's next generation of emerging artists.
Be sure to check out the free virtual exhibition between now and December 8th.