This initiative touched our hearts last year, and we're happy to see the return of Bag of Toronto, which started as a response to the pandemic in the Spring of 2020.
Run by engaged residents and volunteers, who want to see local small businesses survive and thrive, the non-profit organization sells curated bags of local goods from seven distinct neighbourhoods (Bloordale, Bloorcourt, Ossington, Queen West, College Promenade, Riverside, and Kensington Market). In each bag, customers receive 5-7 items sampled from Toronto small businesses.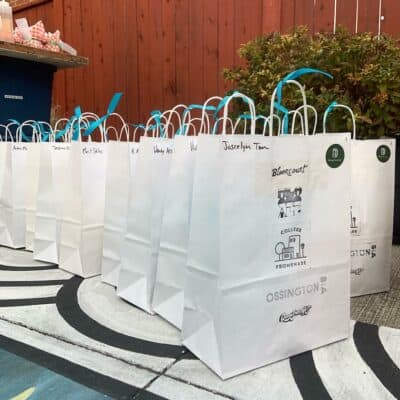 We think Bag of Toronto is smart, fun, and a wonderful way to support local shops and companies. Purchase a bag for a family member, friend, or just because. Every purchase makes a positive impact on 90+ small businesses and any profits are donated to seven charities, one in each respective neighbourhood.
Since launching in 2020, Bag of Toronto has allowed $125,000+ to be spent at local businesses during a time of great need. Over 2200 bags have been sold, with more than $7,800 donated to hyper-local charities. Amazing!
Saving Gigi, Hard Feelings, Paradise Theatre, Ba Noi, Burdock, Afrobeats Cafe, Telegramme Prints, Wanda's Pie in the Sky—so many beloved Toronto gems are participating. Head to the Bag of Toronto website now and check out which local businesses are included in each neighbourhood.