Putting together this list of ideas got us excited. What will you pack in for these final weeks of summer in Toronto? Outdoor films, evenings at Evergreen Brickworks, free yoga in the park, party on a parking lot roof… as aways, there's lots to choose from. See what pulls you in and make the most of August while it's here.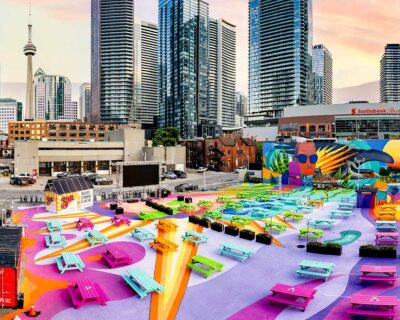 Bumble BFF Outdoor Screenings
You have two more Tuesdays to experience Bumble BFF's Toronto Outdoor Screenings at the brightly painted RendezView patio. This week they're screening the 2003 hit How To Lose A Guy In 10 Days. Arrive early and get a tarot reading, or challenge someone to a game of giant Jenga. More on this series and what it's all about.
Yorkville Murals Block Party
After an incredibly successful inaugural year, Yorkville Murals is back! The striking street art can be admired anytime until August 28, and this Saturday they are hosting the Yorkville Mural Block Party (12pm-11pm) on the rooftop of the Cumberland Parkade (148 Cumberland). The entire lot will be transformed and guests can look forward to music, food, and outdoor art. Admission is free, but capacity is limited, so if this appeals to you, you better RSVP now. More info on all the Yorkville Mural activations here.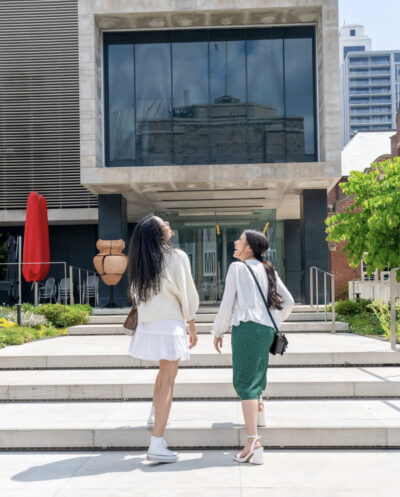 Free Weekend Admission at The Gardiner Museum until Labour Day
When was the last time you visited this beautifully designed space? From now until Labour Day, admission to The Gardiner Museum is free on weekends. From now until September 5, discover the work of Z'otz Collective in their exhibition hall, including ceramics, drawings, a large-scale mural, and hands-on activities. From Wednesday to Sunday, The Gardiner is offering playful and collaborative clay activities for families. It's also an ideal spot to visit if you are looking to pause and think amongst stunning surroundings. Plan your visit.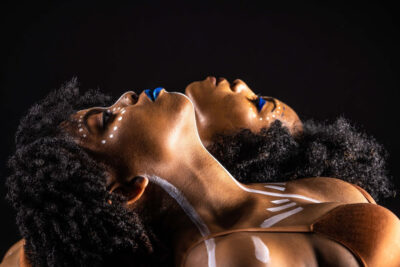 Yensa Festival: A Celebration of Black Women in Dance
YENSA Festival is an international biennial festival that celebrates the work of women in dance, from African and Afro-diasporic cultures. The Festival invites audiences to engage and celebrate the incredible evolution of Black dance and have conversations about the diversity of African Diasporic aesthetics, its histories and politics, from a female perspective. This weekend, head to Ada Slaight Hall at Daniels Spectrum (585 Dundas St E) for two incredible performances. On August 28, join a dance and drum celebration led by US master drummer Fara Tolno. The Festival also includes workshops and public talks. The Festival is a mix of free events and sliding scale tickets. More here.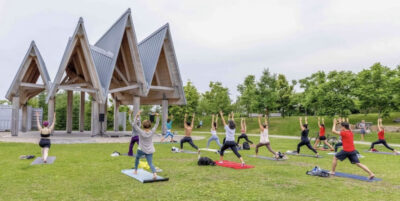 Free Yoga in Trillium Park
There's always something happening at Ontario Place, from films at the Cinesphere to the Imagination Playground and the epic floating water park, but this week we thought we'd draw your attention to the free weekend yoga classes in Trillium Park. This time of year always comes with certain stresses as the summer winds down and fall picks up. We guarantee that making time to stretch and breathe in beautiful natural surroundings will bring serenity to your week. Check the schedule here.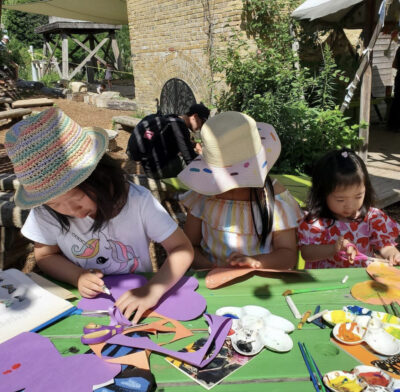 Summer Wednesdays and Weekend Events at Evergreen Brickworks
If you haven't yet enjoyed a Wednesday evening at Evergreen Brickworks, we encourage you to do this as a really lovely way to break up the work week. This Wednesday, they will be hosting a Night Market (5-9pm) featuring local vendors. Grab some dinner, browse the market, and then get in a hike before sundown. If you can't swing a mid-week visit, there is always tons on offer on the weekend! If you're looking for some fun for the kids, the Children's Garden is available for supervised Weekend Nature Play this Saturday (Aug 27) from 10am – 3pm. More ideas here.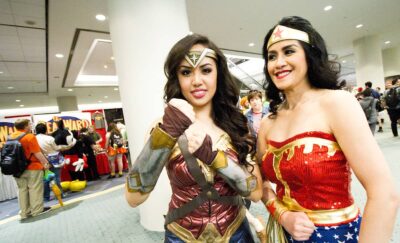 FAN EXPO is happening all weekend long!
FAN EXPO Canada is the largest comics, sci-fi, horror, anime, and gaming event in Canada and the second largest in North America. It's a chance for fans to connect with their favourite stars, but there is also A TON to look at and do. Some of the celebs in attendance this year include a reunion of the four Hobbits: Elijah Wood, Sean Astin, Billy Boyd, and Dominic Monaghan from the legendary Lord of the Rings trilogy; Clerks stars including Kevin Smith and Jason Mewes; iconic Canadian comedian group The Kids in the Hall (Dave Foley, Bruce McCulloch, Kevin McDonald, Mark McKinney, and Scott Thompson); and Stranger Things stars Finn Wolfhard, Jamie Campbell Bower, and Grace Van Dien. If you enjoy watching people in outrageous cosplay (or dressing up yourself), this is the place to be. It's wild. There are also lots of activities for kids to enjoy, including a Harry Potter sorting ceremony and an epic fort building zone. FAN EXPO will take over the Metro Toronto Convention Centre from August 25 – 28. It's an unforgettable scene—make a plan.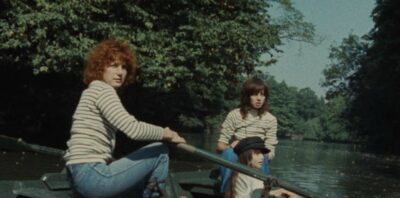 Watch Jacques Rivette's CELINE AND JULIE GO BOATING at Paradise Cinema
French wave classic Celine and Julie Go Boating is part of the Paradise The Last Days of Summer programme, devoted to films that show the sweetness of the season. Described as "Alice's Adventures in Wonderland meets the freewheeling invention of French New Wave gamesman Jacques Rivette in this giddy surrealist fantasia", expect a comic adventure involving a haunted house, psychotropic candy, and a murder mystery. Sounds fun, and we always love visiting the gorgeously updated Paradise. Watch the film this Saturday at 2PM, and then grab some food on the patio to discuss. This is one of several fun films screening this week.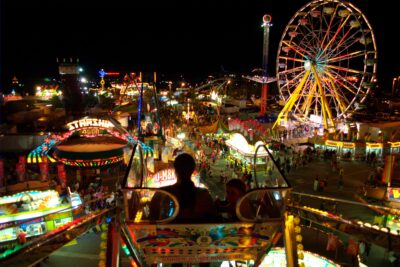 A trip to the CNE!
If you didn't make it to the CNE for opening weekend, you still have a few more weeks to experience the magic! Try the wacky food, thrill yourself on the wild rides, hit the games garage or just enjoy the sounds and sights of the fairgrounds. The CNE is running until September 5—take it all in day or night.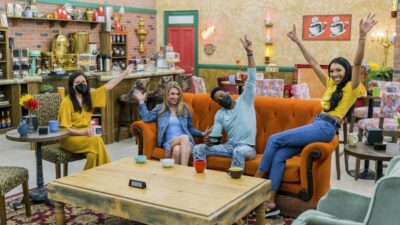 Check out The FRIENDS Experience at Yorkdale Mall
Doing some back-to-school shopping this weekend? If you're at Yorkdale Mall, make time to check out The FRIENDS Experience. With 12 nostalgia-packed rooms and activations, fans can step into the iconic television show and recreate memorable scenes such as PIVOT-ing Ross' couch up the stairs and trying on all of Chandler's clothes. Tickets start at $30.50 and can be purchased here.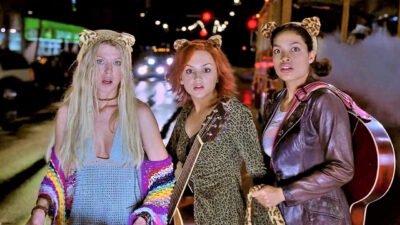 Last weekend to experience Toronto Outdoor Picture Show 2022!
We can't believe that it's the final week of the Toronto Outdoor Picture Show! This series brings so much vibrancy to Toronto summers, and they're ending things on a high note. This Thursday, head to Bell Manor Park and relive your teenage years with Josie and the Pussycats. Or hit Christie Pits on Saturday at sundown for 1950 classic Sunset Boulevard, which will be paired with Joyce Wong's Camera Test and Allison Johnston's The Women's Hour.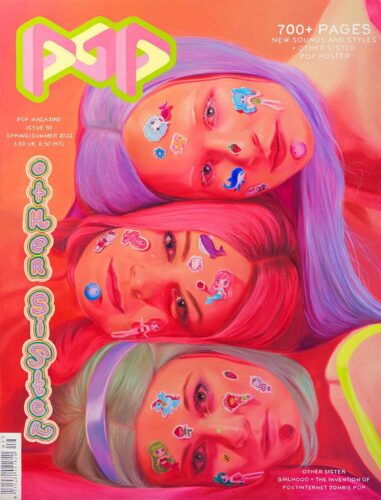 Jen Mann exhibit at Arsenal Contemporary Closes Sept 3
For her project Other Sister, Toronto-based artist Jen Mann has constructed an elaborate, fictional narrative that critiques our contemporary culture of self-representation. 'Other Sister' is the persona and name of the girl-pop group that consists of the artist and two of her friends that are sisters. Work includes painting, sculpture, sound, video, performance, merchandise and social media components, all convincingly designed to represent the band. The exhibition playfully mixes vocabularies of art and marketing, and confuses boundaries between fact and fiction. Enter and exit through the gift shop where a vinyl record produced by the band, and other related merchandise is available for purchase. FUN. We've been a fan of Mann's for a long time, and this exhibit is a must-see for art lovers. Other Sister closes Sept 3; gallery hours are listed on the Arsenal Contemporary site.