For every Tuesday in the month of August, Bumble BFF is hosting FREE movie nights on the popular outdoor patio spot, RendezViews. Making friends in a big city can be overwhelming, so they are encouraging people to try out the BFF side of Bumble and meet others looking for a new friend. Enjoy a movie under the stars, take in a sunset view, and maybe meet a new friend.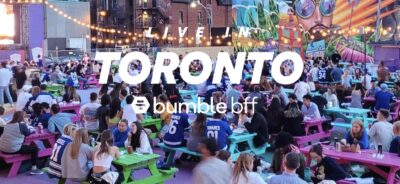 They have an exciting movie lineup for the next few weeks. Next Tuesday, August 16, they will be screening Grease, in honour of the legendary Olivia Newton-John. On August 23, watch How to Lose a Guy in 10 Days, and the final movie on August 30 will be Sisterhood of the Travelling Pants.
As well as Happy Hour discounts, you and your friend can bond before the movie with a game of giant Jenga or cornhole, or get a free tarot reading to see where the future of your friendship lies. We also loved reading the funny and heartfelt answers on the bright yellow friendship wall—an opportunity for anyone to answer the prompt "What does friendship mean to you?" (Responses ranged from "doing Marvel marathons together" to "dancing in Toronto" to "non-judgmental love and support").
View this post on Instagram

Of course, you're encouraged to mingle and possibly meet a new friend or two! But if striking up a convo with a stranger IRL isn't your thing, making an initial connection virtually can be less nerve-wracking. If you've never used Bumble BFF before, the process is similar to any dating app—you fill out a profile, set your preferences for things like age and location, and swipe through to see other users on the app.
If the pandemic was hard on your friendships, it's a great time to look for ways to expand your social circle — if swiping on an app isn't for you, then events like this are great opportunities. And it's always heartwarming to see celebrations of platonic love when the importance of friendship is so often overlooked—something Danita Steinberg touches on beautifully in her recent piece.
RSVP for the next Bumble BFF movie night here, It's totally free, you'll just need to have Bumble downloaded to enter.