The Alinker is a huge success story, but Founder Barbara Alink admits that developing the
"radically different walking bike"
was an arduous, maddening process, "
The Alinker
has nearly killed me, and at the same time it has saved my life."
The entrepreneur was at near-breaking point when
Vicki Saunders
, Founder of Toronto-based female funding giant
SheEO
, called her up to notify her that she had been selected to receive financial support. It was life-changing news, that had Alink instantly in tears, "I could finally live and build my vision."
With a mandate to support women-owned businesses focused on creating a better world, Alink's stylish mobility bike met all the criteria. Many investors had previously turned her down, but
SheEO Activators
saw the potential in what she was building.
The support and funding that SheEO provided Alink helped take her business to the next level of growth that it needed to thrive, which in turn, is how actor Selma Blair discovered it. Blair's endorsement created a significant spike in sales for the company, but more so, it helped liberate thousands of individuals who had previously felt restricted, isolated, and depressed from their lack of mobility.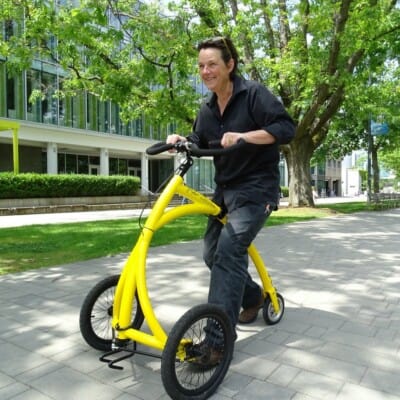 We connected with Alink to find out more about her totally awesome walking bike.
How did the idea for the Alinker come to you? Was there a particular moment?
I was out with my mum, and while she was looking at some scooters and walkers, she turned to me and said, "over my dead body will I ever use one of these". In that moment I realized that mobility aids were a technical solution for a body with a problem. All of a sudden, it's like you are not a human anymore, and that creates a social divide between people with and without disabilities. So I set out to make something so cool that people would love to use it. When you are using an Alinker, you are the one with the cool bike, instead of being looked at with pity.
Along the way, I also learned that more than half the people who use wheelchairs, can still use their legs, yet there is nothing designed for them to keep using their legs and be at eye level. Our "sickcare" system is driven by liability (in a chair at least nothing will happen to you) and making money over sick people. The fact that you lose your mobility, muscle mass, income, social life, engagement, circulation, have an increased risk for diabetes, heart disease, weight gain and isolation leading to depression, does not seem to count. Time to create a healthcare system that supports our wellness; time to create a community where people show up for each other. Humans need to be acknowledged and seen in order to feel alive.
Who is the Alinker made for?
Everybody who identifies as an active person and who happens to have a disease or situation that causes mobility challenges.
How did you connect with Selma Blair, and how has her endorsement helped you grow your business?
Selma met Joe Revello in NY in an MS clinic early 2019, there she fell in love with the Alinker. I did not know this until much later. A week after she appeared on the red carpet at the 2019 Oscars using a cane and announcing to the world what progressive MS looks like, she posted herself on Instagram on an Alinker. That Alinker she had received from another actress who has MS. In June 2019, I went to meet Selma in Chicago where she was for a treatment. She thought she could do without an Alinker there, but was exhausted after a couple of days, so I met her and brought her an Alinker to use during the time of the treatment. We made
this video
of that meeting. After this video our engagement on Instagram really went up and sales started picking up. With the exposure through Selma, we also launched the crowdfunding campaigns, and integrated a website platform where people can share their story and raise for an Alinker.
How is SheEO part of your story?
I was in isolation myself, in a small dark apartment, building the Alinker business—against all odds. I was depressed and desperately alone. Potential investors told me to bootstrap harder and to engage with a "real" engineer. The Alinker has nearly killed me, and at the same time it has saved my life.
When you see someone come out of a wheelchair and walk away on an Alinker, you know it is much bigger than you, and you just have to do it. When Vicki called me to tell me I was one of the 5 ventures, I broke down an cried…let it out. I knew it would change everything. And it did. Right after the summit I started to travel a lot with Vicki, doing events together and my world opened up to possibilities and people who listened to what I had to say, beyond focusing on how to make money and telling me what to do differently. I could finally live and build my vision.
What philosophies are currently helping you grow your business?
The same values that always drive me: choose who you want to be and be congruent with that in all actions. Find the right people who are aligned. Relationships are the core of our business, and it has helped us grow a movement.
What are your top tips for entrepreneurs?
Be you. Understand yourself and how you are part of our sexist and racial systems. Be willing to confront yourself and question yourself.
Understand that awareness has consequences.
Choose who you want to be, then be congruent with what you say.
On March 9 & 10, SheEO will be hosting their first Global Summit in Toronto. Ventures, like Barbara Alinker, will share their story, and attendees will also be able to learn from 50+ speakers—all self-indentified women breaking barriers and growing businesses that are changing the world in a positive and healthy way. Get all the info here.