Aisha Quashie was diagnosed with stage 3 non-Hodgkin's lymphoma in 2019. "My immediate reaction was what if I die? What are they going to do? They're going to be without a mom," says Aisha, who has two children.
With her health in decline, she knew she'd have to tell her kids what was going on, but wanted facts before sitting them down for a tough conversation.
The challenging period between the ultrasound and biopsy was full of more questions than answers. Her son, who was 14 at the time, sensed that something wasn't right, as kids always do. Aisha didn't hide the fact that she wasn't feeling well, but waited to have a clearer picture of what lay ahead before mentioning cancer. "I told him that I didn't know what's going on, but as soon as I did, we would sit down and talk about it."
After a month of doctor appointments, Aisha received more clarity about her condition, and what fighting the cancer would look like. It was then that she called a family meeting to let her kids know that she was sick. "I asked my mom to be there with me. I sat them down on my bed and I told them what the doctor had said. Everyone was pretty emotional. They were crying and they were upset," says Aisha, sharing that it was the unknowns that scared her kids the most. "It's not like a bruised knee that's going to heal if you give it a bit of time."
It was an incredibly hard family conversation, but Aisha provided them with as much information she could, to help prepare them for what was to come. She also chose her language carefully, to not scare them too much. "I explained that I might look different, and that I might not have as much energy," she shares, adding how masking the truth won't serve anyone. "Be as honest as you can, in a kid-friendly way."
Her daughter, who was 9 at the time, had an especially difficult time processing the news. To help, they attended family counselling at Wellspring, which provides supportive care programs to help Canadians who are living with cancer. It became an invaluable resource for both Aisha and her kids.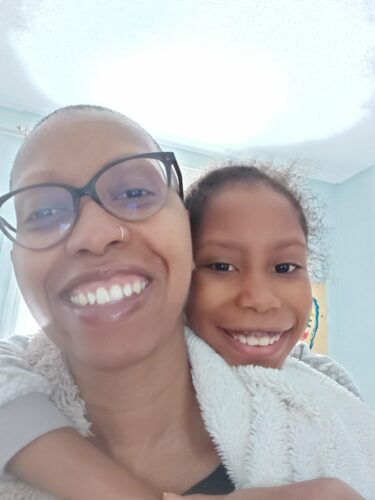 Throughout everything, Aisha has been impressed and touched by how quickly her children responded to support her. "They really stepped up and started doing things that I was doing for them. Even my 9 year old was doing laundry," says Aisha, sharing how her daughter would walk around the home to collect clothes and towels when her mom was resting, and how both kids took over household chores when their mom didn't have the capacity to do certain things.
During one of many hospital visits, Aisha expressed to her personal care worker that she wasn't doing well, and that's when she was introduced to the Look Good Feel Better workshops, where women with cancer learn how to manage the appearance-related impact of cancer and its treat­ment. "It's not just beauty, it's skincare…if you've had breast cancer, they talk about different bras or head wraps, it's focused on making someone who's not in a good situation feel better" says Aisha, who was thankful to find a warm and welcoming community through the program.
These days, Aisha is in recovery. "My body is trying to get back to feeling normal. I still have days that I get tired, but I try to do my yoga and my walking exercises to get my energy up," she tells me, and shares how crucial self-care is. "The biggest thing is saying no. If I can't do something, or I'm not feeling up to it, I say 'I'm not up for it,' or 'I'm not feeling good,' or ''I just can't.'" Learning to say no, especially for people pleasers, takes practice, but it's something we can all benefit from.
For mothers overcome with fear, who are perhaps living through what Aisha experienced in 2019, her best advice is to stay in the moment: "Take everything hour by hour, minute by minute, and try not to think in the future, but deal with things as they come. You'll stress yourself more if you think about the unknown."
Wanting to help other mothers, Aisha has shared parts of her cancer journey in the Look Good Feel Better digital magazine. "If I can help someone else, that means the world to me," she says, and she most definitely has. Even just seeing Aisha, with her beautiful kids by her side, surviving this, is a powerful reminder to all cancer warriors that you're not alone.