Toronto Miracle is a grassroots organization that is determined to fill food bank shelves across the city with a safe door-to-door drive happening on December 5th.With a goal to include 140 neighbourhoods and collect 250,000 items, they need everyone's help!
To join, simply register your intent to donate and leave non-perishable food on your doorstep between the hours of 10am and 4pm on December 5th. If you live in an apartment or condo, they recommend speaking to building management to organize a box in the lobby.
From drivers to helping to receive food at various neighbourhood drop-off points, there are volunteers organized across the city, but they are still looking for more! See the full breakdown of various volunteer duties here (teens welcome to help too!)
Toronto Miracle has partnered with Second Harvest, Daily Bread Food Bank, and North York Harvest and other local community groups to help distribute all the items collected.
Here is a list of recommended items to donate:
Grains (rice, buckwheat, oats, millet, barley, quinoa, couscous, bulgur, etc.)
Pasta
Pasta sauces
Vegetable oils
Spices (e.g. salt, pepper, oregano, basil, chilli powder)
Breakfast cereals, muesli, etc.
Flour
Nuts and seeds
Dried fruits
Nut butter
Coffee
Sugar
Legumes (beans, chickpeas, lentils, etc.)
Non-perishable milk products (Grand Pré milk, soy milk, almond milk)
Canned soup (preferably reduced in salt)
Canned produce (e.g.beets, corn, mushrooms)
Canned fish
Infant formulas and baby products (baby food jars, powdered milk, diapers, hygiene products)
Healthy snacks
Hygiene products (sanitary napkins, toilet paper, toothpaste)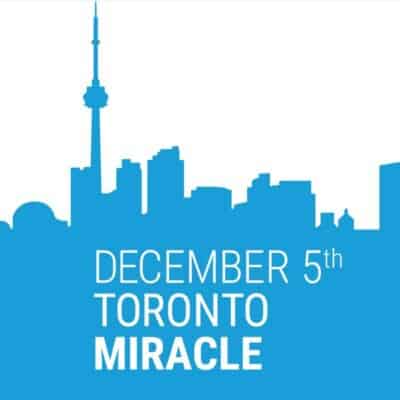 An excerpt from the Toronto Miracle site shares the dire need for donations and support:
"Even before COVID-19, nearly 4.5 million Canadians struggled to put good food on the table for themselves and their families. In the first 2 months of the pandemic, that number grew by 39%, affecting 1 in 7 people, In Toronto, almost 1 in 5 households faced food insecurity.
‍Since the pandemic began in March 2020, many food banks in Toronto have seen a sharp increase in demand, with some receiving as many as three times the number of weekly visits compared to the month prior. According to a survey conducted by Daily Bread, this increased demand was driven both by the addition of new clients and by an increase in visits from returning clients struggling to make ends meet during the pandemic. An estimated 6,000 new clients began accessing food banks in Toronto in June 2020 (compared to 2,000 in February 2020)."
No one should go hungry. Let's all do our part to fight food insecurity this season. For more info, head to the Toronto Miracle site.
‍