The reality of life right now is a lot to bear. And food security is one of the scariest things to have to consider.
Grocery store shelves are stocked, but the anxiety at the store is palpable. It feels uncomfortable.
There are plexiglass barriers at the cash. We have to wait in line to go inside. There are markers on the ground to tell us where to stand. Inside the store, there are signs that tell us which way to move. People wear gloves and masks to shop. Certain foods aren't available, or are in low supply. After the shopping is done, we wash everything.
Online delivery isn't much better. It's booked months in advance. There are no slots available. I spent two hours creating an order for my family of five, and when I discovered that I wouldn't actually be able to order any of it, I cried (I'm quick to tears these days, what can I say?).
Yes, grocery shopping is super weird right now.
But.
As we focus more than ever on food security, I think the positive matters just as much as the negative.
When I went to order seeds for my veggie garden, the seed company said they've had unprecedented levels of orders this year because of COVID-19. And my favourite local farm share, Joyfully Organic, has added three Toronto pickup hubs this year to ensure people have access to fresh produce. Usually, they sell their produce at farmers' markets in Toronto, and the farm share is reserved for those that live near the farm (which is where we live, just north of Toronto).
For the past couple of years, every Thursday I've biked over to our farm share pickup spot (an open-air tent outside our local bakery) with my kids, where we chat with our farmer, Liz (who is absolutely lovely) and the kids help fill our reusable bag with fresh, organic veggies.
Thanks to our farm share, there is nothing my 3-year-old won't try. A whole radish? Sure. Handfuls of lettuce? Yep!
One day, while biking home, my eldest son peeked into the bike trailer, where my younger son was sitting with our bag of veggies and yelled "Little brother is happily munching on a carrot!"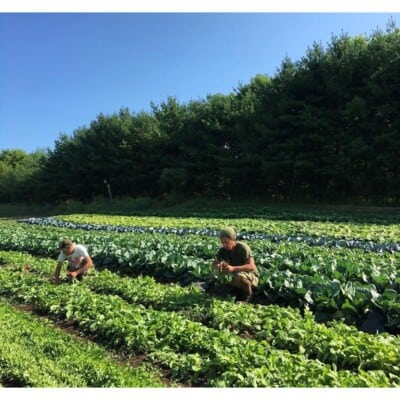 We pay our farmers about $35 a week, and from June to December, we get our haul of veggies weekly. We originally joined our farm share to have fresh, local, organic veggies, but it came with the bonus of an amazing community vibe (which is now one of my favourite things about it). Usually, we run into people we know and chat about what we're planning to cook that week. I imagine this year will be a little different. Maybe one family will enter the tent at a time, or each person will have a their own time slot for pickup.
Either way, we know we'll feel that sense of community we've come to rely on.
Our farm share makes us all happy at the best of times. But when times are weird, it's even more important to us.
Not only is it amazing to be part of such a lovely community, but it also gives us a sense of comfort. We know we'll have guaranteed access to fresh produce that is grown nearby—because we know our farmers.
We all need food to survive. We should all have safe access to it. And while we still need to have an apocalypse-style grocery store experience every few weeks to stock up on basics, I'm happy knowing that some of our experiences around food will still feel normal.
And right now, normal is a pretty great feeling.