It was late-night scrolling on Facebook that alerted me to this initiative, as I noticed a friend hosting "Comfort Food for Uncomfortable Times", a Sunday afternoon where she was going to share meal-planning ideas for the long winter ahead. I was immediately interested and with a few clicks I realized that events like hers were sprouting up in living rooms and kitchens all over the country.
In 2019, The Big Social succeeded in hosting 400+ events, which enabled thousands of Canadians to come together and raise funds for over 200 communities across the country. While this year is different, it's shaping up to be another huge success, and offers families and friends a really lovely way to plan a virtual event, or share a meal together, that gives back.
If you're not up to hosting your own event to help raise vital funds for Community Food Centres Canada, maybe attending a public one is more your jam. There are still spots available for tomorrow night's
Getting Salty: A conversation on food
.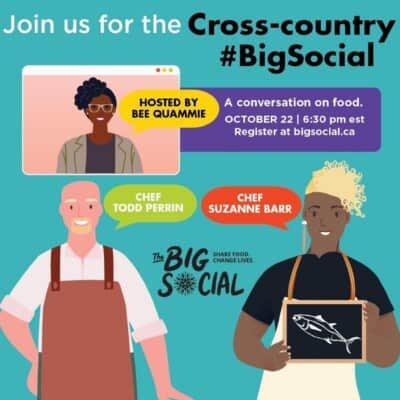 Journalist Bee Quammie
will moderate a lively discussion about salt cod's cultural and economic importance with Todd Perrin, owner and chef of St. John's
Mallard Cottage
, and
Suzanne Barr
, chef, author, and owner of Toronto's beloved True True Diner (which sadly said farewell this past July). The event boasts mouth-watering demos, rich personal anecdotes, and promises plenty of food for thought (heh).
Sign up now.
If you could host a virtual foodie event, or maybe an IRL event with your bubble, what would the focus be? Immune-boosting smoothies, slow-cooker winners, soup season favourites, spicy curries to warm up winter, a spooky dinner for Halloween? Our senses are lighting up just thinking about all the delicious possibilities. Or maybe you want to take a cue from Getting Salty and focus your event on a specific food or recipe that has played a significant role in your life, and investigate its history and story a little deeper for the occasion.