Here are some of the albums we can't get enough of right now!
Beach House: 7
Beach House hinted at wanting to try something new after releasing their B-Sides and Rarities compilation in 2017, stating that they were "cleaning out the closet," and they've done that with 7. The seventh studio album from the Baltimore dream pop duo–Victoria Legrand and Alex Scally–finds them branching out ever so slightly from their signature sound into something more chaotic with help from co-producer Sonic Boom (a.k.a. Peter Kember of Spacemen 3).
The evolution is immediately evident on lead single "Lemon Glow," a hypnotic track bursting with woozy synths and distorted guitar. "Pay No Mind" recalls the slow fuzz of Jesus and Mary Chain. "L'Inconnue"–a reference to the death mask of a young woman who drowned in Paris in the late 1880s–is a beautifully eerie and reminiscent of a church hymn. "Drunk in LA" deals with the conflicting feelings that come with aging ("On a hillside I remember / I am loving losing life." The album closes with "Last Ride," a tribute to Warhol superstar Nico that builds from sparse piano into a guitar-driven anthem. 7 is undoubtedly one of Beach House's most enthralling listens to date.
Must-hear track: "Drunk in LA"
Amber Mark: Conexão EP
On Amber Mark's first EP, 2017's 3:33am, the New York-based singer/songwriter/producer took listeners through the stages of grief she experienced following the death of her mother four years earlier. Conexão (the Portuguese word for "connection") isn't as emotionally heavy as 3:33am, but it's just as personal, chronicling Mark's journey to find love again and all the drama that comes with it.
The influence of Brazilian Bossa nova can be felt throughout the four songs on Conexão, which, as Mark explained to Noisey, is something her mom played a lot when she was growing up. The EP begins on a sensual note with title track "Conexão," as Mark tells her lover, "Don't you take your eyes off of me, yeah / As I dedicate, appreciate, yeah." "Love Me Right" deals with Mark's attempt at saving a relationship that's on the rocks and is followed by a gorgeous cover of Sade's "Love Is Stronger Than Pride" (which got Sade Adu's seal of approval). Capping things off is "All the Work," a song about rejecting an ex's attempt at rekindling love. With two strong EPs under her belt, it will be interesting to see what Mark has up her sleeves next.
Must-hear track: "Love Me Right"
Chvrches: Love Is Dead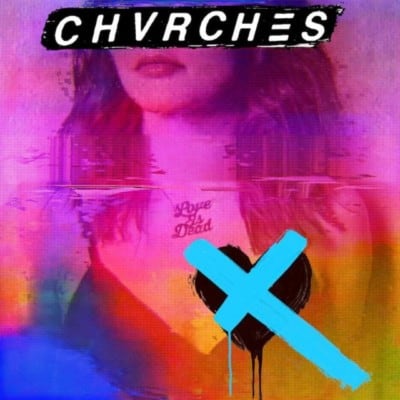 Since releasing their debut, The Bones of What You Believe, in 2013, Chvrches have carved out a niche for themselves in the synthpop/darkwave landscape. The latest album, Love Is Dead, sees the Scottish three-piece move closer to the world of mainstream pop by enlisting producer Greg Kurstin, whose catalogue of work includes hits such as Adele's "Hello" and Sia's "Chandelier."
Love Is Dead begins with "Graffiti," which, in typical Chvrches fashion, mixes shimmering synths with dark, brooding lyrics: "I've been waiting for my whole life to grow old / And now we never will, never will," frontwoman Lauren Mayberry laments. The National's Matt Berninger pops in on "My Enemy" for a back and forth with Mayberry about heartbreak, while the pulsating cut "Heaven/Hell" tackles gender inequality in the music industry. The album slows down briefly on "Really Gone," a bare-bones ballad that allows Mayberry's haunting vocals to shine.
Must-hear track: "My Enemy"