Many view Toronto's Caribbean Carnival as a massive and vibrant party along the waterfront, which it definitely is, but it's so much more than that.
Directed by Chris Strikes, Becoming A Queen follows Scarborough's Joella Crichton on her determined pursuit to be crowned Caribbean Queen of Carnival for a historic tenth time (in the past 13 years, she's held the title 9 times, including 7 consecutive wins).
From the get-go, the film is a visual and auditory pleasure, with great music and wow-worthy stunning costumes. Through Joella's story, we also learn about the history of Carnival, the year-round efforts that go into organizing the event, the incredible artistry required to create the winning costumes, and the impact it has on people, especially women of the Caribbean community in Toronto.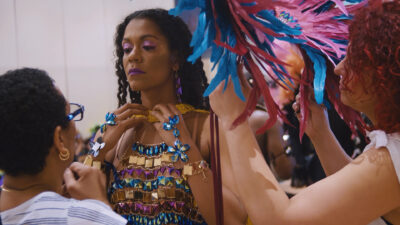 "It's about my heart… it's about my soul," Joella exclaims in the film. "It's one of the most beautiful experiences that exists. You see joy, you see smiles all around you, you see playfulness, you see love. It really is about freedom. Forget your trials and tribulations…it gives people the openness to be exactly who they are."
Joella, her sister Mischka, and other interview subjects (including Toronto influencer and media personality Nneka Elliott) share how Carnival has played a role in their lives, since they were children, explaining how summers were spent in a warehouse full of feathers and glitter. "Other families go on family vacations and we do Carnival!" Mischka laughs, expressing how magical that time in her childhood was. The sisters, and their mother Lou-Ann, speak candidly and emotionally about the importance Carnival plays in their identity—how it connects them to their family's "home" in St Vincent and the Grenadines, and the Caribbean community at large.
"Queen really represents my way of being connected to my family, as well as my culture and heritage," says Joella, explaining why the title has always been so meaningful to her. Beyond her personal reflections, Joella educates audiences about the historical significance of the event: "When emancipation happened in the Caribbean, Carnival began as a celebration of freedom where people processioned through the streets as an act of protest against their former European oppressors."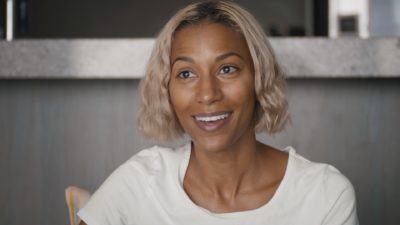 Less competitive, but every bit as enamoured by Carnival, in the documentary Mischka talks about how the event is a celebration of diversity. "One of my favourite things to see is the diversity amongst Caribbean women. There are so many shapes, sizes, races, complexions, everything exists. We try to uplift each other…we're trying to build generations of women who are strong and powerful and doing well in this world."
Moving from the packed celebrations on Toronto's waterfront to their home in Scarborough and down south to the sandy beaches in St Vincent and the Grenadines, Becoming A Queen raises questions and ideas about identity, the Caribbean diaspora, and the power of community. The heartfelt and illuminating documentary shows how Carnival has shaped one family's life while also helping audiences gain an appreciation of the artistry and endless work that goes into the planning and execution of the event, and the significance it holds for millions of people.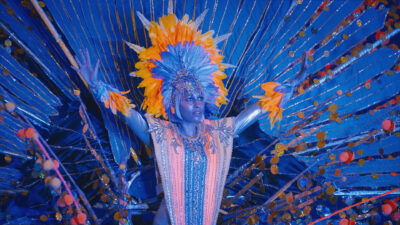 Becoming A Queen is out on VOD/Digital as of July 19.