Josephine: a burlesque cabaret dream play combines cabaret, theatre and dance to tell the story of the iconic Josephine Baker, the first African-American international superstar and one of the most remarkable figures of the 20th century.
Born in St. Louis in 1906, Josephine Baker achieved only moderate success in the United States but became an international superstar after moving to France in the early 1920s. She starred alongside white romantic leading men in films in the 1930s, had multiple interracial marriages and homosexual relationships, and performed in men's clothing before the term "drag" existed in the lexicon. Her adopted country of France gave her the opportunity to live freely without the racial oppression of her home nation, though she never stopped yearning for acceptance in America.
We chatted with Tymisha Harris, co-creator and star of the play.
SDTC: What was your first introduction to Josephine Baker?
TH: My first introduction to Josephine was the 1991 HBO movie The Josephine Baker Story, starring Lynn Whitfield. I was seventeen years old, and it was a life-changing moment for me. To see a woman of colour achieve so much and break so many boundaries made me think that anything was possible for me.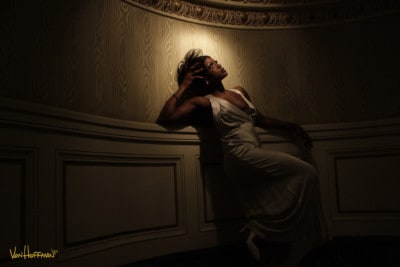 How has your view of her evolved since developing this play?
We did months of research and dramaturgy into her remarkable life and that really informed my view of her, but it mostly just reinforced the views I already had. She was a fearless, passionate, talented and generous person who achieved incredible things through perseverance and a tireless work ethic.
What would surprise most people about Josephine Baker?
There is so much about this extraordinary woman's life that surprises people, but I would have to say the fact that she was a spy for the French Resistance and was the first American women to be buried with full French military honours.
What are the challenges in portraying her on stage?
The costume changes are definitely a challenge. Josephine was known for her incredible fashion sense, and in order to honour that, we have thirteen beautiful outfits in the show. Since it's a solo performance and I can't just leave stage for a minute every time I need to change, we incorporated every change into the play so they happen in front of the audience or just behind a dressing screen in silhouette.
What do you love most about Josephine Baker?
Her incredible capacity for love. She was never really able to fully love any one person, but that is because she had so much love to give to so many. That's why she adopted twelve children from four continents, had lovers of both genders too numerous to count, and did practically everything a performer could ever dream of doing.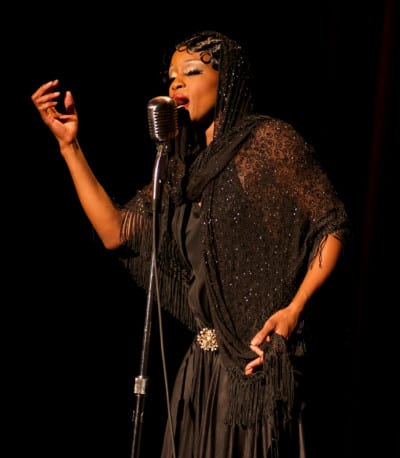 What can audiences expect from this play?
They can expect great music from the 1920s through to the 1960s, they can expect fabulous dance and burlesque, and they can expect the story of one of the most remarkable human beings who ever lived.
Get your tix to Josephine here. Runs July 4-14 at Randolph Theatre (736 Bathurst St).