With its white and black sand beaches, thick rainforest, and can't-miss jagged twin peaks that rise dramatically at water's edge, the island of St. Lucia has long been billed as a destination for secluded luxury resorts, picturesque wedding ceremonies and as a magnet for loved-up honeymooning couples the world over.
The spectacular and diverse landscapes alone certainly make this warm and salty-breezed pinprick of volcanic geology in the eastern Caribbean a must-visit travel destination, but there's so much more to this breathtaking island than the narrow niche of tropical hedonism, given St. Lucia's centuries-old colonial past, telling heritage sites that are scattered around, and expressive culture.
This unique, rich narrative is one I've been yearning to discover more about. You see, the island of St. Lucia is part of my story; my father hails from this lush oasis. And even though I've been lucky enough to visit St. Lucia before, it had been quite a few years since my last trip. Sadly travel memories begin to fade with time. Not to mention, there were parts of the island I had yet to experience. I've also, admittedly, failed to really sneak in the right education during past adventures that would provide me with a wider understanding of what makes this beautiful, multifaceted country stand out from the other islands I've come to know within the West Indies.
Which is why a recent trip to this sun-filled vacation paradise centered around St. Lucia's third annual Roots & Soul Music Festival, a three-night event dedicated to sounds of reggae, hip-hop, Afrobeats and R&B, made for just the ticket to absorb more of the historic and cultural assets of the region.
My five day trip took place at the end of August, which, yes, equals stickier and wetter weather compared to St. Lucia's mid-December to May peak season, but that also means fantastic savings in terms of accommodations in return. What's more, off-season also plays host to the island's renowned St. Lucia Carnival (July), one the brightest, purest and most lavish expressions of the country's local culture.
What felt like the perfect summer send-off, day one of Roots & Soul came alive by shinning a spotlight on homegrown musical marvels. The lit stage saw live performances by Asher 'Smallz' Small, a hip-hop, rap and R&B singer based in Canada; Naomie "Ngozi" Grandison, a singer-songwriter whose musical identity weaves through neo-soul, alternative, reggae and calypso genres; as well as Curmiah Lisette, a St. Lucian-born, London-raised poet and performer known for incorporating the local Dennery Segment musical style into her sound. Like how reggae originated in Jamaica and calypso in Trinidad, I discovered on this trip that Dennery Segment, a raw and infectious beat, began in St. Lucia in the early 2010s in a small fishing village. "Dennery Segment is a remote rural community in St. Lucia's East Coast, and they have invented a new type of soca beat, which has taken the whole soca movement worldwide by storm," St Lucia's minister of tourism Dominic Fedee told me when I later sat down with him at Sandals Grande Resort & Spa in Gros Islet to learn more about the festival. The incredible media meet-and-greet was made possible by the local tourism authority, Travel Saint Lucia.
Day two brought out international hit-makers and stars from the Caribbean, Africa and the UK. Nigerian sensation Timaya and a sequined outfit-clad Leee John, a British musician with Lucian roots, were the opening acts for one of the hottest tickets of the festival: Tarrus Riley, one of contemporary reggae's most in-demand artists. During his headlining set, the Jamaican-American Rastafarian also sang in duet with Grammy-winning British darling Estelle, which went over big with a crowd stretched over the railing at the front of the stage.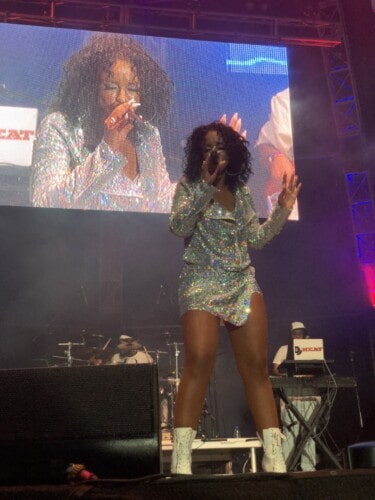 On the final day, one of R&B's preeminent love men during the '90s heyday of hip-hop soul, Ginuwine, proved he still had it going on when he belted out classics like "Pony" and "In those Jeans." The artist even had some ladies in the audience scrambling and fighting for pieces of his clothing, including a sweat-drenched rag. My favourite performance that Sunday? Mya. All eyes were glued on the late '90s and early 2000s hit-maker as she danced across the stage, dressed the part of a glowing diva. It was hard to believe the "My Love Is Like…Wo" and "Case of the Ex" singer has now reached her 40s.
In all, Roots & Soul felt like the idyllic setting: a mix of heart-pumping new rhythms and throwback classics (last year's festival brought the self-proclaimed "King of Dancehall" Beenie Man as well as Ja Rule and Ashanti to the stage as its legendary attractions). And there's ambitious aspirations for the young fête going forward I learned. "We believe that it's going to do as well as Carnival and Jazz [Festival]," said Fedee. The latter international bash mentioned by the minister is celebrated as the leading jazz festival in the Caribbean and takes place in May.
"[With] the kind of music that comes, [Roots & Soul] brings a lot of St. Lucians and makes them feel part of the entire summer festival experience. You get to see the way we speak, the food we eat and the way we dance, which I think tells a very compelling story. It's bringing out elements of our culture — elements of our heritage — that you'd be pretty found of," he continued.
And to Fedee's point, the festival's venue, Pigeon Island National Landmark, is heralded as one of the most important showings of St. Lucia's history, a fascinating story tainted by warfare I uncovered.
Once nicknamed the "Helen" of the West Indies, a nod to Helen of Troy who, in Greek mythology, was thought to be the most beautiful woman in the world, the island was part of a colonial tug-of-war between the British and French for about 150 years. During that period, which caused the flag of St. Lucia to change fourteen times, Pigeon Island became an established British navel base, a camp once used as staging grounds for attacks on the French islands to the north. The mountainous land (originally detached from the mainland until a man-made causeway was built in 1970s) has since flourished into a history museum of sorts, alive with nature: military ruins still stand across the peninsula which also features quiet beaches, undisturbed forests and a lookout point with panoramic views of the Northwest coastline.
This seesaw of possession between the British and the French has had a profound impact, shaping St. Lucia's society and Afro-Caribbean peoples. English may have predominated as the official language, but the locals here still have a strong French influence and speak creole, a French-based dialect referred to locally as patois. (I always love hearing my dad drop some patois when he's around other family or his long-time buddies). Most places around the island have names rooted in French as well, like the famous volcanic spires, Gros and Petit Piton, which together make up a Unesco World Heritage Site.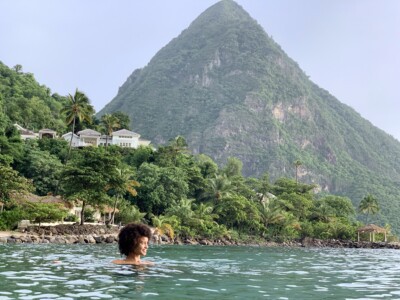 One of the biggest — and hardest — decisions when planning a trip to St. Lucia is whether to base yourself in the North (like where Roots & Soul takes place) or the South of the island. The North end, which includes the vibrant, culture-steeped capital Castries, is busier and much more developed. The South on the other hand, specifically the South West and what Fedee refers to as the "mecca", is where you'll find Soufrière, the second largest town on the island. On that more tranquil coastline, every surface looks green, and we're not just talking a single shade; many tones appear to bleed into one another in a spectrum of stunning combinations. There, you'll find the rugged Piton mountains covered in a blanket of thick rainforest, mud baths, sulphur hot springs (Soufrière takes its name from the whiff of these surrounding springs), historic mineral baths once used by French soldiers, as well as waterfalls. And get ready to be blown away by Sugar Beach, a crescent of sand that sits between the two Pitons and that's located just below a palm-dotted, 18th-century sugar plantation that's been turned into a resort. If you're able to split your time between the two parts of the island, I highly recommend it.
---
Up North, I stayed at the Windjammer Landing Villa Beach Resort, which offers a really unique offering of multi-bedroom villas to choose from, ranging from Mediterranean-style homes built up on a hill overlooking a bay and nearby Pigeon Island, to ultra-glossy new builds complete with lavish infinity pools that appear to unfurl into the ocean. The resort was minutes away by car from Castries, which meant easily being able to visit the capital during one of my festival days.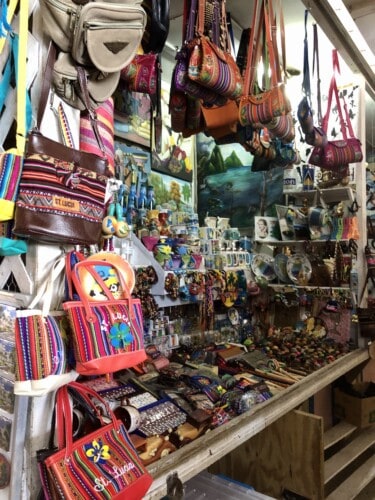 First stop was the bustling, open-air Castries Market, where you'll find locals peddling homegrown fruits, vegetables and spices, as well as many handmade arts and crafts. From there, I popped into The Cathedral Basilica of the Immaculate Conception, the city's grand stone Catholic cathedral. Built in 1897, it's one of the largest churches in the Caribbean. One of the things that immediately caught my eye as soon as I walked in were the vivid colours that decorated the inside. The other major highlight for me was the adjacent Derek Walcott Square, beautified with well-tended gardens and colourful flowerbeds. Sitting in the heart of Castries, the town square is named for Derek Walcott, a St. Lucian poet who won the Nobel Prize for Literature in 1992. You'll spot a bust of the man himself there, along with a memorial dedicated to locals who lost their lives in the two world wars.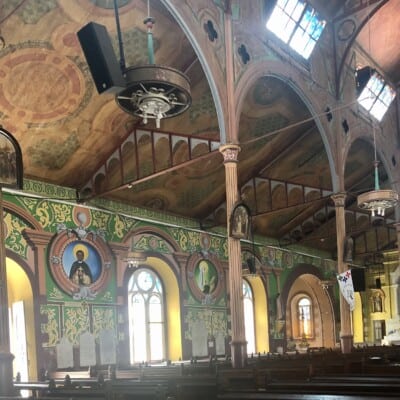 During my time down south in Soufrière, it was really hard to pull myself away from Stonefield Villa Resort. A former lime and cocoa plantation perched on a mountainside, the adults-only property has seventeen cottage-like villas dotted over the estate, each with private pools matched with extraordinary views. Even if you're not staying there, it's totally worth paying a visit to the resort's The Mango Tree restaurant and cliff-top pool for some libations or a farm-to-table meal; the framing views of Petit Piton are mind-blowing.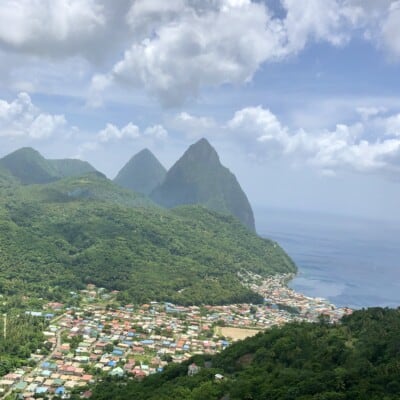 P
St. Lucia's natural scenery may already make the island feel like a world apart from the rest of the Caribbean for a lot of people, especially compared to many of the more flat and open havens sprinkled around the West Indies. But when you open yourself up to the historically significant locales and tales of St. Lucia's vibrant communities, that's where the true adventure lies. "You see a very strong part of our heritage infused in these stories and these sites when you go and see them. That's what exploring St. Lucia is all about. It's about going there and sinking your teeth in." For that very reason, planning a tropical getaway around a lively festival feels like an instant win-win.