With a 60-year career behind her, singer, songwriter, artist and activist Buffy Sainte-Marie is finally getting the level of recognition she deserves. "I believe there should already be about 7 documentaries about Buffy," says Andrea Warner, author of Buffy Sainte-Marie: The Authorized Biography. Realizing that Sainte-Marie hadn't received the same amount of coverage as that of her peers is what, in part, drove Warner to write the book. "I became frustrated with what I thought was an absence of interviews and I started to think how do we not celebrate this woman more? Filmmaker Madison Thomas felt the same way. The two came together to make Buffy Sainte-Marie: Carry It On, an affecting and in-depth documentary that reveals Buffy's complicated story while also celebrating her profound contributions.
The film starts in Hawaii, where Sainte-Marie has lived for many years with her partner. Walking through a lush forest with goats in tow, the artist shares how she finds confidence in solitude and shares how she's always felt that her "timing was off". It was in the 1960s when Sainte-Marie began addressing audiences and the media about the horrific impacts of colonialism, but people weren't ready to listen. "I think we are all forty years behind Buffy. The world is now just starting to catch up," says Thomas.
Born in Saskatchewan in 1941, Sainte-Marie was one of the tens of thousands of Indigenous babies who were taken from their families at birth, and either given or sold to white families. She grew up in rural Massachusetts, in a white neighbourhood, completely disconnected from her Indigenous community and heritage. In the doc, Sainte-Marie explains that as a child and teen she was often told "you can't be a musician" and "you can't be Indian". "Things like that probably should have ruined me, but they did not," she remarks.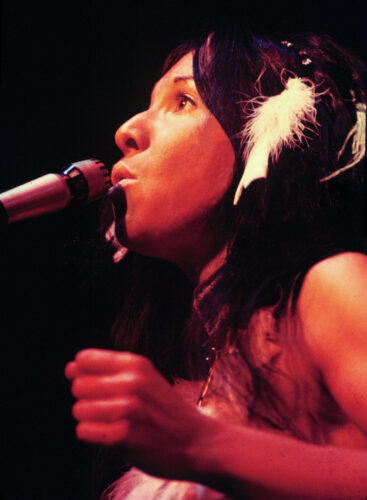 As a young person, Sainte-Marie made her way to Greenwich Village, where she stumbled upon the early folk music scene, meeting Bob Dylan, Joni Mitchell and other notable artists of the era. Mitchell—who rarely gives interviews—is one of the many subjects who were more than willing to be part of Thomas' doc, which also includes sentiments from Alanis Obomsawin, Jeremy Dutcher, Robbie Robertson, John Kay and George Stroumboulopoulos. "Joni doesn't give interviews, but for Buffy she will. I think we took about 20 tests before going to see Joni Mitchell, we were not going to be the people to give Joni Mitchell COVID." Like so many people interviewed for the film, Mitchell praises the singer-songwriter for being ahead of her time.
In New York, Sainte-Marie got noticed quickly, packing coffee houses and getting rave reviews, but the documentary shows how she also got screwed by the music industry. The government also harmed Sainte-Marie's career. Thomas goes into detail on how President Nixon blacklisted Sainte-Marie after her anti-war anthem "Universal Soldier" climbed the charts. But the oppression of her music wasn't just about fears of anti-war protests, but also part of a nationwide campaign to silence Indigenous voices. What would have squashed most artists didn't deter Sainte-Marie from continuing on—to write, to sing, to speak out.
One of the more moving scenes in the film is the archival clip of Sainte-Marie breastfeeding her son Cody on Sesame Street. Big Bird asks Sainte-Marie what she is doing, and Sainte-Marie gently explains how she's feeding Cody milk, and comforting him at the same time. The scene was shot during the years when Buffy was a regular on the show. Originally, Sesame Street had asked if she had wanted to come and sing the alphabet, but Sainte-Marie pitched the idea of educating kids about Indigenous peoples, and Sesame Street liked the idea.
During her time on Sesame Street, Sainte-Marie became pregnant but instead of leaving the show, they invited her to stay on, along with the rest of the family. "Seeing her, Sheldon, and Cody on Sesame Street as the first and only family… for communities that have a historical history of separation and not intact families, especially the way the media portrays us, was insane in the 70s! It had such a poignant response with every single one of our Indigenous subjects. They all brought it up about how important that was for them to see that as a kid," says Thomas, who grew up in an Indigenous community in Winnipeg's north end, where Sainte-Marie was a household name.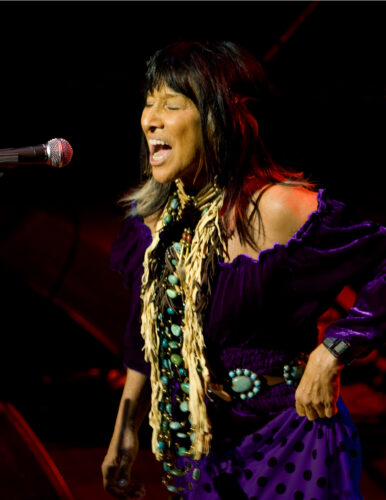 Saint-Marie has been the first to do many things, and to date, she remains the only Indigenous woman to win an Academy Award (in 1983 for "Up Where We Belong"). 32 years later, she became the oldest artist to receive Canada's prestigious Polaris Prize (in 2015 for her album Power In The Blood). "This is an artist whose music has defied all sorts of traditions and conventions and been so creative and innovative for so long," says Warner.
Ahead of the premiere at TIFF, the Festival announced that Sainte-Marie will receive the Jeff Skoll Award in Impact Media presented by Participant Media at the TIFF Tribute Awards gala. "Buffy Sainte-Marie has been challenging and changing the world for 60 years," said Cameron Bailey, CEO of TIFF. "Her groundbreaking music, her lifelong activism on behalf of Indigenous people, and her passion for teaching have transformed countless hearts and minds."
Warner and Thomas are elated that Sainte-Marie is finally getting the kind of recognition she deserves. For them, however, it is not her long list of accomplishments that is most impressive, but her ability to speak truth to power in a way that doesn't shame anyone. "In moments of frustration, I constantly find myself thinking, what would Buffy do? How would Buffy respond?" says Thomas. "I have this new filter and lens that I now use in my responses. I find that when I put things through that lens that the answer is usually respond with kindness…respond with compassion."