We've been covering TIFF for 15 years and never has there been a year where the films have been so aligned with the interests and values of Shedoesthecity as they are this year. This is a direct result of the #ShareHerJourney campaign, TIFF's ongoing commitment to addressing gender parity in the industry, and it's exhilarating to see that it's working.
What's especially noticeable this year is the number of films by Canadian women filmmakers. The range of stories being created here at home is exciting, promising, and a source of pride.
The titles we've selected for our must-watch list tackle a broad spectrum of issues with several examining the climate crisis, abortion access, the impacts of colonialism, trauma… and how we recover. They celebrate misfits, trailblazers, and individuals who dare to speak up and drive change.
The Festival is running from September 8 – 18th. Individual ticket sales for the public start on September 5 (If you have a TIFF membership, you can get earlier access). We hope the recommendations below help you figure out a game plan. After two years of having to scale back in a major way, TIFF is returning full force, and there is so much to look forward to.
Canadian Titles
Until Branches Bend – Sophie Jarvis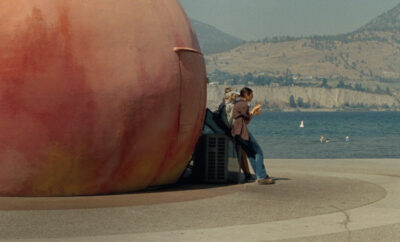 Grace Glowicki is brilliant as Robin, a cannery worker who struggles to get an abortion in Sophie Jarvis' captivating debut feature film Until Branches Bend.
When Robin finds an invasive bug in a peach at work, she turns her focus towards proving to her community that the danger it poses is real. As her obsession alienates her from friends and family, she sinks deeper into her task.
Set in B.C.'s Okanagan Valley, the film explores the impacts of monoculture farming, the threats of climate change, as well as abortion access in Canada. The writing is smart, the picture is visually stunning, and both Glowicki and newcomer Alexandra Roberts give dynamite performances.
This Place – V.T. Nayani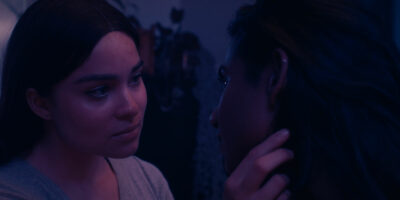 This Place is the story of two young women falling in love, while each reconnecting with their fathers and dealing with family trauma. One is half-Iranian, half-Mohawk; the other is Tamil. Set in Toronto and starring Reservation Dogs' Devery Jacobs (who also co-wrote the film), we can't wait to watch V.T. Nayani's debut feature that celebrates young queer love. We interviewed Nayani in 2020, when she had just wrapped This Place, and it's wonderful to see that the film she's worked so hard on for a long time will receive a world premiere at TIFF.
I Like Movies – Chandler Levack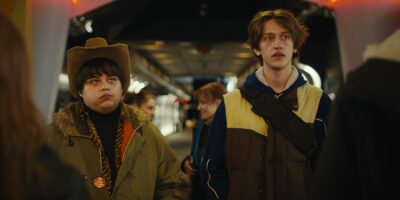 Did you know that Chandler Levack used to write for us? In 2014, she covered the party scene at TIFF for Shedoesthecity. In recent years, we enjoy reading her film reviews in the Globe & Mail, and to see that she's now jumped to the other side, with a world premiere at TIFF, is pretty fucking cool. And everyone's talking about I Like Movies.
I Like Movies is a dramedy based on Levack's experience working at a Blockbuster Video in the early 2000s. Socially inept Lawrence (Isaiah Lehtinen) is a 17-year-old cinephile who gets a job at the Sequels video store in Burlington, Ontario. Anxious about his future (and desire to attend NYU's Tisch School of Arts), Lawrence begins alienating the most important people in his life – his best friend (Percy Hynes White) and his single mother (Krista Bridges) – all the while developing a complicated friendship with his older female manager (Romina D'Ugo).
When Morning Comes – Kelly Fyffe-Marshall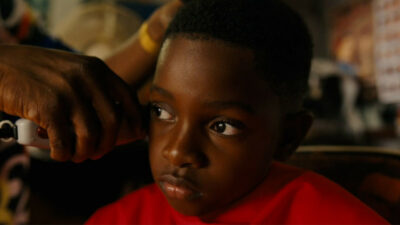 We can't wait to see Toronto filmmaker Kelly Fyffe-Marshall's feature debut. In 2020, Fyffe-Marshall was awarded the prestigious TIFF Changemaker Award, and at the 2022 Toronto Film Critics Awards, David Cronenberg selected Fyffe-Marshall for the Clyde Gilmour Award. Last year she received a nod at Sundance from Ava Duvernay for her film Black Bodies, which made Canada's Top Ten list in 2020. Produced by the all-women team at Sunflower Studios, When Morning Comes shares the story of a young boy who struggles after his widowed mother decides to relocate the family from Jamaica to Canada.
Buffy Sainte-Marie: Carry It On – Madison Thomas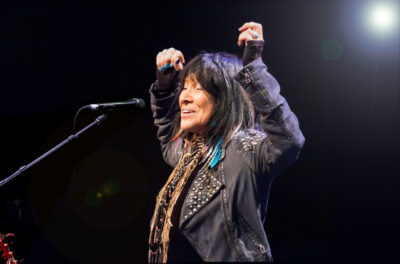 Buffy Sainte-Marie: Carry It On is an intimate look at the legendary artist's personal journey as a groundbreaking singer, songwriter, artist, activist and teacher. Madison Thomas' documentary features Joni Mitchell, Alanis Obomsawin, George Stroumboulopoulos and more. The film delves into Sainte-Marie's vast array of accomplishments, including being the first person to breastfeed on TV (on Sesame Street). A prolific and unique songwriter, Buffy has been covered and sampled by everyone from Elvis and Barbra Streisand to Courtney Love and Kanye West.
"The biggest lesson I've learned collaborating with Buffy on this telling of her life and career, is that in the face of negativity and despair, compassion and understanding are our greatest tools," says Thomas.
Buffy has lived a phenomenal life that has touched millions of people and Thomas' documentary celebrates her influence and humanity.
High School – Clea DuVall, Laura Kittrell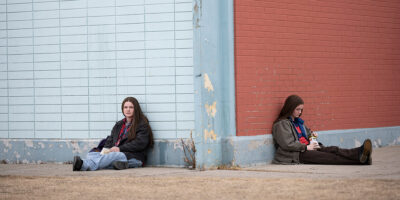 This coming-of-age story of self-discovery is based on the bestselling memoir by Canadian pop duo (and twin sisters) Tegan and Sara. Written and directed by Clea DuVall (who brought us the adorable queer holiday rom-com Happiest Season) TikTok creators and twin sisters Railey and Seazynn Gilliland star as teenage Tegan and Sara in High School. Set in the suburbs of Calgary, the film follows the complex relationship between Tegan and Sara as a crush on a mutual friend threatens to tear them apart. We're intrigued to see this window into the early lives of this iconic duo.
Stellar – Darlene Naponse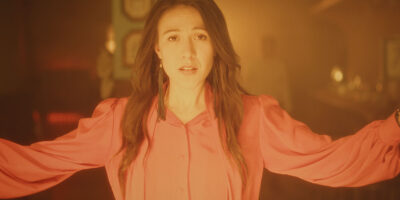 When Darlene Naponse makes a film starring Elle-Máijá Tailfeathers, you go see it. And the fascinating plot in Stellar sounds unlike anything we've seen.
HE and SHE sit apart, quietly, in a tiny Northern Ontario dive bar. They accidentally touch and a meteorite blasts through the atmosphere. As the meteorite approaches, we see their connection grow. The story pushes through the historical trauma formed by colonization, and is based on the meteorite that hit the Atikameksheng Anishnawbek territory millions of years ago, forming one of the largest iron ore deposits in the world.
We were first introduced to Tailfeathers when she gave a knockout performance in The Body Remembers When The World Broke Open, a film she co-wrote and co-directed with Kathleen Hepburn, which was based on her real-life experience. Last year, she wowed us in Danis Goulet's Night Raiders, another TIFF hit. We look forward to watching her in Naponse's Stellar, another film that explores the impacts of colonialism, but in a totally different way.
Women Talking – Sarah Polley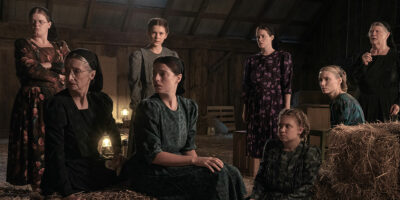 Based on Toronto author Miriam Toews' bestselling book of the same title, the all-star cast of Women Talking includes Frances McDormand, Rooney Mara, Jessie Buckley, and Claire Foy. It's the second year in a row that Toews' powerful writing has been featured at TIFF; All My Puny Sorrows (Michael McGowan) was a critic's pick in 2021. We're curious to see how Polley has adapted Women Talking, a harrowing story about sexual assault within a remote and isolated religious community. The buzz is BIG for this one. (Technically this is an American production, but Sarah Polley is a Canadian filmmaker/Canadian icon so we'll leave here until someone bugs us to move it.)
The Swearing Jar – Lindsay MacKay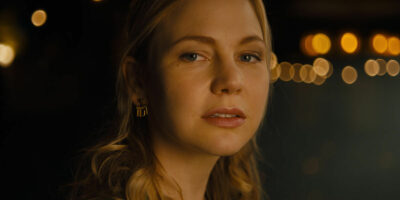 From the director of Wet Bum comes another film with a killer title. The Swearing Jar, starring Adelaide Clemens and Patrick J. Adams, is equal parts humour and heartbreak. The film tells two love stories at once, exploring the challenge of marriage, parenting, loss and moving on.
We're fans of Mackay's work, and hosted a panel discussion a couple years back for Ghost BFF, a dark and hilarious web series she directed. We're certain The Swearing Jar will resonate with many of you.
Alice, Darling – Mary Nighy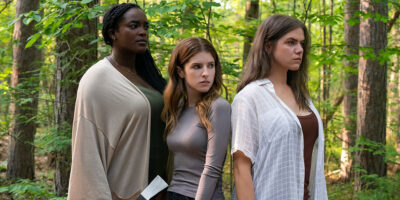 From Toronto-based, women-led production company Babe Nation comes a chilling story that we won't soon forget. Alice (Anna Kendrick) is a young woman trapped in an abusive relationship who becomes the unwitting participant in an intervention staged by her two closest friends, played by Kaniehtiio Horn (Ghost BFF, Letterkenny) and Wunmi Mosaku (Lovecraft Country).
This is the first feature-length film from Mary Nighy, who worked many years as an actor before moving behind the camera. The tense psychological thriller, which will have a big red-carpet entrance at Roy Thomson Hall, comes with a warning. We're certain this stellar cast will shake us to our core.
Bones of Crows – Marie Clements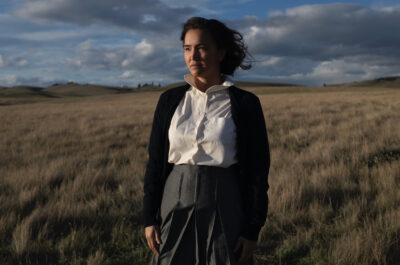 Unfolding over 100 years, Bones of Crows is a feature film told through the eyes of Cree Matriarch Aline Spears as she survives a childhood in Canada's residential school system to continue her family's generational fight in the face of systemic starvation, racism, and sexual abuse.
With the unearthing of unmarked residential school graves continuing across this country, Marie Clements' film is one that Canadians need to see. We're curious to see how the award-winning Métis playwright uses cinema and narrative film to explore the very real and tough subject matter.
The Young Arsonists – Sheila Pye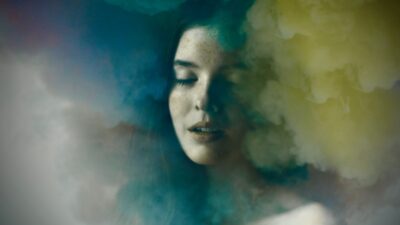 The Young Arsonists follows four teenage girls who form an intense and obsessive bond while reclaiming an abandoned farmhouse as their own in an isolated farming community. Together, they create a secret escape from their troubled home lives, the isolation of the rural landscape, and stifling patriarchal constraints. The girls' relationships deepen and their emotional connection becomes physical when their menstrual cycles synchronize.
We were chuffed to get an exclusive first look at the powerful stills from Sheila Pye's first feature. With work in the permanent collections of both the Art Gallery of Ontario and Smithsonian Institute, we are curious to see how the world-class photographer transitions to film.
North of Normal – Carly Stone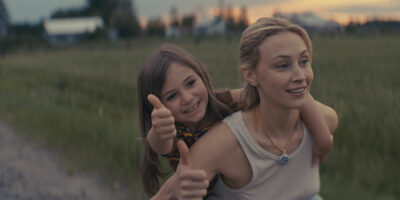 Based on her riveting memoir, North of Normal follows Cea Sunrise Person's unconventional childhood in the Canadian wilderness and her complicated relationship with her perpetually pot-smoking teen mom.
We interviewed Carly Stone back in 2018, about her feature film The New Romantic about sugar babies (which we adored), and can't wait to see how her work has evolved since then.
Ever Deadly – Tanya Tagaq and Chelsea McMullan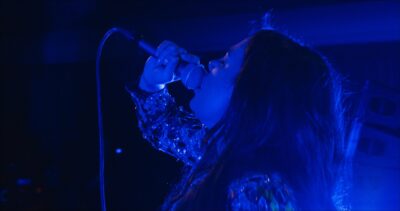 This feature documentary weaves concert footage with stunning sequences filmed on location in Nunavut, seamlessly bridging landscapes, stories and songs with pain, anger and triumph—all through the expressions of one of the most innovative musical performers of our time – avant-garde Inuit throat singer Tanya Tagaq.
Tagaq has moved us with her powerful music for well over a decade and we're also big fans of her gutsy-as-hell writing and humour (showcased regularly on Twitter). We can't wait to see what happens when she partners with award-winning filmmaker Chelsea McMullan. We have high hopes for Ever Deadly.
Rosie – Gail Maurice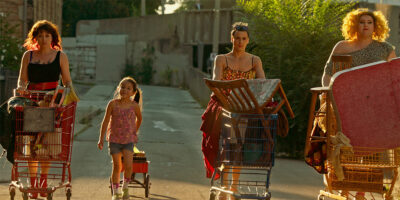 Award-winning Indigenous filmmaker Gail Maurice gives audiences a tender, poignant and funny film about love, belonging, and chosen family with Rosie.
After her mom dies, Rosie is sent to live with her francophone Aunt Fred, who she has never met. Fred has lost her job, is on the verge of eviction, looks nothing like Rosie, and didn't expect to suddenly become a caregiver. Fred introduces Rosie to her two best friends Flo and Mo, glamorous, gender-bending street workers. In the end, Rosie transforms the lives of these colourful characters and finds love, acceptance, and a true HOME with her new chosen family of glittering outsiders.
International Titles
The Swimmers – Sally El Hosaini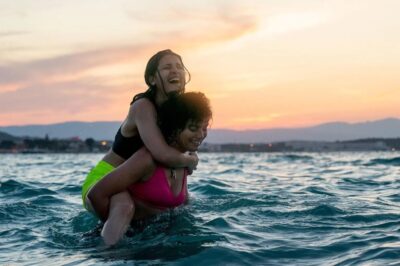 Based on a true story, The Swimmers follows the journey from war-torn Syria to the 2016 Rio Olympics. Two young sisters embark on a harrowing journey as refugees, putting both their hearts and champion swimming skills to heroic use. Real-life sisters Nathalie Issa and Manal Issa star as Yusra and Sara Mardini, as they escape Damascus through Lebanon, Turkey and a lethal stretch of the Mediterranean Sea, while holding on to their lifelong dreams of Olympic gold. Scheduled as the Opening Night Gala Film, this film about sisterhood and survival will undoubtedly resonate with many.
The Woman King – Gina Prince-Blythewood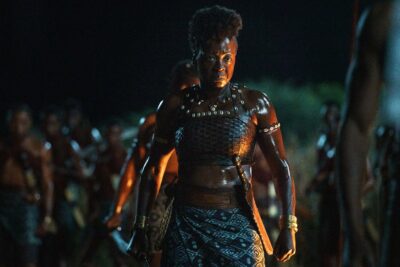 The Woman King is the remarkable story of the Agojie, the all-female unit of warriors who protected the African Kingdom of Dahomey in the 1800s from European colonizers, the atrocities of the slave trade, and threatening neighbours. Inspired by true events, The Woman King stars Oscar-winner Viola Davis as General Nanisca, who trains the next generation of recruits for battle against an enemy determined to destroy their way of life.
Davis spoke to Vanity Fair about her intense physical training for the role that consisted of 20 hours a week of "weight training, sprinting, martial arts, and weaponry training for the machete." We can't wait to see her conquer as a warrior. Director Gina Prince-Bythewood has told many other powerful stories centring Black women, including the game-changing rom-com Love & Basketball, as well as The Secret Life of Bees, and most recently, action-thriller The Old Guard.
Davis and Prince-Bythewood will appear at TIFF's "In Conversation With…" series on September 10th, as they discuss their creative collaboration on The Woman King, and their remarkable careers leading up to this film.
Catherine Called Birdy – Lena Dunham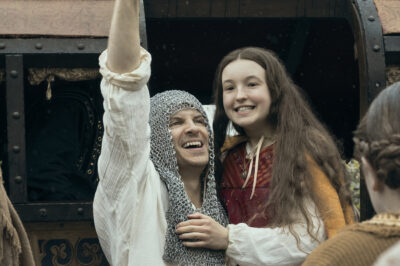 Lena Dunham first discovered Catherine Called Birdy at 10 years old, and instantly became obsessed with it. Many years later, the Girls star and creator has adapted Karen Cushman's bestselling novel into her latest feature film. In 13th-century medieval England, Game of Thrones actress Bella Ramsey stars as the playful and rebellious Birdy, the teenage daughter of a financially destitute Lord (played by Andrew Scott, perhaps better known as the hot priest in Fleabag.)
Birdy does everything in her power to thwart her father's plans to marry her off to a wealthy suitor, testing if her parents' love for her will prevail over their need to secure the family's future. We admire how this film is setting out to explore the different ways the patriarchy impacted women and girls in medieval times—and we think we'll love rooting for Birdy and her independence.
Paris Memories – Alice Winocour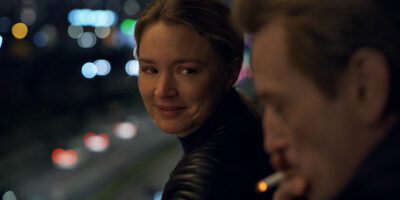 A piercing examination of what it means to live through devastating violence, the latest from Festival regular Alice Winocour brilliantly dramatizes the way trauma can render our fragments of memory into a puzzle.
Paris is often romanticized on screen, but this gripping film shows a different side of the city, exploring the impacts of trauma and how singular events can forever alter our perspective.
Stonewalling – Huang Ji, Ryuji Otsuka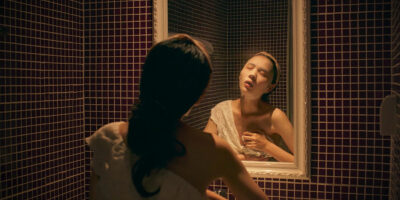 20-year-old Lynn is told she needs English classes, flight attendant school, and a go getter-attitude. She perseveres along this path of upward mobility until she finds out she's pregnant. Indecisive and running out of time, she tells her boyfriend she's had an abortion and instead returns to her feuding parents and their failing clinic to try and figure out (if she can) what's next.
Huang Ji is an award-winning independent filmmaker based in Beijing. She co-directed Stonewalling with her husband Ryuji Otsuka. The two often work together and are well known on the festival circuit. TIFF Programmer Giovanna Fulvi describes their latest co-pro as an examination of the "new norms of the gig economy, grey markets, and hustle in modern-day metropolitan China." It's a global issue and we're keen to explore it through their eyes.
Dry Ground Burning – Adirley Queiros & Joana Pimenta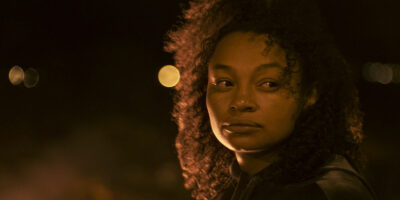 An all-female gang draws oil from an underground pipeline and sells it to working-class motorbike couriers in this hybrid feature: part narrative documentary, part crumbling sci-go, part classic western. This Portugal-Brazil co-pro sounds totally badass and the mixing of genres sounds fascinating.
The Grab – Gabriela Cowperthwaite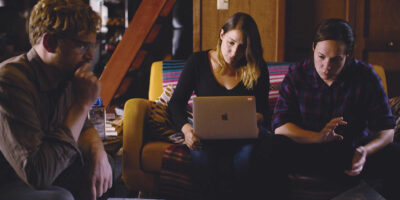 Gabriela Cowperthwaite (Blackfish) is a daring filmmaker who isn't afraid to go up against powerful individuals and corporations in the pursuit of truth.
In her latest exposé, an investigative journalist uncovers the money, influence, and alarming rationale behind covert land grabs by some of the world's most powerful countries. The eye-opening documentary is sure to cause a stir.
El Agua – Elena Lopez Riera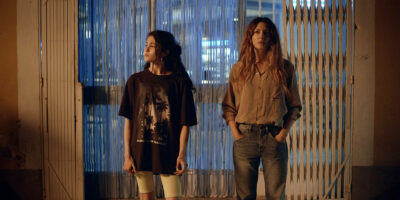 It is summer in a small village in south-eastern Spain. A storm threatens to cause the river that runs through it to overflow again. A popular old belief claims that some women are predestined to disappear with each new flood, because they were born with the curse of having "water inside."
A band of young people is trying to overcome the weariness of a summer in the village that smells of death by smoking, dancing, and lusting after each other. In this electric atmosphere that precedes the storm, Ana and Jose live a love affair until the storm bursts.
El Agua is a Swiss-Spain-France co-production that explores life under the threat of severe weather systems, which is a theme that many TIFF 2022 films examine… because it's a looming threat that is all so very real for all of us.