Meet Chitra Desikan. After working for many years as an aerospace and software engineer (v. cool), Desikan began noticing the effects of stress and fatigue on her skin. She later founded Subtle Green, a Montréal-based skincare brand with the credo that products should nourish skin the same way eating fresh, clean food nourishes the body.
While many mainstream brands use skin-aggravating fillers or preservatives to improve shelf life, Subtle Green's ingredients are certified organic and natural, using only the finest sourced ingredients. Their unique approach means products are customizable and made fresh after you order–so you can feel good about what you're buying no matter how sensitive your skin may be. From dry powdered face masks to toners and mists, Subtle Green gives your skin that luxurious, just-left-the-spa feeling without leaving the house!
We caught up with Desikan to get more info on this revolutionary skincare company.
SDTC: How/why did you start Subtle Green?
CD: As a young professional, I used to live and breathe work, putting in long hours to impress my superiors. This cost my sensitive skin dearly, and beauty products didn't do much to help. A chance visit to a natural skincare spa changed my life forever! I discovered the purity and efficacy of natural skincare and never went back.
These days, I generally go sans-makeup and still feel like my skin is bright and fresh; however, I began to miss the luxurious feel and fragrance of my department store product. Natural skincare, while healthy, can come across as raw and unrefined. Advancement in cosmetic formulation has grown to harness many luxe botanicals that are highly effective for many skin concerns. So I worked to create a company that elevates natural skincare while using effective phyto-actives for a luxurious line of products that are 100% natural and vegan. Now I get to enjoy a spa-like experience at home every day.
What products are your favourites for hot summers in Montréal?
In the summers, my skin can look oily or shiny if I use too much lotion or cream. I'm sticking to light mists with hyaluronic acid for light moisture. Plus, I always use sunscreen.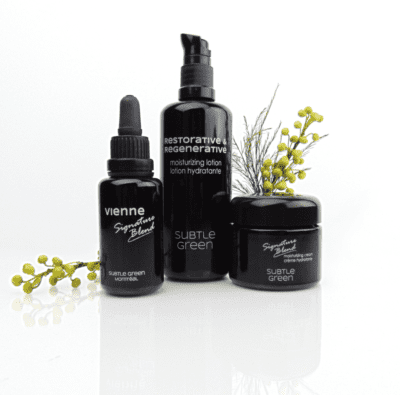 What's your advice for those of us with sensitive skin?
Sensitive skin often flares up from the choice of preservatives, fillers or other stabilizers used in mainstream cosmetic products. Natural, organic and vegan products contain gentle plant-derived ingredients without purity concerns of mass-produced synthetics and/or animal-derived ingredients. It's generally safer to try.
I would recommend getting a small bottle of a natural brand to try it first and check that your skin has no reactions to the ingredients. Then research brands that address your individual skin concerns or find brands that can customize serums or moisturizers just for you.
What else goes into your beauty/self-care routine?
A few years ago, I discovered taking care of my body was as important to my skin as skincare–paying attention to what I eat, how much I exercise, and having better sleep. I began to eat a protein-filled breakfast with two eggs and a glass of lemon water. This has made a huge difference in reducing my sugar cravings, managing insulin, increasing energy and improving my skin tone.
I hit the gym a few days a week and practice yoga. As a woman over forty, I feel that lifting moderate weights maintains muscle tone while yoga helps manage stress effectively before it starts to show on my body.
I get eight hours of sleep a day. Not only does it prevent dark eye circles but it also helps me be more focused and manage stress effectively by ensuring that I am refreshed each morning.
What are three lessons you've learned as an entrepreneur in the eco-beauty industry?
I've learned that the benefits of natural and organic skincare are not yet part of the consumer psyche. While people are aware of the benefits of eating non-GMO and fresh food with minimal processing, that sentiment has not fully translated into beauty products. Educating people that what you put on your skin is just as important as what you put in your body is work that we eco-beauty brands have to do above and beyond establishing our unique value in the market.
Eco-beauty has multiple flavours–natural, vegan, organic, gluten-free, sustainably sourced, etc. It's possible to be vegan but not natural; organic but not natural; natural but not organic; eco-friendly but not natural or organic or vegan. This leads to green-washing. Brands that have some botanical ingredients can technically classify themselves as vegan or eco-friendly, but they may still have parabens or other contentious ingredients that don't make them natural. These nuances are not well defined for consumers and many eco-brands need to do more work in that area to provide transparency while educating.
Sourcing is very important! It's not just important to be using natural or organic ingredients; it's also important to check where they come from, the environmental effect of harvesting, and how much they've been processed. For example, palm oil has been over harvested, so maybe using sustainable-palm sourced ingredients or non-palm oil based ingredients is a better choice. Indian sandalwood is close to becoming endangered, so perhaps Australian sandalwood should be used. Sourcing decisions are part of the integrity of a brand, which we take very seriously.
What excites you most about your company?
I love making skincare an experience instead of a chore. I've always loved spas, so I've worked to create textures that sink in, leaving a soft feel and natural fragrances (with essential oils) that feel relaxing and transporting. That's the part I love the most–to create products that elevate my customer's daily routine and bring a touch of wellness to their busy lives.
For those of us who vacation in Montréal in summer, what are your top insider tips to do/see/enjoy?
Montréal comes alive in the summer like no other city! There are festivals, outdoor concerts and outdoor cafés everywhere. Throughout the summer, the streets are bustling with people enjoying life, eating and breathing in the lively spirit of the city.
In July, the international fireworks competition has a display from each participating country and there are many venues to watch it from, with live music. In August, we have the Festival of Laughs. This year I'll be looking forward to seeing Trevor Noah among many talented comedians.
One of the most fascinating things about Montréal is that the locals come out and participate; it's not just a tourist zone. Locals enjoy the weather, mingle with people, relax, and truly celebrate life in a way I have not seen in other cities in the world.
To learn more about Subtle Green, check out their website.