From alleviating body inflammation to enhancing brain health, this eye-catching dish offers a wealth of nutritional benefits, will fill your tummy and is super easy to put together. We enjoy the curried sweet potatoes year-round, but during summer, we love pairing with asparagus grown in Ontario.
What you need:
2 tbsp coconut oil
2 tsp cumin seed
2 tsp madras curry
1 tsp coriander powder
1 tsp turmeric
2 cloves of garlic
4 medium sweet potatoes
1 lemon
How to do it:
Boil large pot of water.
Wash & chop sweet potatoes into quarters then halves.
Add sweet potatoes to steaming basket or a strainer placed on top of the pot with a lid. Steam potatoes until tender.
Preheat oven to 500.
Heat frying pan or pot, add coconut oil (medium/high), add cumin seed and toast until golden brown. Add madras curry, ground coriander, turmeric and half of 1/8 of a teaspoon of salt. Toast spices until they are fragrant and dark golden brown. (Pay close attention because the spice's can burn easily.)
Remove from heat and add sweet potatoes; stir and evenly coat potatoes in spice mixture; crush and add in two cloves of garlic.
Place entire pan in oven for about five minutes to cook the fresh garlic.
Remove from oven, drizzle with half a lemon and enjoy!
Makes 3- 4 servings.
Sides:
For 1.5 cups of brown rice, follow directions on package and throw in one vegetable bouillon cube or 1.5 tsp of powdered bouillon of choice.
Serve with locally grown asparagus ('tis the season).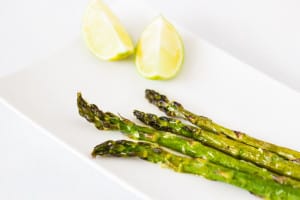 Why it's good for you:
Sweet Potato
Nutrient dense
High in Vitamins A & C
Coconut Oil
Enhance's brain function, immunity, anti-viral and anti- fungal
Bonus: it is not stored by the body as fat and is used energy
Garlic
Lemon Juice
High in Vitamin C & B
Aids in digestion
Cumin Seed & Coriander Powder
Turmeric
Helps alleviate inflammation
Food costs:
Coconut oil $6.99 (approx.) for cheapest bottle
Sweet potatoes $4.00
Garlic (1 bulb) $0.89
Spices can be bought at bulk barn for under $3.00
Asparagus $3
Brown rice can be bought in bulk for $2
Total food costs not including rice, spice and coconut oil: $7.89
Total food costs if you have to purchase pantry items: $19.88