The Scotiabank CONTACT Photography Festival gets underway this month and we are raring to go. With dozens of exhibitions and workshops across the city, be prepared to experience the world through a different lens, every single day.
We've sorted out which exhibitions we can't wait to see IRL; be sure to check these out.
Scotiabank Photography Award: Shelley Niro – Shelley Niro's groundbreaking portraits shatter stereotypes. By using herself and her friends and family as subjects, Niro aims to present images of real Indigenous women, all the while making cheeky social commentary that cut to the heart of our misguided assumptions. Runs April 28-August 5 at Ryerson Image Centre (33 Gould St).
Mom: Charlie Engman – Charlie Engman's longstanding collab with his own mother sets her as subject in the experimental, occasionally shocking and always enigmatic series, Mom. By shifting in and out of character and costume, Engman eschews the typical saccharine depictions of motherhood for something far more interesting: mom as an individual. "I don't think he's seeing me. I don't think he's telling a story about his mom," said Engman's mother, Rui Mateus Amaral. "Even someone you think you see, like your mother, is actually material for looking at the world in a new way." Runs
Full of Holes: Erin Whittier – Whittier's photographs call for a "re-wilding" of the soul, to turn away from capitalism and commodification in favour of a peaceful, slower way of existing. She calls us to re-examine the inherent value of the natural world and challenges why we so often cast these treasures aside in favour of faster, bigger and stronger. To what end? Runs May 3-27 at Ryerson Artspace (1214 Queen St W).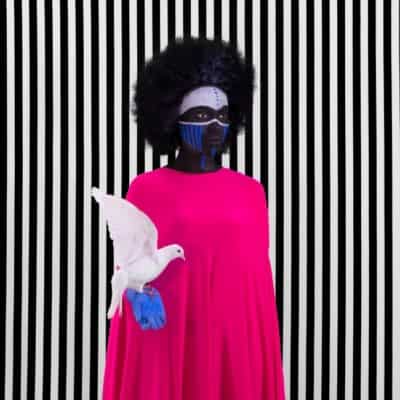 Aida Muluneh, Compromise, 2017. Courtesy of Jenkins-Johnson Gallery
Reflections of Hope: Aida Muluneh – Ethiopia-born photojournalist Muluneh returned to her homeland after years of living abroad. In Reflections of Hope, her focus turns to shifting foreign misrepresentations of what Ethiopian women are like. These vivid, highly symbolized portraits speak to the hope that persists despite legacies of colonialism, racism and poverty. Runs April 27-June 29 at Aga Khan Park (77 Wynford Dr).
Superheroes. Dreamers. Changers.: Melanie Gordon – Young children offer us a window into what life was like before self-doubt, societal expectations and restrictions crept in to thwart us. Gordon glimpses into the world of childhood play, wonder and creativity through this whimsical portrait series that sets children as protagonists in their own magical tales. Runs May 1-31 at Hey Kiddo.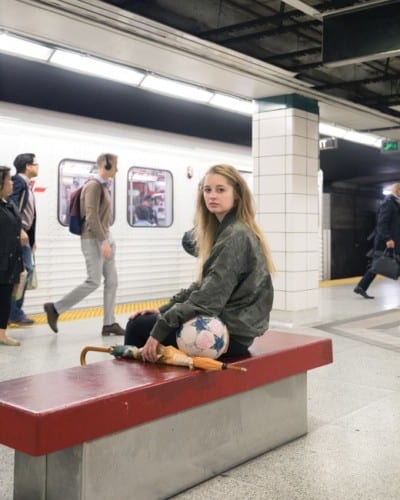 Julia Nemfield, Self-portrait at Bay station, Photographic Print, 2018
Lost and Found: Julia Nemfield – Julia Nemfield's series takes us through a journey of what we've lost. Last fall, she spent three months documenting 364 objects found in seven different lost and founds throughout Toronto. She arranges them into grid-like structures, hinting at how, when we lose something dear to us, it can feel as if we've lost a part of ourselves. She then incorporates herself into the work, re-homing the object and acting as proxy for the object's owner. Runs May 2-30 at Alliance Française Gallery (24 Spadina Road).
THE EMPIRE, THE CITY: Lori Nix, Kathleen Gerber – These digitally altered dioramas depict grand spaces once inhibited (now abandoned) by humans, only to be overtaken by glorious nature. This remarkable series questions our very futile existence in a world that is infinite. What are we really doing here? Runs May 1-31 at Bau-Xi Gallery (350 Dundas St W).
Adol Essence: Havergal College – This group exhibit of work by grade 11 students at Havergal College documents the daily lives of teenage girls through photography, giving us an intimate window with which to experience this heady time of life. We see as they come to terms with who and what they are growing into, all the while grappling with societal expectations and newfound freedoms. April 28-May 6 at United Contemporary (1444 Dupont St, Unit 22).
Ageless Ambiguity: Elizabeth Zvonar – Zvonar's imagery utilizes collage to play with notions of meaning and intent. In Party-Central, she transforms a zippered pearl-revealing portal into an inviting vulva. With her playful juxtapositions, Zvonar causes us to weigh what we're seeing vs. our own interpretations of it. Runs May 3-June 16 at Daniel Faria Gallery (188 St. Helens Ave.).
…Everything Remains Raw: Photographing Toronto's Hip Hop Culture from Analogue to Digital – This group exhibit features the work of Toronto-based photographers who were instrumental in the growth of our local hip hop scene throughout the 1990s/early 2000s, including Craig Boyko, Michael Chambers, Stella Fakiyesi, Demuth Flake, Patrick Nichols, Sheinina Raj and Nabil Shash. Look for poignant images of artists, both established and on-the-cusp, including Michie Mee, Maestro Fresh-Wes, Dream Warriors and Ghetto Concept. Runs March 3-October 21 at McMichael Canadian Art Collection (10365 Islington Ave, Kleinburg).