Street Gang: How We Got to Sesame Street is such an amazing documentary that it completely sold out at Hot Docs, and critics have been raving.
The film tells the origin story of the world's most beloved children's show, from the initial idea to the first meetings in the writer's room, and shares how the show was birthed from the civil rights movement. We are not exaggerating when we say that this was the best pandemic escapism we've had in 2021. The nostalgia factor is huge, but it's also a hopeful story about the magic that can happen when passionate people come together to make change.
"Sesame Street came out of the civil rights movement and was started by activists who wanted to change the world, and wanted to revolutionize television, and reach inner city kids…and do all of those things," says Director Marilyn Agrelo (AN INVISIBLE SIGN, MAD HOT BALLROOM), who described working on this film as an absolute dream job.
The story begins in 1967 with a few impassioned individuals exploring the possibility of TV, and asking themselves: Can children's programming be both enthralling and educational? Can the TV medium teach kids how to read? And how can we make a show that will reach the children that need it most?
Fascinating, funny, uplifting, hopeful, and heartwarming—we think you'll love Street Gang as much as we did.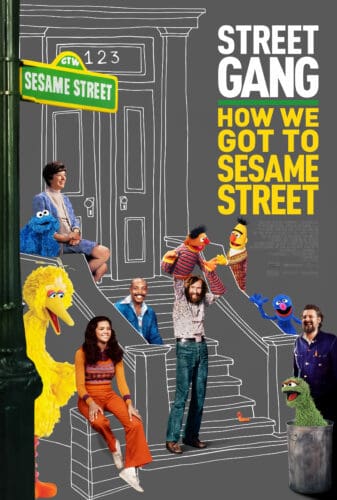 ENTER TO WIN A COMPLIMENTARY LINK TO WATCH
Tweet: "The word YES begins with the letter Y. YES, @ Shedoesthecity, I'd love to win a pass to watch the documentary Street Gang: How we got to Sesame Street! #BigBird"
OR
LIKE and COMMENT our Street Gang post on Instagram or Facebook.
This contest is brought to you by the letter C. C is also the first letter in the word "close"; this contest will close on May 24th at 3PM EST. Winners will be notified on May 25th by 1PM EST.
Thank you also to Level Films, Route 504 PR, and The Sesame Street Workshop. Watch the trailer for Street Gang: How We Got to Sesame Street now.