We like gifts that keep on giving, and an annual membership to the ROM is an excellent present that the entire family can enjoy. Whether you have a busy toddler who loves the dinos, or a grade-school kid who loves exploring chapters in history (and is maybe beginning to educate YOU), there is always a ton going on at the ROM, and this year's holiday programming is proof of that.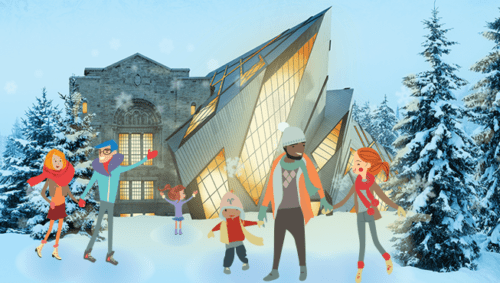 While much of the city quiets down for the next few weeks, the ROM welcomes all from December 26 to January 8 for days packed with entertainment, culture, and fun.
Here's a lineup of programming with every age in mind:
For the wee ones: Sonshine and Broccoli will be performing their interactive and fun-filled musical shows!
Dec 26-30, Jan 1-8: 30-minute performances at 11:30 am and 2:30 pm
Digital spray-painting on enormous colouring pages: Pick your favourite winter image, then use cutting-edge technology from MakeLab to add colour and make it your own.
Fire and Ice: Explore how fire and ice shape our natural world with touchable objects from the ROM's collections—from volcanic glass to a polar bear skull!
Offered during all activity hours
Frozen in Time: See incredible "glass" fossils of creatures that lived in the seas long before the dinosaurs, and learn how they reveal their prehistoric secrets.
Offered during all activity hours
Let the natural world and the vibrant colours of Chihuly* inspire you to add a piece to the ROM's collaborative installation.
Offered during all activity hours
Lost on the Ice: Sail into the icy heart of a historical mystery: What happened to HMS Erebus in the cold Arctic waters?
Offered during all activity hours
Decorate a holiday tree with origami creations, creatures, and crystals.
Offered during all activity hours
Get Twisted! Six-time World Champion Balloon Artist Mark Verge, aka Jungle Jack, will wow you with Chihuly-inspired balloon sculptures
Dec 26-31: balloon sculpting 10:30 am-3:30 pm. Finished artwork on display from Dec 26 to Jan 8
Family Selfie Trail: Lights, camera, smile! Explore the galleries while snapping photos of the highlights of your adventure. Can you find all our special spots?
Offered during all activity hours
ROM Arcade: Take on family and friends with video games inspired by the ROM's collections.
Offered during all activity hours
Engage in a #ROMQuest and discover how people who inhabited this land in years past used their ingenuity to make the most of winter. Special thanks to ROM Friends of Canadian Collections.
Offered during all activity hours
A Wild Time! Get up close and personal with wildlife as you learn animal facts with Hands on Exotics, a shelter that specializes in the care of exotic animals.
Offered during all activity hours
Decompress in the Early Learners Lounge: a quiet space for young families to rest, nurse, and play.
Offered during all activity hours
Drop-in activities are free with museum admission.

WOAH! So much to do, see, and explore! And we haven't even mentioned the actual exhibitions, which include the breathtaking colourful works of *Chihuly (last chance! It's closing January 7th!) and the world-class images in this year's Wildlife Photography Of The Year exhibit.
Spend a day at the ROM this holiday season and walk out with lots to discuss, whether it's between you and the littles around the breakfast table, or complex historical stuff for late night grown-up convo. (Who are we kidding? The children ask the really good questions that throw us into deep philosophical thought!)
CONTEST: Enter to win an annual family membership! (Valued at $149.) There are three ways to enter:
On Twitter, tweet: "Dinos, mummies, bat cave, oh my! Yes @shedoesthecity, I'd love to win a family membership at @ROMtoronto for a 2017 full of #wonder!"
On IG, LIKE and COMMENT on our ROM holiday photos!
On Facebook, LIKE our post and leave a COMMENT that shares why you and your family would love a membership to the ROM.
Experiential gifts are the best gifts! Especially when they mean everyone in the family gets to have fun and learn together.
For more information on memberships, go here. For more details on holiday programming, go here.