Vintage lovers, get ready: Toronto's two-day vintage show is a fever dream come true! On September 28 & 29, Toronto's Enercare Centre will transform into an immersive shopping experience filled with a massive inventory of vintage clothing and antiques!
Think you can't pull off vintage? Think again! "Vintage clothing is not a costume," says Toronto Vintage Clothing Show Manager Catherine Knoll. "Rather it accentuates a modern wardrobe and, done properly, can make a great fashion statement. People come to the show because they are searching for clothing that they don't see at the mall. Something that is not produced by the tens of thousands, but rather something that is unique and reflects who they are."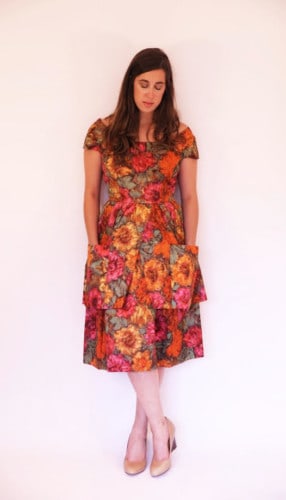 Vintage dresses for brides-to-be are especially hot this year, but you'll also find beautiful cocktail dresses, designer bags, cats-eye glasses, solar cardigans, leopard trenches, stop-staring dresses, kiss-lock clutches, vintage Chanel handbags, shoes, vintage denim, retro streetwear and luxe vintage jewellery. You'll find the seldom seen picks of Hazel May, Yank Azman's one-of-a-kind picks, and this year, as a special treat, there'll be a pop-up booth from The Ian Drummond Collection (the supplier of wardrobe for Orphan Black, Memoirs of a Geisha, Schitt's Creek and The Handmaids Tale).
Toronto Vintage Clothing Show is happening September 28 & 29 in the Enercare Centre at Exhibition Place. Grab tickets here. Feeling lucky? We want to put you and a friend on the guest list for this sweet event, so make sure to enter our contest:
TWITTER: Tweet: "Hook me up, @shedoesthecity @416VintageShow – I need my #TorontoVintageClothingShow fix!"
FACEBOOK & INSTAGRAM: LIKE + COMMENT on our Toronto Vintage Clothing Show posts!