Ahead of TIFF, we hit the Bask-It-Style gift lounge at the Fairmont Royal York Hotel to check out all the goodies that are destined for visiting filmmakers and talent in town for the Festival. But guess what? We think everyone deserves star treatment, so we partnered with Glo Communications to offer you a chance to win it all!
Past celebrities gifted through Bask-It-Style hotel partners have included: Julianne Moore, Naomi Watts, John Legend, Sir Elton John, Blake Lively, Olivia Wilde and Helen Mirren, to name a few.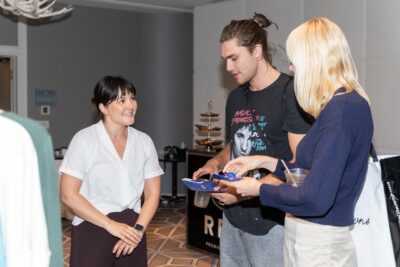 "After a two years hiatus it's amazing to have Bask-It-Style make its return." says Jessica Glover, Principal, GLO Communications. "Fairmont Royal York's historic relationship with Toronto's film industry makes it the perfect venue to showcase some of the year's most exciting brands."
This year, celebrities will receive a variety of sense-provoking goodies in gorgeous vegan bags designed by MATT & NAT. If you win our Bask-It-Style giveaway, you will also get a MATT & NAT bag full of beauty, fashion, and wellness products and other treats too!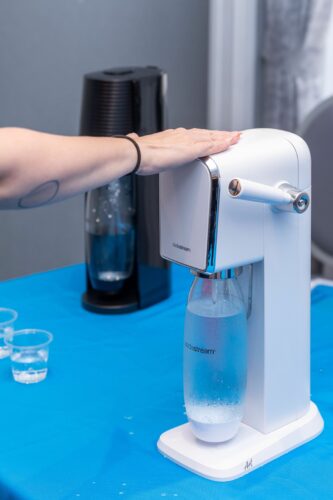 So what's in the bag? SO MUCH, including several Canadian brands we love. Here's the giant list of what you could win:
Browns Shoes: Media bag sponsor
DAVIDsTEA: Black Holographic Mini Favourite Tumbler, Wild Grown Rooibos, Organic Cream of Earl Grey, Perfect Spoon, DAVIDsTEA Filter Pack, Classic Faves Sachet Tea Wheel, Matcha On-The-Go Kit
Kit & Ace: Brushed French Terry Pieces
L'Oreal: Elnett Hairspray, Voluminous Noir Balm Mascara, Colour Riche Reds of Worth Lipstick
MATT & NAT: Celebrity gift bag sponsor
Pascoe: Vitapas B Complex, Beauty Pouch, Pascoflair
REN Vodka: REN Ultra Premium Vodka
SodaStream: SodaStream Art Sparkling Water Maker
Soo'AE: Hyaluronic Acid Hydrating Serum, Hyaluronic Acid Hydrating Moisturizer, Hyaluronic Acid Hydrating Cleanser, Supreme Gold Hydrogel Mask, Cactus & Aloe Soothing Hydrogel Mask, Revitalizing Rose Petal Hydrogel Mask, My Collagen Hydrogel Lip Patch, My Collagen Hydrogel Eye Patch
Toronto Popcorn Company: Grab bag in Garlic Parmesan or Bacon & Cheddar
WOW!!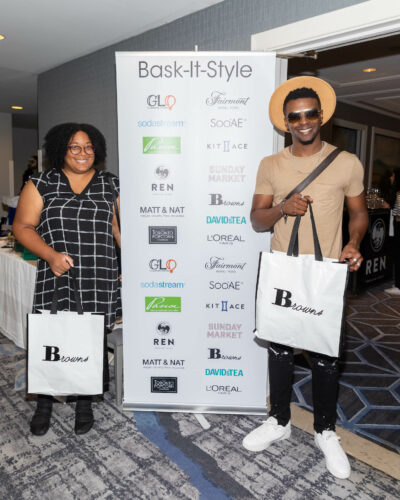 Enter to win the Bask-Is-Style Giveaway! Three ways to enter:
On Twitter, tweet: "YES PLEASE @Shedoesthecity! I'd love to win the #BaskItStyle gift lounge giveaway. We all deserve star treatment."
On Instagram, LIKE our post, and tag a friend you love.
On Facebook, LIKE our post and share which celebrity you'd love to meet in person.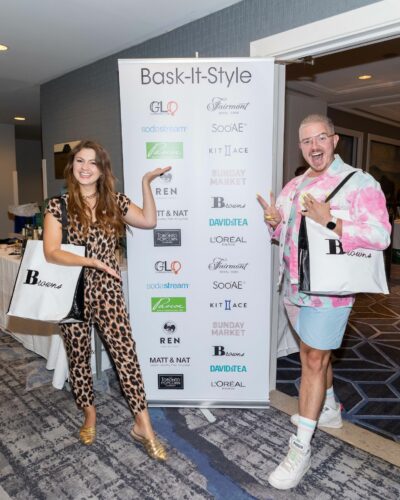 We've partnered with Bask-It-Style in the past, and it's always one of the most beloved giveaways. Good luck!
Shedoesthecity's Bask-It-Style winner will be announced on Friday, Sept 16. This contest is open to Ontario residents who are 19+.