The Jane Finch Mall parking lot has always been an unofficial community meeting place, but its transformation into Corner Commons, a colourful public pop-up, allowed it to become a more formalized hub for culture and connection.
"It's right at the corner of Jane and Finch, in the heart of the community, and has been used as a gathering spot or rallying point in the neighbourhood for many years," says Ernestine Aying, Community Design Coordinator, Jane/Finch Community and Family Centre. "We thought how can we enhance the space to accommodate more of these activities that already happen here?"
They took that question to the community, organizing workshops, as well as tables inside the mall, to gather input. Once they figured out what everyone wanted and needed, they enlisted the help of architects Perkins&Will to design Corner Commons as a reflection of the neighbourhood identity.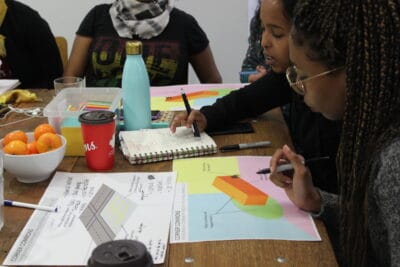 The firm understood that there was a desire for seating, a stage, some shade, and a multipurpose set-up that allowed for various groups to engage with the space differently, but they also had to work within the constraints that ensured COVID public safety protocols were in place. "We didn't want to draw circles, like Trinity Bellwoods and be like 'This is where you play. This is where you sit. This is where music will happen,'" explains Urban Designer Eunice Wong. "We've already been put in boxes this past year… we wanted to be fluid about it, but still keep it safe."
They used the words freedom, flexibility and creativity, to guide the design of Corner Commons, and took inspiration from the natural surroundings. "The lines on the ground are inspired by the Black Creek, which is right there, and a natural environmental anchor in the neighbourhood. We took those topography and contour lines and put them on here because it was a piece of the community and spoke to the fluidity."
As soon as the painting started, people took notice. Families watched from the balconies of neighbouring high-rise apartments as paint transformed the slab of concrete into a vibrant destination. "A lot of people have shared how they've been trapped inside for over a year, so it's nice to be able to go to a space outside," says Aying, explaining how residents of all ages have been utilizing and enjoying the space. "We definitely see a lot of our elders coming into the space and sitting in the lounge seating to have their morning coffee. The bright colours have drawn in all age groups, but especially kids. You can see them running though the space and enjoying it."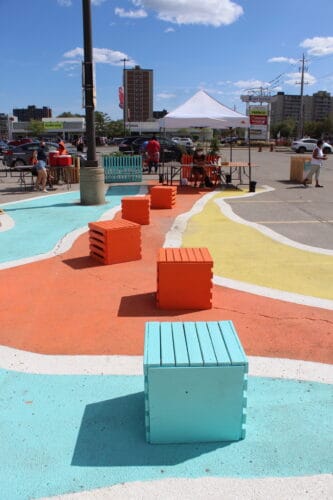 Beyond the casual ways that the community has been congregating, there has also been some programming to attract people to the space, including two artist residencies.
Lila Nguyen is a Jane-Finch resident and artist who recently completed her Masters in Architecture, and in August she created an immersive installation that used fabric to explore the 2021 "In Motion" theme. This month, photographer Jamal Omar will be displaying his work, and also hosting photography nights where Corner Commons will be illuminated at night with projections of Omar's images.
Other community groups have also used the space including the local youth-led organization Flaunt It, who hosted a mini arts fest / small business market to celebrate women in the Jane and Finch neighbourhood.
Aying and her team have always known that this space has been used by people, but by listening to the community and working closely with Perkins&Will, they were able to turn a well-trodden parking lot into a place that felt welcoming, safe, and special. The amount of people who've shared how meaningful the transformation has been has reinforced how important it is to have community spaces that are accessible to all. The project demonstrates how thoughtful social infrastructure can support neighbourhood resiliency.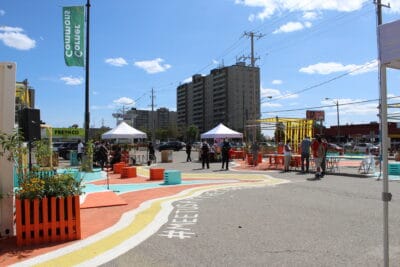 "We took some wood and some paint and threw it all together and now it's become a destination. Sometimes that's all you need," says Wong, who has loved working on this project with the team at Jane/Finch Community Centre, explaining that the activity that was already happening there is what makes it what it is. "The noise of the transit, a bus screeching to a halt, kids grabbing their McDonald's milkshakes, running to catch the bus. All the adjacencies to it makes it what it is. It's not a parking lot. It's an intersection. But now it's an intersection of community and arts and culture."
Torontonians have until the end of the month to experience Corner Commons, which will hopefully return next spring or summer and be transformed again and again.