We're delighted to see that Courtyard Comedy is back for a second season. The outdoor comedy series, happening Saturdays this summer (July 9, July 23, Aug 6, Aug 20), is a guaranteed good time.
Canada's Got Talent finalist Courtney Gilmour will be headlining the opening show on July 9th. Other comedians joining Courtney onstage include Yaw Attuah, Keesha Brownie, Aliya Kanani, and Jordan Trafford, and host Robert Watson.

Courtney has wowed audiences all over Canada, delivering a breakout performance at the 2017 Just For Laughs Festival in Montreal by winning the Homegrown Comics Competition—the first by a female comic in the 19-year history of the event. In 2018 she topped it with televised performances at CBC's Winnipeg and Halifax comedy festivals, as well as a triumphant return to Montreal to tape a set for The Comedy Network at Just for Laughs.

Courtney often addresses her experiences as a double arm amputee in her shows. In 2019, when she was shortlisted for the Sirius XM Top Comic Award, we spoke to Courtney about the impact her comedy has had: "I didn't realize that I had a platform where my disability would motivate people to do their own art. I didn't have that growing up, so the fact that I can do that for others is really incredible."

We're huge fans of Courtney's humour and storytelling and caught up with the beloved stand-up comedian to ask her some things.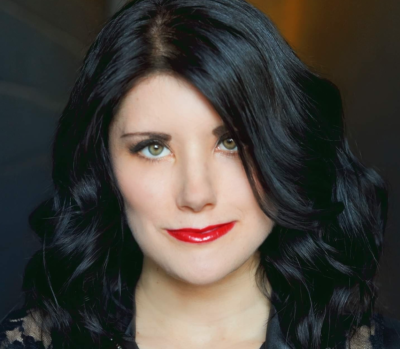 When and how did you know you were meant to be a performer?
I'm not sure if I had a clear moment of knowing I was meant to perform… I think a series of clumsy attempts at performance in other areas lead me towards the right outlet. I grew up introverted but feeling like I had a performative quality to my personality, something I hadn't yet tapped into. I tried dancing, singing, acting, but I wasn't really exceptional at any of them. Then I tried stand up and it clicked for me.
What are you obsessed with these days?
This game on my phone called Matchington Mansion. It's one of those apps with absolutely wild animated ads on Instagram where it shows a girl catching her husband cheating and then packing her bags to go live in a weird old cabin without electricity or basic necessities, and you have to do colour/shape matching to save her life. None of that happens in the game whatsoever, but it suckered me into downloading it and now I can't stop playing. Also, eclairs from Nugateau on Queen West.
What does a fun Saturday in Toronto look like for you?
I live downtown, right near Harbourfront, so walking outside my front door I'm guaranteed to find something fun to do. Walking around the waterfront and grabbing ice cream, or an iced coffee, is my ideal chill day. I really like Music Garden Cafe and Touti Gelati.
How would you describe your experience on Canada's Got Talent?
Creatively challenging, energetic, a lovely way to find out more people support me than I knew about. Also I got to wear and keep the same blazer that was worn by Rosalie Chiang from Turning Red.
Who are your comedy heroes?
Tig Notaro, Sarah Silverman, Amy Sedaris, Conan O'Brien.
A lot of your comedy addresses challenges or experiences as a double arm amputee. What would you say has been the greatest outcome of sharing those experiences?
The greatest outcome of sharing my experiences missing hands is people's surprise to find out I'm also missing a leg. I got into comedy to be funny but a nice byproduct of that has been people hearing about my weird encounters with strangers and realizing they've been the weirdo in similar situations, and understanding now what my perspective from the other side is like.
What is Courtney Gilmour finding funny or amusing right now?
My Instagram algorithm is showing me all these bird mating dance videos and they're amazing. Male birds will do the most to impress a female and get zero response. It's inspiring from all angles.
What about what are you finding annoying?
I have Twitter and you should follow me on Twitter but I find the whole platform pretty annoying and disheartening, so I try to just flood my own timeline with the dumbest thoughts possible.
What philosophy is currently guiding your journey?
I'm unlearning a lifetime's worth of people pleasing and approval seeking, so a lot of ideas that others may find basic or elementary are radically transforming my life right now. Trusting that my perspective and choices are equally as valid as anyone else's, looking to my own judgement, choosing to be my own authority… I think learning how to untangle yourself is the most liberating thing you can for your life.
What's a book, film or something you recently consumed that more people should know about?
Not Nice by Dr. Aziz Gazipura.
What's your one-line pitch to attend Courtyard Comedy this summer?
Please come, we need attention.
Courtyard Comedy is happening over four Saturdays this summer (July 9, July 23, Aug 6, Aug 20) at Campbell House Museum at 160 Queen Street West (Osgoode station). Tickets are $20. Bring a blanket and find a spot on the green lawns for an afternoon of laughter and (hopefully) sunshine. More info here.