Ladies, Gentlemen, Babies: Target is now in Canada and also in our Hearts.
Target held its official Canadian launch party last Wednesday, March 27 in its sparkling new location on the Danforth. The party was probably the best thing that will ever happen to anyone. Becca and I arrived with no idea what to expect of the night and casually shed our coats at the coat check. As we were about to walk away, one of the women working said (while making some serious eye contact): "Oh, I'm supposed to tell you, Sarah. Jessica. Parker. is here."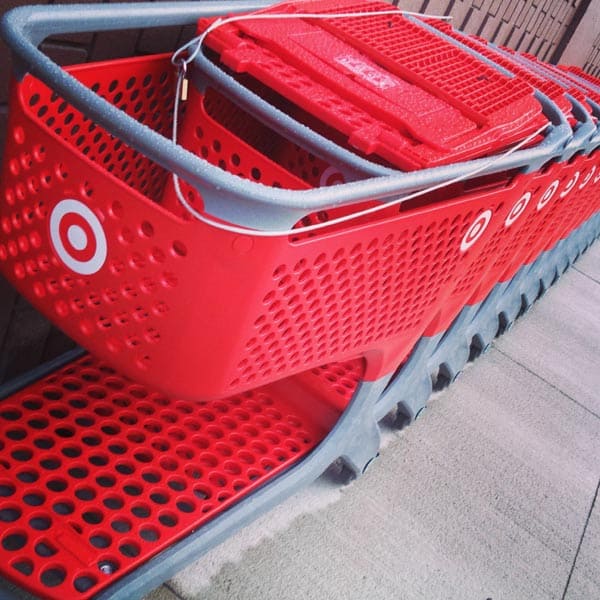 I did not know I was a celeb crusher. I thought I was a pretty chill dude when it came to starz. But no. Having now been tested, I know that at the moment of truth I am a gushing-wide-eyed-super-fan. I ditched Becca while she was still checking her coat and beelined to SJP, all the while thinking "The event invite said Dress to shop… DO YOU THINK I WOULD HAVE WORN THESE OLD JEANS IF I HAD KNOWN SJP WAS GOING TO BE HERE? Maybe. Probably. But gosh Target, way to surprise a lady!"
She was looking pretty great in a black tailored blazer and sleek straight hair draping across her teeny tiny five-foot-nothing frame. Having finished the red carpet portion of the night, she walked around the store while people stopped to take camera pics with her. It was fantastic. I watched for a bit and then I saw some $6 tights and got distracted and never saw her again. Good bye SJP, I love you, hello six dollar tights, I love you, too.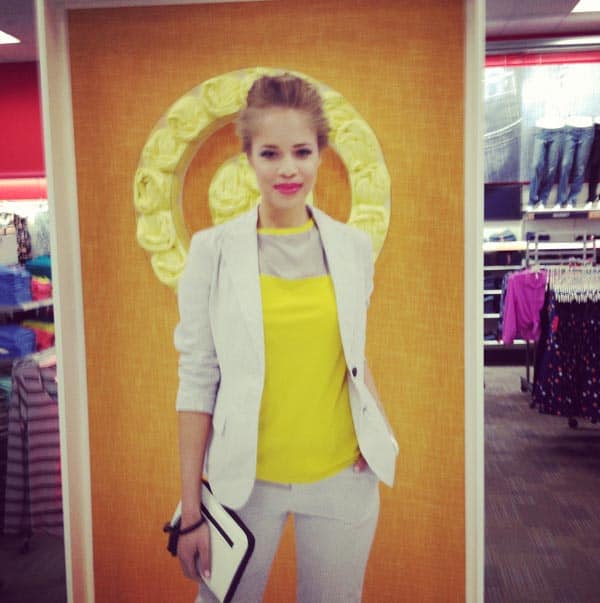 Other starz in attendance were Blake Lively, Elisha Cuthbert, and Kardinal Offishall. Oh, and Bullseye The Target Dog. Obvs.  
The rest of the night was like a dream. A SHOPPING DREAM. It was like a Target store exploded inside a Target store and everything was wild. Everywhere we turned there was another free goodie, hidden between aisles, promising delicious food or a unique and entertaining experience.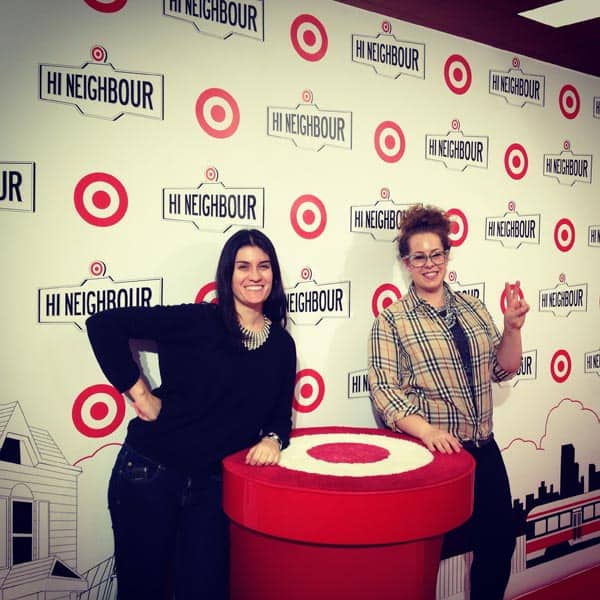 Smiling Target employees pushed along drinks and bites inside red shopping carts. To give you some examples of what happened, I am just going to list some of the things we said out loud during the event:
"SJP! I think I'm gonna pass out"  
"If I die tonight, here in Target, I die happy."
"How many of these crab bites can I eat before I explode?
"I made my own cake pop! …It's already gone. I ate it."
"Look, it's a gigantic Dance Dance Revolution game!"  
"Waffle bar, twelve o'clock."
"CANDY BAR, THREE O'CLOCK"
"Oh yeah, the blender that made this smoothie was powered by a man on a stationary bicycle. Bike man power. Delicious."
"May I please have extra cheese curds on my poutine?"
"That person is making grilled cheese sandwiches with a clothing iron. Good."
"Let's get our handwriting analyzed in the stationary aisle!" 
"Here comes that crab cake cart again. Can you hold some for me?"
"This is the best Easter egg hunt of all time."
After an hour and a half of exploring the HUGE store, we were ready to do some shopping. We took a few minutes in the extensive cosmetic section (great prices, awesome selection) but spent most of our time in the clothing and accessories aisles. I was really impressed with their selection of bags and shoes, but unfortunately (having deliberately left my cards at home) wasn't able to pick any up. I got a great black dress using the cash I had on hand (re: for cheap!) and will be going back this weekend to pick up some turquoise oxfords that I fell in love with. I can hear them calling me from Victoria Park subway station. Target is one of those stores that has everything, so you can go there to pick up household items, pharmacy prescriptions, kid's toys, food…everything.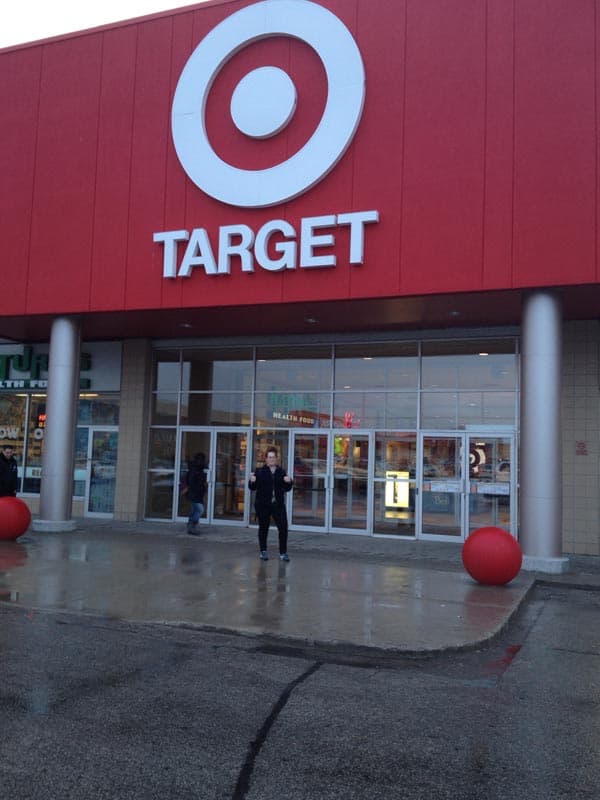 When Becca and I left, with drinks from the attached Starbucks in one hand and a goodie bag (containing a much needed umbrella) in the other, we couldn't stop talking about how amazing the night was. Target, you really outdid yourself. Best night ever. We love you! Target stores in Toronto are open now now, and there are more opening across Canada this fall!