Toronto designer Kingi Caperenter, owner of Peach Berserk, didn't have any plans to make masks until her sister-in-law suggested it as an idea. "Just a few days ago, it was still up in the air as to whether people should wear face masks, so we debated whether or not it was a good idea, but she saw things turning, so we decided to give it a try," says Carpenter, who began the initiative less than a week ago, and has been shocked by the demand.
Another thing that has surprised Carpenter, is how much she's been enjoying making them. "I didn't realize how amazingly they would lend themselves to fun prints. When I printed them, I thought 'My god, these are so cute!' Maybe in the face of something so scary and weird, art makes things more livable," she says. "The response has been insane!"
As soon as Carpenter posted her designs on social media, requests began rolling in. One woman asked her for a ballerina print, a 75-year-old man wanted a Pharrel Williams mask, and a concerned mom reached out seeking a Minecraft mask for her son, relaying to the designer, "It's the only way he'll wear one!"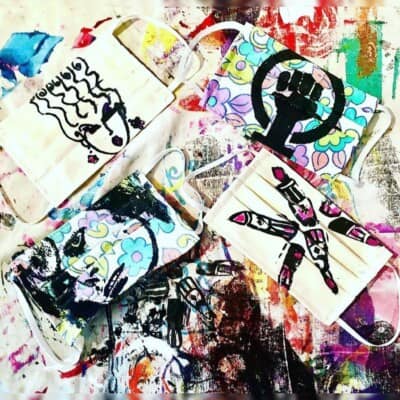 While most might assume that making a mask is a straightforward sew job, it's trickier and more costly than it appears. "These masks require way more fabric than you think! They are double layered and pleated, they don't just take a few inches a fabric, they take a lot," she tells me, but luckily up-cycled is what Carpenter loves and does best.
"The only way we can make this affordable is to use vintage bed sheets. If you get bed sheets from the 1960s, the quality is so nice. We have really nice fabric, but we will probably run out. It's even hard to get elastic right now, because other people are making masks." Since vintage and second-hand stores are closed, Carpenter has begun pulling clothing from her own personal closet to meet the demand, and she's picky about the quality of the material, to ensure the masks serve their purpose.
While the masks are priced very low, right now most going for $12, which basically covers the cost to make them, Carpenter has put a few calls out, to organize a charitable component, so that any extra dollars made can be donated to vulnerable women in Toronto.
Like many in the art and fashion industry, Carpenter's business hit a wall as soon COVID-19 outbreak hit Toronto—making masks has given her a sense of purpose in this crisis, and it turns out there's a big demand for funky face masks. "It gives me something to do and makes me feel needed. We can all contribute in different ways, I contribute by printing multi-coloured David Bowies, that's just me, but everybody has something to offer, and feeling useful is helpful in difficult times."
Check out Kingi Carpenter's Instagram feed at @PeachBerserk and get your request in ASAP.