The weather's at a lovely place right now, where it's warm in the day and cools off at night. The perfect time to spend a sunny afternoon crafting a cute piece of light knitwear for the evening! Our buds at Limberlina have you covered, literally, with this easy way to update a classic old sweater.
You'll need:
Old sweater and t-shirt

Needle + thread

Scissors

Suede elbow patches (or denim, or whatever!)

A sharpie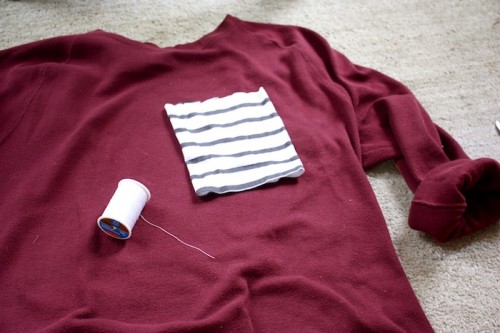 How to:
First put on your sweater and (with the help of a friend) mark the spots on the elbows where your patches will go. Take off your sweater and thread your needle. I used a matching thread but I think a contrasting thread (like white) would have looked nice too!
Sew your patches on. It helps to stitch the top and bottom on first so the patch stays in place.
Cut out a square from the old t-shirt you will be using to make the pocket. Make sure the square is slightly larger than you want your pocket to be. Since the fabric I was using was pretty thin, I doubled up on the square.
Use a hem stitch (the needle goes in on the same side to create a loop at the top of the fabric) on one side of the pocket – this will be the top.
Put your sweater back on and mark and x where you want the pocket to be. Take off your sweater and place your pocket on – hemmed side up. Begin stitching the 3 sides of the pocket onto the sweater (side, bottom and other side). I folder the bottom corners in a bit to create a slightly rounded pocket look.
That's it! You've got a cute new sweater now! Pop it on over a bathing suit at the cottage, or dress down your sundress for a night in a pub. Perfect.
Limberlina are Kimberley and Laura—they teach people with creative ambitions to make their own mark in and outside of their homes through simple, imaginative and inexpensive DIY projects. Follow them on Facebook, Twitter, Pinterest and Instagram  and check out their DIY Kits here!