Nyla Innuksuk grew up watching films like E.T. and The Goonies. "I probably watched those movies hundreds of times," the Inuk filmmaker tells me. For her debut feature Slash/Back, she captures the same thrill and wonder found in those classic 1980s kids flicks, but instead of white boys on bikes, this story is about a gang of Indigenous teenage girls cruising around Pangnirtung, Nunavut, on the adventure of a lifetime! "It's a teen action-adventure horror movie." Oh and is it ever deliciously fun.
"When I was 13 and 14, my group of female friends was the most important thing in my life. Those friendships are so foundational in figuring out who you are… where you fit in. Being up in Nunavut and hanging out with these punky teenagers I was like these girls from Pang could totally take on an alien invasion." Anyone who watches the film will agree—Maika (Tasiana Shirley) and her crew are tough as hell and ready to fight, to defend their land.
The film premiered at SXSW, recently opened the inaugural Blue Mountain Film Festival, and is the first feature to ever be made in Pangnirtung (affectionately known as "Pang"), a remote hamlet on Baffin Island that's far away from everything (to fly from Toronto is a 9-hour journey north).
Nyla has family in Pang (including her beloved nephews, who were top of mind when creating Slash/Back), but she was born in Igloolik and grew up in Iqaluit. "The Arctic is made up of different communities, Iqaluit is the capital, of course, and has the largest population and is the most easily accessible and because of that, it's the place that has been seen on screen before. These communities that spread out around the arctic are all so beautiful and so varied," she says, painting a picture of the flat lands in Igloolik, the rolling hills of Iqaluit, and the amazing fjords that surround Pangnirtung—which are so stunningly captured in Slash/Back.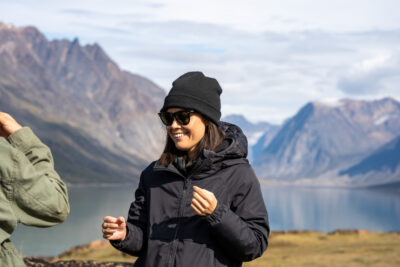 Filming in Pang was a feat of its own. Cast and crew lived in the local high school for the summer. There are no restaurants, so all meals were served in the high school gym, and no alcohol was allowed (because it's banned). "It was a big commitment but the kind of people who are up for that kind of adventure are really great."
The cast is a mix of Pang locals as well as emerging actors who were cast during a weekend in Iqaluit. "We invited young women interested in acting to come over to this art space that we had access to and hang out for a couple of days. We had a great turnout and most were cast that weekend."
Before filming, Nyla and co-writer Ryan Cavan spent a lot of time getting to know the teenagers, taking them on boat trips, and chatting with them nonstop. Aside from all the usual growing pains that all teens go through (tensions with parents, adolescent crushes, trying to fit in and be cool, etc.), Nyla and Ryan noticed that the young cast grappled with shame. "Shame in their Indigeneity was something that affected each of the girls differently. Certainly I could relate to that, having been an Indigenous teenager, and being mixed-race Indigenous… it's difficult to figure out where you fit in." Beyond all the fun and wild adventures that the girls have (both the actors on set and the characters in the film) shame and pride were major themes that were explored, both in the film, as well as off camera while making the film.
"We had lots of conversations about that, what it means to be speaking about our Indigeneity and Inukness with shame… holding ourselves accountable and saying that we are all wanting to be or are proud Indigenous women, and so in order to do that, when we are talking about our Indigeneity—our Inukness—we have to use prideful language, cause that reflects how we feel." In between these heartfelt and difficult conversations, the girls fought off possessed polar bears and wrestled with alien tentacles.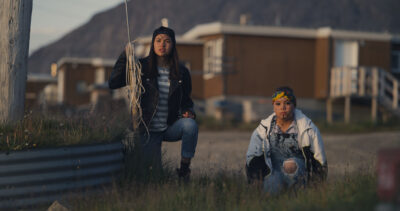 Audiences will interpret deeper meaning in the invasive species that wreak havoc on the remote community, drawing comparisons to colonialism. For Nyla, this type of reflection is great, as are the conversations it stirs, but the primary goal of her film is about giving teens something entertaining and delightfully gruesome to enjoy. "I really wanted to do something that was fun and silly, but I also knew that when I had a story about a group of Indigenous teenagers in a remote community, facing an invading threat, that there would be a certain narrative that audiences would place on that, so it was trying to figure out how to strike that balance—making a fun movie but also getting to explore some of those things through metaphor and more personal ways." Playing within the sci-fi and horror genres allowed Nyla to touch on these themes without being heavy handed.
Slash/Back is fictitious, but it is an authentic portrayal of life in Pangnirtung, and addresses very real issues in clever and subtle ways. Production Designer Zosia Mackenzie was adamant about having the sets accurately reflect the community. "She went to everyone's house and had tea with people and while she was inside poking around she'd be like 'Can I rent that blanket? Can I rent those cushions?" laughs Nyla. "It was important that if it was going to exist in the movie, it had to first exist in Pang."
The original soundtrack by Halluci Nation and Michael Brooke, with traditional drumming and throat singing, adds a powerful dimension to the film, and features exquisite vocal performances by Tanya Tagaq. Titles morph from Inuktituk to English, and If you look carefully, you'll notice that the final end credit slips from Slash/Back to Land/Back. "Just as the Land Back movement is about the reclamation of land, the Indigenous screen community is working in parallel to define spaces for ourselves and claim ownership of our stories."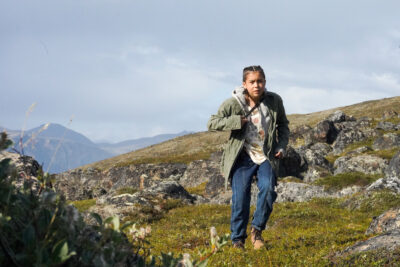 Nyla never imagined it would be possible to make a feature film in Pangnirtung, a place she describes as being at the "end of the world'—but to see it come together, and to be able to hire an Inuit crew, was a dream come true. Returning to Pang to host screenings was also magical, especially to be able to show an audience full of Indigenous teenagers a very cool film that takes place in their home and reflects them. "I love this place. It was a really special summer."
While at the SXSW premiere, the cast addressed the crowd in Inuktitut. "It was so nice to see them being so proud of not just the movie, but the community that it represents." Watching the girls beam with pride, and observing how much they've grown since that initial casting (four years ago) is something that Nyla will always take with her.
SLASH/BACK opens June 24 in select cities across Canada. The film is also available June 24 to rent or buy on the Apple TV app and other VOD platforms.