Once you start listening to Katie Tupper, you won't be able to stop. This young artist's music is mystifying, earnest and full of feeling. Her new EP Where To Find Me is complete with five fresh new songs that will make you melt.
This R&B-pop, Saskatoon-born artist is a part of this year's First Up with RBCxMusic program, dedicated to uplifting emerging Canadian artists, and providing them with support and resources to hone their craft and progress their music careers.
Katie's music defies genre, pushes boundaries, and will make you unrequitedly fall in love with her artistry, or whoever she so beautifully writes about. We connected with Katie to discuss her new EP, her artistic process, and how she navigates gender inequality in the music industry.
What are your earliest memories of music?
The earliest time I remember wanting to make music was when I was in elementary school. I had found an old toy mic that you would press to record, and then you could hear it play back. I remember sneaking it into my room and singing songs to myself on it — sometimes crying because the warped sound coming out of it was so different from what I thought my voice sounded like. I remember spending quite a bit of time trying to find out if I actually liked the sound of my own singing voice.
When it comes to lyrics and songwriting, who are some artists you really admire?
I love Rachel Bobbitt's songwriting and lyricism. I think she's a genius. I love Joy Crookes. I think Frank Ocean is the ultimate songwriting blueprint. I love listening to podcasts trying to decipher all of his songs and double meanings. D'angelo is my ultimate inspiration when it comes to tones and production.
Let's talk about your new EP, Where To Find Me! Can you tell us a bit about the journey of creating this EP, and what it means to you?
I started writing this EP right at the beginning of 2022. Some of the songs on my own, some with my co-writer and producer Connor Seidel. A lot of these songs were inspired by my time in 2021 when I was living in a new city and getting to introduce myself to new people after spending my whole life in a fairly small town. I realized so much of who I believed myself to be wasn't actually true when I was taken out of the context of where I grew up and it inspired a ton of music. So this project is a projection of those feelings and the different relationships that impacted me during that time.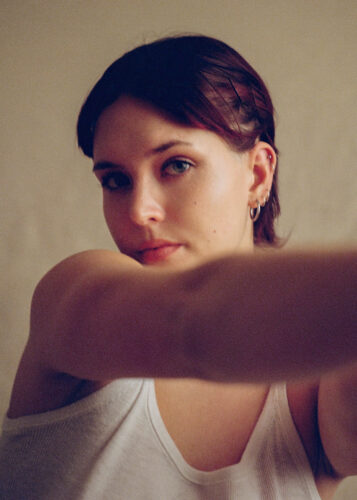 What's your favourite song on the EP, and why?
I think I'm going to have to say She Said. I'm really proud of the songwriting and it was really cathartic to put the feelings of that song into words. I also feel like the production is the closest I've ever felt to myself in a song.
How has growing up in Saskatoon influenced your music?
I think I had a fairly sheltered upbringing in Saskatoon and felt like I didn't really see a ton of people coming out of Saskatoon making the type of music that I wanted to make. I think it pushed me to do a lot of music discovery on my own but I definitely have a handful of folk and roots references in my music due to growing up in the prairies.
You've opened up about navigating gender inequality in the music industry – what is some advice you would pass on to younger women getting started in music?
Wait to work with the right people & that it is 100% ok to cut out people that are toxic and misogynistic. I think it's really easy to believe that working with toxic men/people in the industry is just some sort of standard or given that we have to accept, especially when you're starting out. Predatory people will always work with greener musicians because they're easier to manipulate because no one tells you the standards of this industry. Make sure you're standing up for yourself and know that you get a million chances in this industry if you're working hard so you don't have to settle for an opportunity with anyone that is exploitative or disrespectful.
We love your recent music video. Can you give us a window into your creative process?
For this project, I wanted to be much more hands-on with the visuals. We shot everything in Saskatchewan with local directors. I know very little about video creation so I handed over my ideas to a couple of really talented people and they pulled together visuals that I'm super proud of.
How would you describe your music in a few words?
Smooth, unrequited, soul-ish.
What does it mean to you to be part of First Up with RBCxMusic?
Getting to be recognized alongside so many really cool artists feels amazing. And having RBC acknowledge that it is a really difficult time to be an artist and to want to help is really cool. I'm looking forward to the opportunities that being a part of this program can bring.
Where To Find Me is available on Apple Music, Spotify, and all other streaming platforms. Follow Katie Tupper on Instagram. See more from First Up with RBCxMusic's selected artists.