When David Copperfield made the Statue of Liberty disappear on prime time television, the art of illusion had hit the mainstream. It's been a while since magic was given the respect it deserves as an art form, something greater than a hanky trick at a birthday party. Its boundaries pushed by charismatic, meticulous innovators, it has seethed with potential energy, waiting for its moment.
Good news, the wait is finally over! The next generation of master illusionists is here and it's pretty freakin' wild. With the litany of reality and talent shows on television, we've been given a peek into the world of these bourgeoning masters. And let me tell you, this sh*t is bananas.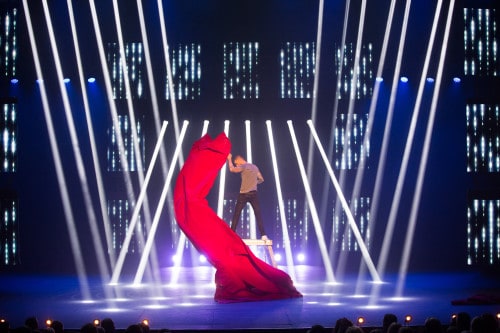 One of the great young illusionists we've been hearing about is Darcy Oake, who credits David Blain and Criss Angel with inspiring him to get involved in the biz; he also happens to be homegrown (snaps for Winnipeg). We literally just spent the last 30 minutes, with mouths wide open, watching his acts on YouTube. This guy is incredible, not to mention very, very good looking.
The master of sleight of hand and illusion will make his triumphant return to Canada in November with his acclaimed Edge of Reality tour. We have a pair of tickets to give away to the Toronto show, along with a meet and greet with Darcy! (WE KNOW, RIGHT?!)
Having proved himself on Britain's Got Talent, and won over the impossible Simon Cowell, Darcy's career has skyrocketed, and he's become a viral sensation many times over. A YouTube clip of the illusionist making doves appear out of thin air has garnered over 57 million views to date! Have you seen it? You HAVE TO.
CONTEST!
To enter on Twitter, RT:
"Hey @shedoesthecity, please send me to @DarcyOake's Edge of Reality show at @SonyCentreTO. I believe in magic!"
Prize package includes two GREAT seats to Darcy Oake's Toronto performance on Saturday November 14th at 7:30pm, two copies of his book, and a meet and greet opportunity!
Winner will be notified by 4pm on October 26th, 2015.
Tickets for the Toronto show can be purchased online at www.sonycentre.ca, at the Sony Centre Box Office or over the phone at 1-855-872-SONY (7669) and are priced between $35 – $100 (excluding service and delivery fees).