Etsy Made in Canada is turning FIVE YEARS OLD! We are long-time fans of this wonderfully diverse marketplace and love being able to support unique, local and handmade goods.
In honour of Etsy Made in Canada's fifth birthday, we're chatting with some of the awesome makers who specialize in one-of-a-kind craftsmanship and create products ranging from hand-cut paper cutting designs to leather goods and woven wall hangings (WE LOVE ALL OF IT).
For this instalment, we caught up with Ali Harrison of Light + Paper to learn more about her paper cutting and laser cuts company and how she cultivated her talents.
SDTC: Tell us what you make.
AH: I create hand-cut paper cutting artwork and laser cut replicas of my designs—coasters, ornaments, art pieces, etc.
When and how did you discover your talent?
In 2012, I was looking for a craft to make for my aunt for Christmas and stumbled upon paper cutting. I tried it out using a box cutter and my kitchen cutting board, and I totally fell in love with the craft. I armed myself with the proper tools and have been cutting paper ever since.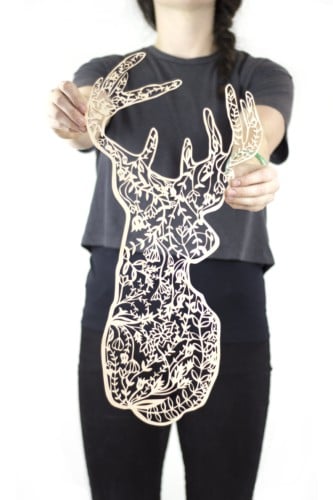 How does creating make you feel?
Paper cutting is really relaxing and meditative to me. It's a really great way to unwind. I get into a groove and time passes so quickly.
What are five objects in your home that you love?
My Moon Print from Baltic Club, my Shayna Stevenson and Jen Collins bear mug, my pillow ("the good pillow" is its name), my completely generic $20 Canadian Tire coffee maker, and an old wooden cutlery hutch rescued from my old work at U of T's food services.
Do you have any particular Etsy transactions/connections that have become a beloved story in your life?
My anatomy collection of paper cutting pieces, all based on the human body, have given me so many special connections. Clients often buy these pieces for loved ones undergoing surgery or with medical conditions and share the stories with me. It makes me feel so special that people have such strong connections to my pieces and that they are so meaningful.
What discovery have you made, either personal or about crafting/humanity, since you joined the Etsy family?
It's sometimes tempting to just follow trends and make whatever you think people will buy. I'll get requests sometimes to copy other people's work or make something really generic based on a photo or font. I've learned to develop my own style and aesthetic and make a variety of things that all reflect that aesthetic. I find that this builds a more lasting and memorable brand that people connect with, and I feel so lucky that people want to buy the things I want to make.
Is this your side hustle? Your main gig?
Light + Paper is my main job. (I quit my office gig four years and one week ago!)