In honour of Etsy Made in Canada's fifth birthday, we're chatting with some of the awesome makers who specialize in one-of-a-kind craftsmanship and create products ranging from hand-cut paper cutting designs to leather goods and woven wall hangings (WE LOVE ALL OF IT).
For this instalment, we caught up with Michelle Chession of Roving Textiles to find out more about these gorgeous woven wall hangings and the inspiration behind them.
SDTC: Tell us what you make.
MC: I create one-of-a-kind woven wall hangings made from carefully curated yarn, both small-scale and huge pieces!
When and how did you discover your talent?
While in Mexico five years ago, I fell in love with all the gorgeous colours and handwoven art and clothing. I immediately purchased my first loom and started to teach myself. We also didn't have any looms made in Canada, so I asked my super talented dad to make me a loom. That is the beginning of it all. Now I teach workshops all over Ontario, and my dad is creating gorgeous looms that are being used around the world.
How does creating make you feel?
Using my hands and making something purely from a feeling makes me feel grounded and whole. It's very meditative, especially when there is so much pressure to be perfect.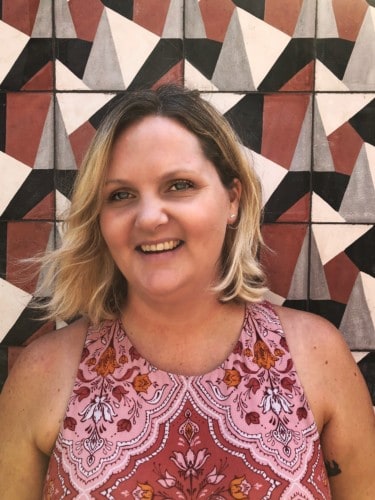 What are five objects in your home that you love?
Oh, so many things!
A very simple tanned suede macrame piece from Kindred Connect
A small postcard-sized watercolour my grandmother painted for me
A mid-century cabinet passed down from my grandparents
Our big slouchy leather couch
An antique brass and glass side table
Do you have any particular Etsy transactions/connections that have become a beloved story in your life?
Last Christmas I purchased two DIY macrame plant hanger kits from Jen from Nova Mercury. Since that day, we have built a great friendship that I value so much. We actually just met in person for the first time today!
What discovery have you made, either personal or about crafting/humanity, since you joined the Etsy family?
It's taken me a while, but I have realized that I own a legit business! What started off as something just for fun has turned into something major so that I can help support my family. I also love that other makers are always so open to sharing with and helping each other.
Is this your side hustle? Your main gig?
Aside from being a full-time mother, this is my full-time job. I somehow managed to navigate pregnancy and the first 2.5 years of my daughter's life while growing my passion project. I am so grateful for everything falling into place and the support from the maker community and my family. From staying up late and making during nap time, it's all been worth it.