Etsy Made in Canada is turning FIVE YEARS OLD! We are long-time fans of this wonderfully diverse marketplace and love being able to support unique, local and handmade goods.
In honour of Etsy Made in Canada's fifth birthday, we're chatting with some of the awesome makers who specialize in one-of-a-kind craftsmanship and create products ranging from hand-cut paper cutting designs to leather goods and woven wall hangings (WE LOVE ALL OF IT).
For this instalment, we caught up with Robin Fitzsimons of Fitzy Design to learn more about her modern leather goods company and how she cultivated her talents.
SDTC: Tell us what you make.
RF: I make leather bags, wallets and other accessories.
When and how did you discover your talent?
My skills aren't something that I magically discovered. I've always loved working with my hands, so I've worked hard over the years to develop my skills into what they are today. It's a never-ending process. I'm always trying to push myself to grow and learn new creative skills that can help me grow my business. For example, I took a shoe-making course this past winter and learned some amazing new ways of working with leather.
How does creating make you feel?
For me there's a big difference between the design part of creating and the making part of creating. The process of designing a new bag is very focused and, at times, stressful. I first have to come up with a design and then prototype it over and over, making adjustments until I land on something that works. There are a lot of decisions to be made, and I'm a very indecisive person.
Sometimes it takes a really long time, especially if it's a more complicated shape, like my backpacks. Once I've landed on a design, then comes my favourite part: the making. I find the production process to be very meditative. When I'm cutting leather and sewing bags together, I lose all track of time, which is a good thing since this is my busiest time of year. I'll basically be living in my studio for the next three months.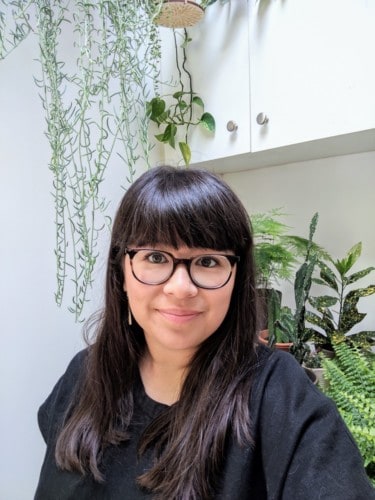 What are five objects in your home that you love?
My cast iron pans. I love to cook, and cast iron is my ride or die.
My gigantic monstera. I used to have a huge plant collection at home, but my monstera plant has gotten so big that most of them have been exiled to the studio, where they can get more light.
My collection of handmade ceramics. Over the past few years, I've developed an obsession with ceramics and try to pick up something new every time I travel or do a craft show. I especially love my Merman mug from Bread and Buttery Pottery and my botanical bowl from Ghost Mountain Co.
My collection of orange cat art. I've unintentionally developed quite a large collection inspired by my late cat Hubert. I bought the first piece or two myself, but most of them have been gifts from friends and family. The framed pieces are hung quite low to the ground at cat eye level.
My couch. It's my happy place.
Do you have any particular Etsy transactions/connections that have become a beloved story in your life?
Just yesterday I made a monogrammed passport wallet to celebrate someone's Canadian citizenship ceremony. It's truly an honour to be a part of such an important occasion.
What discovery have you made, either personal or about crafting/humanity, since you joined the Etsy family?
I've found my people. My absolute favourite part of running a handmade business is the amazing community of makers that I'm a part of. I haven't found anything else quite like it.
Is this your side hustle? Your main gig?
I'm fortunate enough to have Fitzy be my full-time gig. Running a handmade business is really hard, and many Etsy makers have to have side hustles to make it work. That's why it's so important to support handmade.