Co-directors Bahia Watson and Liza Paul, self-proclaimed "co-conspirators in bashment absurdity" are bringing their infectious energy to Toronto audiences with their lively variety show MASHUP PON DI ROAD.
Described as "punk in spirit, island in vibe and vaudeville in staging," the Caribbean musical comedy show is an unabashedly joyful celebration, taking place outdoors on the streets of the city on the back of a big truck. This dynamic duo doesn't hold back — their show delves into deeper topics like oppression, the patriarchy, and expectations of womanhood through a mix of cultural critique, comedy, songs and more, but you'll still leave feeling good.
"We want to bring some joy and lightness and play to the people of our city," said Liza. "I want people to leave feeling themselves, and feeling good," added Bahia. We love the bold, colourful and free-spirited vibes. It's perfect entertainment for a summer night — and it's free to watch!
With Bahia and Liza in the midst of their show's run, we wanted the scoop on their creative process, the vibes we can expect from Mashup, and their premiere in Little Jamaica.
How was the idea for MASHUP PON DI ROAD first born?
Bahia: It was an ongoing evolution of vibes and vaudeville dreams Liza and I shared. We've always been interested in these crossroads, the in between spaces.
Liza: We are always interested in finding ways to tell stories in ways that reflect our perspectives, our heritage, our endless pursuit of good times. We love comedy that spins the audience on an absurdist ride and this concept and the formats upon which we've drawn are a mashup of all those priorities and preferences rolled into one spectacular extravaganza.
What was it like working together to create the show?
Bahia: It had different phases. A lot of it was done remotely, a lot during the pandemic. Once we decided the staging, I went to work writing the show. A lot of it I wrote in solitude in a gorgeous apartment in Montreal over the winter lockdown. I was watching a lot of RuPaul's Drag Race. The later drafts I finished in New York and then in Los Angeles. I was moving around a lot with scripts, making studios out of closets and writing the songs. Liza was working more on the producing side, in collaboration with the Why Not Theatre team, sorting out the many logistics of putting on an outdoor show.
Liza: There are a LOT. We couldn't have done this without them.
Bahia: We had a one week workshop at the theatre centre in June, that was the first time meeting a lot of people in person! The first full table read of the script was 3 weeks ago! It's been a wild ride.
Liza: I always feel like we are lucky to know each other. This can be lonely, gruelling work, especially in a pandemic, but having a co-conspirator in bashment absurdity is really a blessing.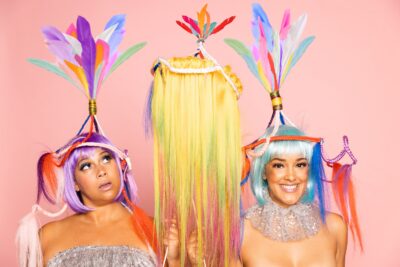 Why did you decide to perform the show outdoors, and on a truck?
Bahia: It wasn't our original plan, but when the pandemic hit, we had to be agile. One day whilst lounging by the pool we asked ourselves: how can the show go on? And Liza said: let's put it on a float. The big truck is a powerhouse carnival symbol and also a kind of travelling caravan, a crossroads where circus and bashment can meet.
What does it mean to you to be able to premiere the show in Little Jamaica?
Liza: It's a dream. The community has been so welcoming and supportive. We really want to be able to honour our heritage and offer an island-flavoured good time to the part of the city that has had such an outsized influence on Toronto's culture. Rum punch! Reggae! Vaudeville bashment vibes! We hope people in the community will come and enjoy it and people who travel to the community will explore it and discover places they didn't know about — and spend their money there! It's a free show! Take what you would have spent on entertainment and go to RAP'S, go to TreaJah Isle, go to Judy's Island Grill. Go everywhere!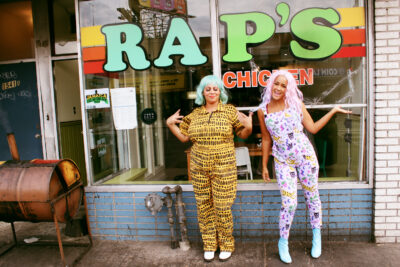 This show is a mashup of comedy, songs, and characters — what's the beauty of all of these elements coming together?
Bahia: The beauty is that together they breathe air into even the most serious subjects. When I'm writing, I like to hold up a subject in the air like a prism and see if I can find a new and unexpected way in. Music is a portal, as is laughter, as is absurdism. It's not about finding solutions or declaring what is right and what is wrong, I think it's about finding alternative perspectives. A new angle might be a new reality, one that might have some new possibilities.
We love that you're addressing topics like the patriarchy and expectations placed on women. Why did you choose to explore these in your show?
Bahia: I write about things that haunt me, my own insecurities, situations that me or my friends or family experience that create a kind of question within: why do I feel this way? Why is it like this? Liza and I have a long history of tussling with the patriarchy and its confines—it bothers us and so we make fun of it!
Liza: It's important to shine light on the dark places — it helps take away their power over us. and Bahia's writing really does that in the most sublimely ridiculous ways.
Let's talk costumes! What do you love about the costumes for this show?
Bahia: I love fashion, I love the art of costuming. It's a big stage, it's outdoors, so we wanted to fill that space. Many of these characters I had ideas of how I wanted them to look, so they started from these cartoonish sketches and it was a delight to see them realized!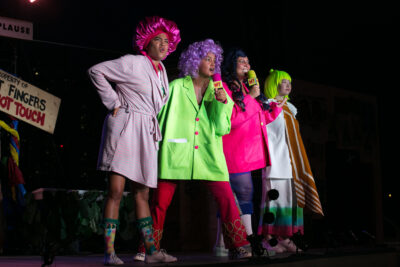 How have your performances gone so far? What was the audience reaction like?
Bahia: We've just had our first preview and it was so wonderful. The audience was just love, pure love. I'm always in awe of audiences. When they've made the journey to be there, in person, with an open heart and up for the play of it all, it's just so beautiful. It was very inspiring.
Liza: It was wonderful to perform the show for an audience and hear so many belly laughs. it's a comedy so that's really the final thing that brings the work to life — the relationship with the audience. There's a moment in the show where we announce that the show is coming to a close and when we previewed we heard an audible 'awwwwww'. That was really something sweet and special. It had already been nearly a full hour! They were standing! And they didn't want it to be over yet?! It made me feel so happy and so proud and so excited to do the rest of the shows.
Can you perhaps give us a little preview and describe a segment of the show?
Bahia: If your body parts could talk… I wonder what they'd say.
Liza: The earth, an alien, and a human walk into a bar…
Bahia: The domestic decathalon!
Liza: Welcome to di circus!
How would you describe the vibe people can expect from MASHUP PON DI ROAD in a few words?
Bahia: The vibe is fun and free! It's arms wide open. We did all this for the people dem. The mood is love.
Liza: The vibe is A VIBE. Come ready to free up and be delighted. We did this for you.
Catch MASHUP PON DI ROAD on July 22 and 23 in the Heart of Little Jamaica and at The Bentway on July 27. Book your free tickets.