In 2019, photographer Danijela Gorley found a lump in her breast. Living with and recovering from cancer deeply impacted her art practice. In Flowers Still Bloom, Danijela explores themes of surrender, healing, transformation, and rebirth that she's experienced since she was first diagnosed.
"At 42, with a young family and a busy and thriving commercial photography business, and no history of breast cancer in my family, this stopped me in my tracks," says Danijela. "My experience with cancer has taught me that in order for something new to be born, something old had to die. This sounds so simple, but in fact requires the kind of surrender I had never allowed myself to embrace. As we all let our old habits and patterns die, a space for something new and previously impossible is born."
Flowers have always been something that the photographer has loved, but have become increasingly more valuable to her during her recovery. "When my world was rocked, flowers not only healed me but brought me so much joy," says Danijela, whose photo series is created in collaboration with eight local florists.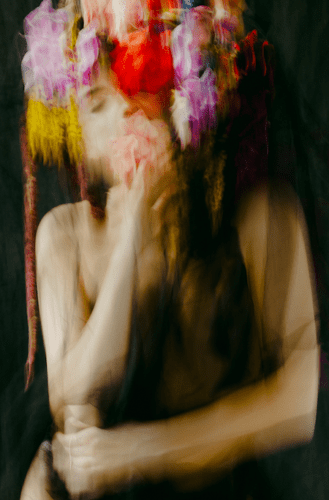 Facing fears and observing her own strength awakened a deeper level of creativity, and became the fertile ground to which Flowers Still Bloom has grown. "Coming to terms with my own mortality awakened an urgency and determination in me for a previously impossible dream. I dove into an art project that soon became a way for me to understand this process of transformation that I was undergoing, helping me bring into focus a new identity, a whole new sense of self. Art has always been a passion, but it wasn't until I was faced with cancer that I realized that the biggest hurdle that stood in the way of me practicing art was not my life circumstances but my old sense of self that didn't allow for this vision of myself to exist.Ultimately this is a series about hope and surrender."
Beyond Danijela's stunning photographs, there will also be an exquisite floral installation by Rosalie Villanueva (
@flower_rzy)
and mini flower pop-ups on Saturdays.
Flowers Still Bloom
is on from July 29 to Aug 15 at The Lyceum Gallery @theorchardlyceum (969 Queen St W). Gallery hours Wed-Sun 1-5pm.