Teatoxing is most popular with the always-ready-to-feature-Instagram-endorsements D-list celeb or lifestyle blogger set, so you've probably heard of it. Everyone from The Bachelor's Jade Roper who loves a "big mug of her favorite detox tea" Flattummy tea, to Scott Disick and his devotion to FitTea for helping him stay "energized and feelin fresh," to Lindsey Lohan and her Flattummy tea, Bootea, and Fittea endorsements. What happened Lilo?
But D-list celebrities with Instagram accounts aren't alone in their teatoxing efforts. The trend has amassed over 270,000 hashtags on the popular fit-shaming app, and the teatox market has become saturated with countless brands promising the benefits of weight loss, increased metabolism, and a boost in energy and focus.
Drinking tea for its health benefits isn't a new concept. The use of tea as a medicinal drink has been around for thousands of years and is predicted to have originated in southwest China during the Shang dynasty in 1600 BC, with credible records of tea drinking in Chinese medical texts dating to the 3rd century AD. The ancient Japanese also enjoyed tea for its health benefits. The oldest tea specialty book in Japan, How to Stay Healthy by Drinking Tea, was written in 1211. The book's first sentence states: "Tea is the ultimate mental and medical remedy and has the ability to make one's life more full and complete."
Even though we are very late to the healthy tea party (all the original guests are dead), the rise of tea as a method of detoxing today makes sense: other popular detox diets like juice cleansing require a total lifestyle overhaul and often cost hundreds of dollars. Drinking tea, alternatively, is relatively unobtrusive and much more affordable. Teatoxers are encouraged to eat three healthy meals a day and given access to e-books that advocate for "steamed fish and broccoli" while demonizing "sugar, soda and caffeine." Having previously tried my hand at several juice cleanses, raw vegan stints, and whole30 detox diets, the concept of eating vaguely healthy and drinking tea seemed both doable and charmingly PG.
I decided to try two different teatox cleanses: Toronto-based The Teatox Company's 14-Day teatox cleanse, available at The Detox Market, as well as Canadian Skinny Teatox's 14-Day starter kit. When deciding on a detox there are so many companies to choose from, but I was intrigued by The Teatox Company's 100% organic ingredients, and the fact that Skinny Teatox claims to be the most popular teatox program in Canada.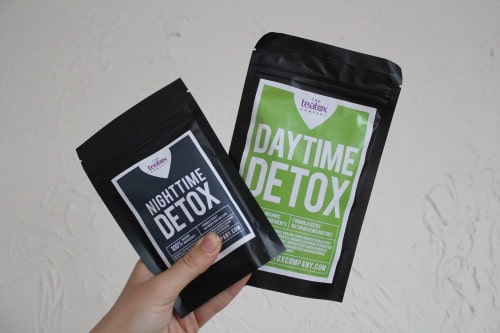 First up was The Teatox Company's 14-Day cleanse. It started with a cup of steaming green-tinged tea that smelled sweet and vaguely healthy. I was advised to use this as a substitute for my morning coffee, but not recognizing a lot of the ingredients, I wasn't sold; taraxacum root, silybummarianum seed, and schisandra chinesis didn't sound like the type of thing I could put milk in and sip happily. Yet beside these ingredients were teas I had previously tried and loved: yerba mate, jasmine green tea and matcha, so I decided it was worth a shot.
The taste was sweeter than expected and reminiscent of wet grass. But while yerba mate and matcha are both chock-full of caffeine, I was still sleepy afterwards. This is likely because I require Four Loko levels of caffeine to make me human in the morning, but I digress. I continued starting my days with a cup or three of coffee and then brewing my first cup of tea. I wish I could tell you that the Daytime detox tea encouraged me to drink less coffee, but that would be a convenient lie. While I believe yerba mate, matcha, and silybummarianum seed all have their place in one's life, for me that place isn't first thing in the morning or anywhere near or around breakfast food or a Sunday morning hangover. I could have been more accommodating and tried harder to make my morning cup of detox tea stick, but to me, the appeal of a teatox was that you didn't have to change too much about your lifestyle other than adding a few cups of tea.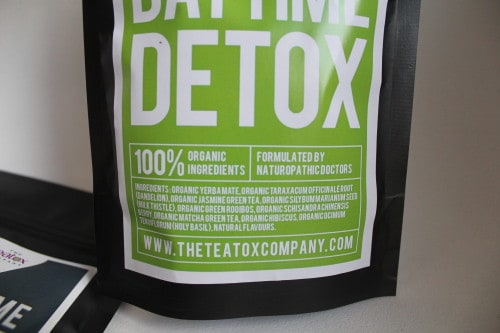 I moved on to the afternoon tea, which is the same tea you're supposed to drink in the morning. This is where The Teatox Company really shined: the tea led me through the afternoon with a stable energy boost that was strong enough to discourage reaching for that ever-tempting afternoon cookie or donut. When I did have an afternoon sugar treat (because let's be real) the tea felt like a welcome balance between being healthy and virtuous while not depriving myself from the joys of brownies.
Skinny Teatox was a different story. Unlike The Teatox Company's tea, which felt wholesome and calm, I delayed trying Skinny because of the intense warning found on the "evening tea's" packaging. It read: "This product contains a natural herb called senna and may produce a laxative effect. Read and follow directions carefully and do not exceed recommended dose as this product can be toxic in high doses. Do not use if you have or develop diarrhea, loose stools, or abdominal pain or experience vomiting or symptoms of dehydration because senna may worsen these conditions and be harmful to your health." No thank you Skinny Teatox Evening Tea.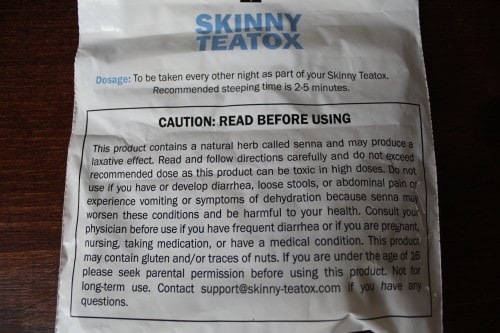 Eventually, for the sake of science, I tried it. It smelled mildly of fungus and wild mushrooms, and I could only bring myself to drink half the cup. The effect was something there is really no way to put delicately: everything inside your body will become a demon roaring to get out. This is not a drill.
Apparently senna (aka Satan's laxative) is an FDA-approved laxative used to treat patients pre-colonoscopy. This might be personal preference, but treating myself like I'm about to go in for a colonoscopy on an otherwise casual Tuesday night is not the way I want to live. The FDA recommends senna not be used for prolonged periods of 14 days or longer, claiming it could lead to bowel problems and a dependence on the drug. Other side effects include uneven heart rate, joint pain, clay colored stools, and jaundice.
The strange part about this is that senna is found in a lot of teatox cleanses that are a minimum of 14 days long. While Skinny Teatox instructs cleansers to only use the laxative every other day, this still feels like walking strangely close to the line of maximum FDA approval before being graced with the potential gifts of jaundice and clay coloured stools. It's only natural to assume that people who do teatox cleanses that include senna regularly might be putting themselves in some danger. What's worrying is that there isn't much accessible information about this, and while there is a warning label, I can see how the warning could be misconstrued as being unnecessary or overbearing.
Skinny Teatox also comes with two senna-free daytime teas: a "Morning Energy Tea" and a "Chocolate Energy Tea." The morning tea was passable, with the familiar grassy scent I'd come to expect from a detox tea, but the Chocolate Energy Tea was perfect. We're talking about an A+ tea situation. The first time I tried it I had just eaten one of those grossly delicious Cadbury "Marvelous Creations" chocolate bars, and just the smell of the tea brewing was enough to make me regret my decision: it was rich and sweet, like hot coco and vanilla. I occasionally found myself looking forward to it.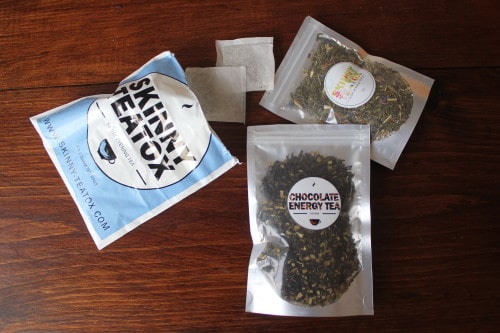 I didn't lose any noticeable weight at the end of either of my teatox cleanses. When I stuck to my tea schedule, I did feel energized and occasionally even a little lighter. But I would attribute any temporary weight loss I experienced to the diuretic and general bathroom-inducing effects of the teas rather than any sustainable change. Ultimately, however, I have one takeaway from teatoxing. Please know that this is not the type of sentence I want to be remembered for, but I owe it to you to tell you the truth: Teatoxing is a euphemism for shitting constantly.
Verdict: Tea is forever, but teatoxing's future is as rocky as Scott Disick's career.